What we do?
We avail you with various CV and Resume templates for download.The CV and Resume Templates are in Word format, which allow for easy editing and customazation.We also have online tools, like online cv making tool, Resume Making Tool,Cover Letter maker, Invoice system and Quotation system. The online tools are easy to use, the user just select his/her favourite template and fill in the information accordingly. Then on submission of such information, the online tools will generate a cv,resume, cover letter, invoice or quotation for printing or downloading. When it comes to interviews, we provide downloadable Pdfs documents, which guide you on how to answer questions and answers that are asked at jobs interviews. We have comprehesive interview guides for all job fields.
Cover Letter Generator
Online quotation generator, online invoice generator, direct whatsapp messenger, cv & resume writing.
With our CV writing services, you will get yourself an interview winning CV within hours. Our CV writing services provide that perfect CV that give you an edge over the other job applicants. Your CV get written within a few hours, upon CV details submissions and payment. Plus a cover letter maker.
Cover Letter Maker
You need an impressive cover letter that highlight your skills and experiences to help you stand out, Use our online FREE Cover Letter making tool which guides you step by step to create a personalized cover letter. Simply answer a few questions, and get your Cover letter instantly. Make a cover letter.
Interview Preparation
Preparing for an interview? We provide you with free downloadable Pdfs' of questions and answers of interviews. Our free Pdf contained 100s' of questions for different career interviews. Don't let yourself down at the interview Go to download Page
CV writing Procedure
You will submit your information, or send your previous CV/ Resume via email. Our team will review it, research comprehensively, and write you that perfect CV/Resume. Then it will be sent to your email. Our mode of payment is via M-Pesa, Paypal, Visa and MasterCard. Make your Order
Cover Letter
Design Professional
Experience ∞
Reference 0-3
Experience 0-3
View CV Sample
Ksh.1000 US$ 10 PDF Copy
Detailed CV
How to write a Cover Letter for unadvertised job
Key Verbs for your CV
How to prepare for an Interview
How to follow-up after Resume submission
Ways to increase your job security
Write Impressive CV with these CV writing tips
Cvshaper is a website dedicated to providing top-notch services and tools for job seekers looking to enhance their CV and resume writing skills. As a professional CV and resume writing service, Cvshaper focuses on delivering high-quality CVs and resumes to help individuals stand out from the competition. With a range of online tools such as an online cover letter builder", CV maker, and quotation and invoice makers, the website offers users a hassle-free experience to create impressive job application documents.
Copyright © 2016-2023 by Cvshaper , all rights reserved Home | Order | Resume Templates | Disclaimer | About Us | Contacts

Companies Hiring
Career Advice
Career Advice Home |
CV & Cover Letter |
Interviews |
Job Search |
Work Life |
Management |
Recruiting |
Job Descriptions |
CV and Cover Letter
Most Watched
Browse our videos.

Teacher Cover Letter Example and Writing Tips
Theresa Chiechi / The Balance
Cover Letters
Skills & Keywords
Salary & Benefits
Letters & Emails
Job Listings
Job Interviews
Career Advice
Work-From-Home Jobs
Internships
What to Include in a Cover Letter for a Teaching Job
Cover letter writing tips for teachers, cover letter example for a teacher, tips for using a cover letter template, more education-related cover letter examples.
Are you applying for a job as a teacher ? An outstanding cover letter can mean the difference between getting an interview and not getting a response to your application.
Use your cover letter to highlight relevant experience and past achievements. Your priority in this cover letter is to connect your work history and accomplishments to the job description. You're not trying to recreate your resume here. Instead, you want to show the employer, at a glance, how you're qualified for the position.
The goal is to introduce yourself and showcase the skills and qualifications that make you stand out from the competition.
Whether you're fresh out of college or an experienced teacher, these tips and cover letter examples will help you convince the hiring committee that you're the best candidate for the job. 
Emphasize your achievements.  Include examples of your accomplishments in past jobs as a teacher. For example, if your students earned high state test scores, or if you received a teaching award, mention these successes. 
Describe your experience. While you do not want to copy your resume, it's helpful to include details on your experience. Quantifying them can help—for example, mention how many years you've taught. If you're new to the career, include details on your student-teaching experience.  
Mention any training or certifications.  Many teaching jobs have specific training and certification requirements. Use your cover letter to demonstrate that you have what's required for the job.
Include related work outside the classroom.  If you have non-teaching work or volunteer experience that involves working with children, you can highlight this in your cover letter as well. You especially might want to do this if you have limited teaching experience.
Customize your cover letter.  Be sure to tailor each cover letter to fit the specific school and job listing. One way to do this is to research the school and mention why you think you'd be a good fit for that specific location. 
Take your time.  Many job seekers treat cover letters as an afterthought, but these letters are so much more than a cover sheet for your application. A boring, slapdash letter won't help your candidacy, and it could hurt your chances.
Proofread and edit. Quality is also important: a cover letter filled with typos and grammatical errors will not inspire the hiring committee to give you a call. Proofread your letter carefully before you send or upload it.
This is an example of a cover letter for a teacher. Download the teacher cover letter template (compatible with Google Docs and Word Online).
The Balance
Cover Letter Example for a Teacher (Text Version)
Alissa McIntire 87 Washington Street Smithfield, CA 08055 555-555-5555 (h) 123-123-1234 (c) alissa.mcintire@email.com
May 17, 2022
Mr. John Doe Smithfield Elementary School Main Street Smithfield, CA 08055
Dear Mr. Doe,
I am interested in applying for an elementary-level teaching position in your school district. As a 2022 graduate of Amplesmith College, I have student teaching experience on the third- fourth-, and sixth-grade level, in both suburban and urban school districts. I believe my teaching experience and passion for community engagement make me an ideal candidate for a teaching position at your school.
I have experience teaching elementary-level students in a variety of settings. I am currently teaching third-grade children at an inner-city charter school. As a former education coordinator at a local museum, I also have experience teaching fourth-grade students in a small suburban school system. Your school emphasizes its unique position as a school that caters to both inner-city and suburban students, so I think my varied experiences would make me an asset to your program.
Your school also strives to engage students in the larger community. I have lots of experience incorporating community service projects into my classrooms. For example, as a student teacher, I led a unit for third-graders on plant life, and we volunteered at a local community garden. I would love to find ways to integrate service learning into my lesson plans.
It is my goal to combine my range of experience with my ability to be a compassionate, enthusiastic, intelligent teacher who will make a positive contribution to your school district and larger community. I would welcome an interview and hope to hear from you at your earliest convenience.
Signature (hard copy letter)
Alissa McIntire
A cover letter example helps you with the layout of your letter and what elements you need to include, such as introductions and body paragraphs.
Along with helping with your layout, cover letter examples can show you what kind of content you should include in your document and what type of language to use. For example, a sample might show you the action words you should utilize in your own cover letter.
Use a cover letter example as a guide to your own letter, but do not simply copy the text provided.
You should tailor your cover letter to fit your own work history and the job for which you are applying.
Review cover letter examples for many different types of education jobs and get templates you can use to write your own letters.
Also review resume examples and resume writing advice for teachers.
Key Takeaways
A well-written cover letter will highlight your relevant experience and past achievements, and connect them to the job for which you're applying.
It's important to tailor each cover letter you write to fit the specific school and job listing.
If you don't have teaching experience, mention volunteering or non-work activities that are related to working with children.
Cover Letter Samples for Teachers
Sample Cover Letter and Resume for a Teacher
Sample Cover Letter for a School Position
Speech Pathologist Resume and Cover Letter Examples
Teaching Assistant Cover Letter Samples
Special Education Cover Letter: Example and Writing Tips
How to Get a Job as a Teacher
Teacher Resignation Letter Examples
Teacher Resume Examples and Writing Tips
How to Write an Academic Cover Letter With Examples
Sample Recommendation Letter for a Teacher
Common Teacher Interview Questions and Best Answers
Interview Questions About Your Classroom Management Style
Athletic Director Cover Letter and Resume Examples
Tutor Resume and Cover Letter Examples
Administrative Assistant Cover Letter Examples
By clicking "Accept All Cookies", you agree to the storing of cookies on your device to enhance site navigation, analyze site usage, and assist in our marketing efforts.
Writing a legal CV and cover letter
Law jobs and training contract places are extremely competitive. To ensure your application doesn't fail at the first hurdle learn how to craft a winning legal CV and cover letter
'Your CV and cover letter are your shop window,' explains Jo Cooksley, faculty employability advisor for the University of Bristol's Law School. 'A strong CV will allow you to highlight the experiences, skills and attributes which firms are looking for and demonstrate that you have researched and tailored your application to the firm receiving your application.'
'Although many firms now use online forms for their applications, a CV and cover letter remain important parts of your preparation. They are a great way to gather all your information and identify areas for development. 
They're also important for speculative or ad hoc opportunities. Having a strong up-to-date CV and cover letter means you will be ready for any opportunity which might arise.'
What should I include in my legal CV?
Your legal CV should be around two pages in length, and follow this general structure:
Personal details  - At the top of the page, include details such as your name, address, email and telephone number.
Education and qualifications  - Detail any professional memberships (e.g. the Law Society) or qualifications you possess, such as the  Solicitors Qualifying Examination (SQE)  or the  Legal Practice Course (LPC) . List your degree, A-levels and GCSEs; when discussing the former, mention the  areas of law  that you studied while at university and state your dissertation title.
Work experience  - Chronologically profile your work history, including the organisation you worked for and its location, plus your job title and, if applicable, your practice areas. Describe your key tasks and responsibilities, paying close attention to the significant results of your actions. You could separate your work experience into different categories, such as legal, commercial and  voluntary . Use your  law work experience  to demonstrate your passion for a career in the field, and your part-time work to exhibit your transferable skills such as commercial awareness.
IT and language skills  - Outline your level of proficiency with relevant software packages such as Microsoft Word and Excel, and mention any additional languages that you speak.
Activities and interests  - Avoid listing irrelevant hobbies such as reading or listening to music. Instead, discuss your involvement in sporting teams and other organisations, highlighting any positions of responsibility you've held or awards you've gained. Experiences - such as starting a new club or society at university - can help you stand out.
Referees  - You don't necessarily need to give references at this stage. Stating 'references available on request' will usually suffice.
As a general rule your CV should contain facts, while your cover letter provides the narrative around the facts.
For more advice on what abilities recruiters in the legal sector are looking for, see  7 skills for a successful law career .
How do I fine tune my law CV?
As well as following the above advice, you should also ensure that your CV is:
clear, concise and easy to read
presented using bold sub-headings and bullet points
printed on good-quality paper
read by a friend, family member or careers adviser before submission
submitted well before the deadline
typed in size-11 Arial, or a similarly clear and professional-looking font.
It doesn't matter if you're completing a bespoke application form or drafting your own legal CV, the basics stay the same. You need to:
Pay attention to detail  - Ask someone else to check your work to pick up on any spelling or grammatical errors. Spelling a firm's name incorrectly doesn't give the best first impression.
Remember that relevant work experience doesn't always have to be legal  - Other types of work and volunteering experience can demonstrate that you are customer-focused, well organised, a good team player and a successful problem solver. 'Don't exclude non-legal experiences from your CV. Firms like to see what you have been up to outside of your studies and while your Saturday job in a local supermarket might not seem immediately relevant, it provides a real opportunity to demonstrate a range of transferable skills that firms really value,' says Jo. 'Students often say 'I have no experience' when what they really mean is they need some help working out how to articulate the experience they do have in a way that firms will see as relevant.'
For more tips on how to write a good CV see  how to write a CV .
What should I leave out of a legal CV?
When writing a law CV, you shouldn't:
leave any unexplained gaps in your career history
add too much detail
include personal details such as your age, gender, marital status etc. as these are irrelevant details and legal recruiters don't like to see them included
use overly outlandish formatting
use pictures or tables
write bland profile or objective sections
write 'CV' or 'curriculum vitae' at the top.
It should go without saying, but also avoid lying on your CV. Be authentic. Integrity in law is everything.
How do I write a legal cover letter?
As the number of applications often far outweighs the number of jobs available writing a strong cover letter is essential for any law career, as it helps to persuade employers that you'd be a fantastic recruit. It should be one page long, and:
demonstrate your knowledge of the law firm and wider  legal sector
elaborate on your key skills, experiences and characteristics, without simply repeating your CV
explain why you aspire to work for the organisation.
Bear in mind that employers will look at your legal cover letter as an indication of your written communication, so make it interesting.
Write about why you want to work for a particular firm. For example, if you're applying to a niche sports law firm have you had work experience with a sports company? If you're applying to an international firm is it because you have language skills or have you had experience of working abroad?
Jo explains 'cover letters provide a great opportunity to pick out those experiences which you have identified as being of particular relevance to the firm.
Make sure to read any job adverts carefully. What is the firm telling you they want in a candidate? Do they mention communication skills, attention to detail etc.? This is your chance to choose something from your experience to demonstrate those skills. As prospective lawyers we want to see you using evidence to support the points you make. If you're a good communicator what's the evidence? Perhaps you're an excellent team player but what's the evidence?'
To achieve these objectives, your legal cover letter should follow this general structure:
Opening paragraph  - Briefly mention the position you're applying for and how you found out about it.
Second paragraph  - Tell the recruiter who you are and what stage of your career you're at. Explain how your qualities can benefit the firm with practical evidence from your work experience, academic history or extra-curricular activities. Use powerful and positive language throughout without exaggerating.
Third paragraph  - Tell the organisation why you're specifically attracted to them and their work citing, if possible, any current or recent cases of interest.
Closing paragraph  - Mention that you've enclosed your CV and look forward to hearing from the firm. Explain when you'd be available for interview and cover any practical issues you've been asked to address, such as salary expectations.
Highlight what makes you stand out and make your cover letter punchy and accurate.
Find more general advice on  cover letters  and discover  5 things to avoid when writing a cover letter .
How do I target my application to a law firm?
It's much wiser to submit between five and ten highly targeted applications than dozens of generic, copy-and-paste ones. Every application should be treated as an individual project.
Consider why you're applying to a particular firm because it's more than likely that you'll be asked this question at interview stage. What attracts you to certain areas of law and particular firms? Do your values match the firm you're applying to?
Thoroughly research the prospective organisation - the more you know about the firm, the more tailored your application will be. Regularly checking the news sections of firms' websites will allow you to reference current cases and projects in your application and understand which skills would come in useful. What's more, possessing such knowledge will allow you to address your application to the most relevant individual.
All of this also helps you to determine whether your skills and career preferences would be suited to the specialist work that the firm undertakes and vice versa.
This is as invaluable when  choosing a law firm  as it is when attending law fairs, open days and  vacation schemes .
How do I make my application stand out to legal employers?
'Students are always told to 'make themselves stand out'. This is exactly what they should do, but of course it is easier said than done,' says Jo.
'Strong academic performance and a demonstrable interest in the firm and area of law is of course important, but firms want good lawyers and good colleagues,' adds Jo.
'Your legal skills and experiences are important but what makes you 'you' is too. Be brave and tell prospective employers what it is about you, over and above the academics and work experience that makes you the ideal candidate. You are more than the sum total of your academic studies and work experience, so make sure you show it.'
If your legal CV and cover letter do their job and your application is progressed to the next stage, learn more about the  questions you might be asked in a law interview .
Find out more
Get more advice on writing CVs and cover letters .
Discover top interview tips .
How would you rate this page?
On a scale where 1 is dislike and 5 is like
Dislike 1 unhappy-very
Like 5 happy-very
Thank you for rating the page
Skip to main navigation
Skip to main content
Skip to Chat now
Skip to footer
We'll be closed on Monday 5 June for King's Birthday.  We'll be back responding to your enquiries on Tuesday 6 June.
Get in touch with us for career information.
We're here from 8:30am to 5pm Monday to Friday – except Wednesdays when we're here from 9.30am to 5pm.
We're closed on all public holidays, including Wellington Anniversary.
Call 0800 601 301
Email us with your career question
Job hunting
Finding work
How to write a CV
CV and cover letter templates
How to describe skills in your CV
How to write a cover letter
How to write an application form
How to make an online job hunting profile
How to create a video CV
Job application checklist
Got a job offer?
What's happening in the job market?
New to New Zealand
Create CVs, cover letters and profiles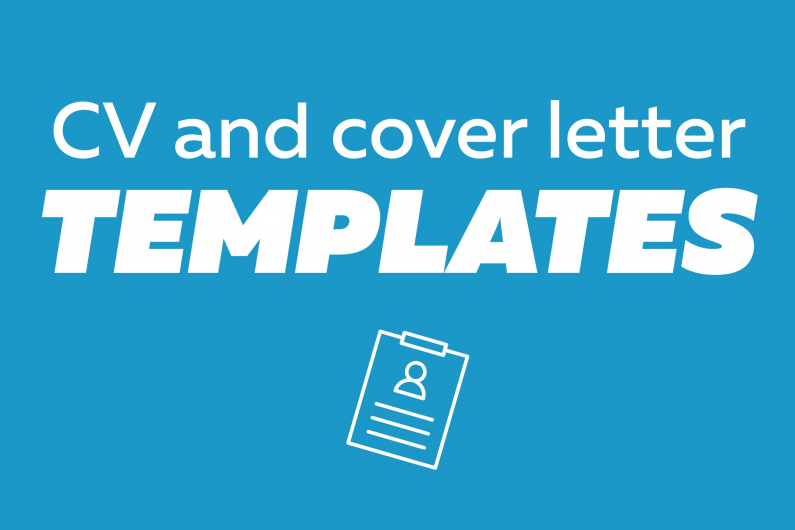 Templates to create your own CV and cover letter, plus examples of CVs and cover letters.
What's on this page?
Skills-focused cv for changing careers or gaps in work history, skills-focused cv for school leavers, work-focused cv for career progression, specialist cvs, cover letter template and example, find out more, create a cv and cover letter from our templates and save them.
Use our templates to create your CV and cover letter. You'll need to save them to your computer.
Save your CV as both a Word document and a PDF. An employer may need either one of these file formats.
Label your CV files with your name, the application date, and the job you're applying for.
If you update your Word document, remember to also create a new PDF.
Create a CV online with CV Builder and it saves automatically
Use our CV Builder to create your CV online and it will automatically save to your careers.govt.nz account.
CV Builder – create your own CV online  
Use our skills-focused CV template if you:
have gaps between jobs
don't have much work history
are returning to the workforce after a break
are changing to a new career.
Skills-focused CV example (Word - 27KB)
Skills-focused CV example (PDF - 0.1MB)
Skills-focused CV template (Word - 25KB)
Skills-focused CV template (PDF - 0.4MB)
Get information on how to describe skills in your CV:
Use our skills-focused school leaver CV template if you:
are about to leave school
have recently left school
School leaver CV example (Word - 26KB)
School leaver CV example (PDF - 0.3MB)
School leaver CV template (Word - 25KB)
School leaver CV template (PDF - 0.4MB)
Use our work-focused CV template if you:
want to highlight your work experience and career progression
are changing to a similar job
are progressing to a higher level role.
Work-focused CV example (Word - 27KB)
Work-focused CV example (PDF - 0.4MB)
Work-focused CV template (Word - 26KB)
Work-focused CV template (PDF - 0.4MB)
Some careers require a particular style of CV.
Check out the links below for information on how to create CVs for:
academic careers
creative careers
engineering careers
health careers
legal careers
teaching careers.
University of Otago website - CV information (PDF - 0.3MB)
University of Oxford website - CVs for creative careers
Victoria University website - CV/Resume Preparation for Teaching (PDF - 0.7MB)
Use our cover letter template to create your cover letter. You'll need to save this to your computer.
Cover letter - example (Word - 16KB)
Cover letter - example (PDF - 0.1MB)
Cover letter - template (Word - 20KB)
Cover letter - template (PDF - 0.1MB)
Beginner's guide to job hunting ebook
Job hunters' ebook
Updated 4 Apr 2023
Back to top
Home → About publishing → Write the perfect CV and cover letter
Write the perfect CV and cover letter
When applying for a job or internship, your CV and cover letter should be well written and specific to the job you are applying for. Highlight transferable skills from previous experiences, even if they were unpaid or not directly associated with publishing. For example, an administrator needs to have good timekeeping, show attention to detail, and have strong written and verbal communication skills which are all transferable skills for an editorial assistant.
Take care checking for typos – use tools to help you like grammarly.com , ask a friend to proofread it for you, and read it out loud to catch any grammar, punctuation, or spelling mistakes.
Make sure you have tailored your CV to the role you're applying for. Avoid using the same CV or cover letter for every application – it should be specific to the role and company you are applying for.
Don't make it too long – CVs should be kept to two pages. Avoid long paragraphs and keep your sentences short. Try bullet points to demonstrate your skills and responsibilities under each position.
For more careers advice from people across the publishing industry on what – and what not – to put on an entry level publishing CV, view this video:
Covering Letter Tips
Take time to write your cover letter. Ask yourself why you want this position at this particular company. What is it you love about the role? Why do you think you'll be the perfect candidate?
Research the company and, where relevant, the imprint*, and tailor you application. Look at types of books and/or journals they publish, what recent successes have impressed you, and who are their competitors. Reading the Bookseller (a magazine specifically about the bookselling and publishing trades) and following publishers on Twitter are great ways to keep up with industry news!
Remember that your cover letter is not just an embellished CV – it is an opportunity to show you have your own ideas, are aware of industry trends, and (most importantly) can do the job. Work through the list of required skills provided in the job description and give examples of relevant experience. When giving examples, be specific and show results, for example "In my time running my football club's Twitter account at university, I introduced weekly sports quizzes that doubled our followers from 50 to 100 in one month".
Be honest if you don't have any experience of a required skill and present it as an exciting opportunity to develop.
Address the cover letter to the hiring manager. This is usually included in the job description. If it isn't, don't be afraid to contact whoever posted the job and ask.
Always err on the side of caution and use formal conventions in any correspondence, e.g. "Dear Sir/Madam" or, if you know their name, "Dear [Ms/Mr/Mx] [Surname]". Remember that every interaction with the company is an opportunity to impress so be polite and respectful. Sending too many emails to check up on the status of your application can be annoying for those involved in the hiring process, who may be juggling hundreds of CVs.
The first paragraph should come straight to the point, for example: 'I am writing to apply for the position of [role name] that I saw advertised in [media/agency]. Please find my CV enclosed.'
Use key words from the job description and give concrete examples of your skills.
Some companies will let applicants know if they are unsuccessful, but this is not always the case. If you don't hear from a company after the deadline, you can probably assume that you won't be offered an interview.
Interview Tips
Research is key! Find out everything you can about the company, the books or journals they publish, the people that work there, and, if you can, the people who will be interviewing you.
Be prepared to answer these questions in an interview:
Why do you want to work at this company?
Why do you want to work in this role?
Tell us a bit about yourself.
What are your biggest strengths?
What is your biggest weakness?
It's also a good idea to prepare examples of your creativity, problem-solving abilities and organisational skills. Using the job description, consider if there are any other key skills you may be asked to give examples of in the interview.
Always come to an interview with a list of questions and remember that you are also interviewing them! This is your opportunity to find out if the company is right for you – what is the company culture like? Are there opportunities for training and progression? Who are the rest of the team?
Build rapport with the interviewers by asking about their careers, what they like about working there, and what they hope the successful candidate will get out of the role. Finally, don't forget to ask about the timeline and next steps for their final decision. This is especially important if you have multiple interviews in the same week as you may be offered another position while waiting to hear back from them.
*An imprint is a publishing term for subdivision of a publishing company. A publisher may have multiple imprints under the same division. In a very large company with several divisions, there can be hundreds of imprints, each with their own distinct list of books. To figure out where the team that you are applying to join fits within the overall structure of the business, visit the About page of the parent company. For example, if you are applying for a position at Penguin Random House, you can find a description of their divisions and imprints here .