Letter Writing
Formal Letter Writing In English
Request Letter for School Admission

Request Letter for School Admission | Learn How to Write and Samples
Applying for a school admission can be hectic for both parents as well as students. To get your kid into a school of your choice, you will have to find out what qualifies your kid for an admission and the procedures to be followed. You can then write a letter to the principal for admission of your child into a specific class. Go through the article and sample letters given to know how.
Table of Contents
How to write an application for admission in school, samples of request letter for school admission, request application for admission in school by parents, frequently asked questions on request letter for school admission.
As a parent, you will have to write a letter to the principal for admission, mentioning the reasons to admit your child. An application to the principal for admission is very similar to that of other formal letters .
A request letter for school admission must be written in a formal and convincing tone and the language has to be professional. As a parent, you must keep in mind that it is a request for admission in school; so be mindful of the words you use. Check the samples provided below to understand how to write a request letter.
Here are a few samples of request letters for school admission. Go through them to have a better understanding of the format.
Amrita Thakur
19, New Life Lane
Hyderabad – 123564
The Principal,
BMR School,
Mumbai-786609
Subject: Request for admission
Dear Sir/Madam,
With due respect, I, Amrita Thakur, mother of Priyanshi Thakur, would like to request you to consider my daughter's application for admission to your school for Class 5, for the current academic year. I have heard a lot about your school, and I would be a proud parent if my child gets admission in such a reputed school. I believe it would be a great opportunity for her to improve academically and have a bright career.
She has completed her 4th standard from MD School with impressive grades (98%). For your reference, I have attached copies of her certificates and grade sheets. She has achieved various certificates in co-curricular activities; I have attached copies of them as well. I can promise that she will continue to do her best, if given an opportunity. I shall be highly obliged for the same.
Awaiting your positive response.
Yours faithfully,
Mother of Priyanshi Thakur
Contact No. 12345
How do I write a request application for admission in school?
In order to write a request application for admission in school, you will have to follow the format of a formal letter. Mention the details of your child, and do not forget to attach your child's achievement certificates.
When do we send a request letter to the principal for admission?
You will have to write a request letter to the principal for admission before the starting of the new academic session and if there are vacancies for the particular class/standard.
Do I need to write a request letter for school admission due to transfer?
Yes, you will have to write a letter to the principal requesting admission to the school in case you are transferred.
Leave a Comment Cancel reply
Your Mobile number and Email id will not be published. Required fields are marked *
Request OTP on Voice Call
Post Comment

Register with BYJU'S & Download Free PDFs
School Admission Letter
Free Download this School Admission Letter Design in Word, Google Docs, Outlook, Apple Pages Format. Easily Editable, Printable, Downloadable.
Get to create a well-formatted letter to help you get admitted to a school with this high-quality template. This file is easy to use and print ready. Download now for free.
Download this Template
Attribution required Know more
Get access to all Documents, Designs & Templates
Admission Letter for High School
College Admission Application Letter
College Admission Acceptance Letter
Application Letter for a Primary School Teaching Job
Elementary School Transfer Request Letter
Leadership Recommendation Letter for School Student
Letter of Recommendation for Coworker for Graduate School
Letter of Intent for School Enrollment
Apology Letter To School Principal
Apology Letter To School For Misconduct
Letter of Recommendation for Graduate School Admission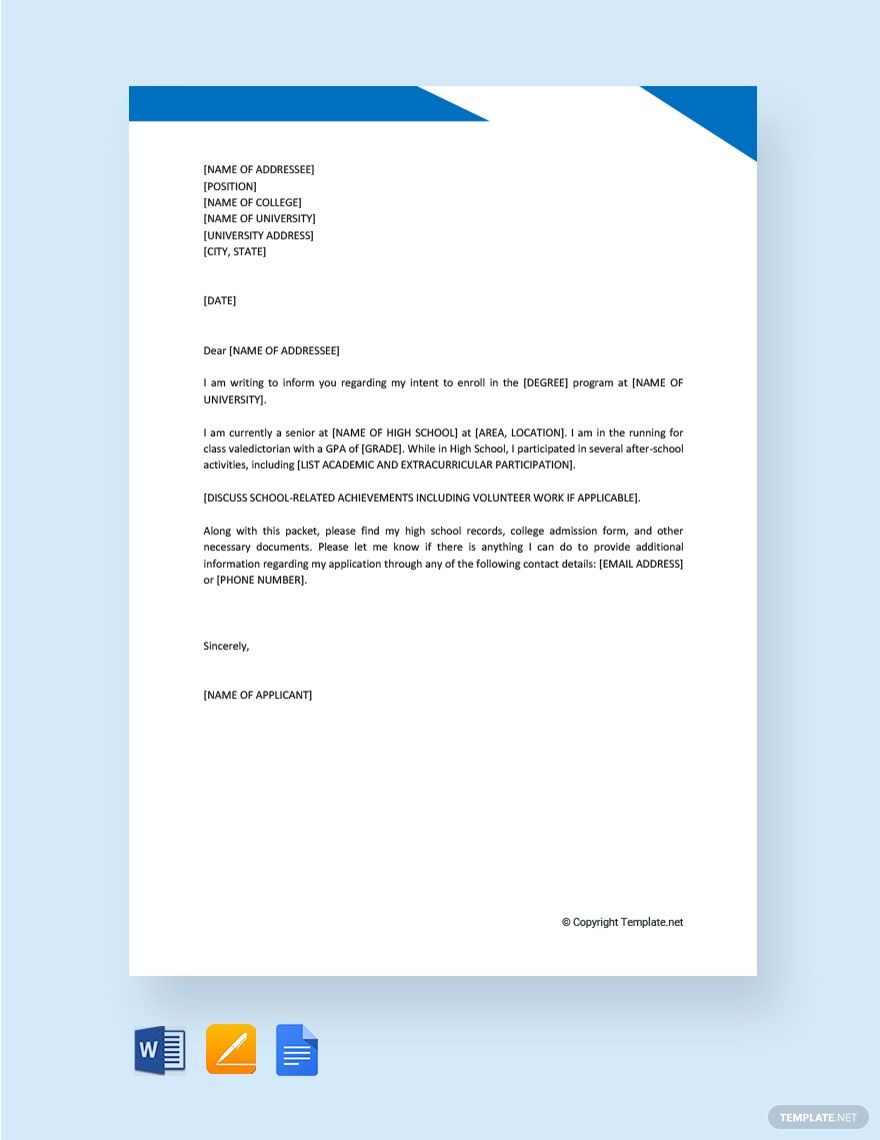 Letter of Intent for University Admission
Admission Application Rejection Letter
Application Letter for Teaching Job in School
School Leave Letter
Formal Proposal Letter to School Principal
Letter of Intent Medical School
High School Scholarship Thank You Letter
Law School Letter Of Recommendation From Lawyer
Apology Letter To School Principal From Teacher
Get Access to ALL Templates & Editors for Just $2 a month
Application letter for school admission. Sample letter
Express your intentions in writing the letter / application.
Make sure that you mention your qualifications and other supporting facts as to why you are eligible for admission to the school.
End on a positive tone.
SAMPLE LETTER
[Letter Date]
[Subject: Normally bold, summarizes the intention of the letter] -Optional-
Dear [Recipients Name],
I am writing to express my desire to enroll in your prestigious school for this coming school year. I believe that I am highly qualified and deserve to go to your honorable school because (list down the various positive qualities that you have here). Also, you will find that I have excellent academic records from my previous school. Please find attached my records for your perusal. I look forward to hearing from you about this matter.
Sincerely, [Senders Name] [Senders Title] -Optional-
[Enclosures: number] - Optional - cc: [Name of copy recipient] - Optional -
Application letter for school admission. Sample letter.
Further things to consider when writing application letters to schools
Application letters are letters that you write to formally request for something from authority, apply for a job, or join an institution. Effective application letters will give a detailed explanation for your interest in the specific item, company, or institution. They showcase your abilities and strengths and illustrate your experience. In most cases, people write application letters to express their interest in receiving a position, attending an institution, or when applying for a visa, for instance. In all scenarios, application letters must be accompanied by the relevant documents. Application letters are the perfect tool to demonstrate something of your personality. Therefore, you should write in a professional tone setting a clear outline that allows the reader to scan the primary data quickly. Introduce yourself and briefly explain your intent and reason for the application. Address the letter with a title or name of the recipient. If your application is for a job or to join an institution, for example, you need to highlight your experience and qualification; if you are applying for a travel visa, make sure to state a clear intention for your travel. End with a positive tone and invite the recipient to contact you.
Letters to Schools
Letters to schools are letters written to institutions designed to provide learning environment and spaces to pupils and students. There are many times when you may feel the need to write to a school administration. Maybe you want to recommend a student or employee or want to apply for an academic program. Perhaps your child has a disability, and you want to make sure that he/she is receiving special education services. Whatever the issue, putting your thoughts in writing avoids confusion since it provides you and the recipient with a record of your request. It is, therefore, crucial to keep a copy of any letter you send. All letters to schools must use the standard business letter style. Start your letter with the proper address and salutation. Introduce yourself and explain the reason for your letter clearly and concisely. Depending on the content of your letter, provide any documentation that gives the recipient reference to the case or clarifies your concerns. Keep the tone polite, respectful, and professional. Close by thanking the recipient for his/her time and with a note of anticipation of positive feedback. Sign off and proofread the final draft before sending it.
These articles may interest you
Similar Letters
Application letter for a nursing school. Sample letter
Application letter for high school. Sample letter
Application letter for nursing school. Sample letter
Letter of application for graduate school. Sample letter
Letter example inquiring about a program for foreign nurses
Letter to ask about an international exchange program
Reference letter for an applicant for college admission
Sample letter to ask about a program at a university abroad
Loan application letter. Sample letter
Application for leave from work sample letter
Application letter for a job vacancy. Sample letter
Application letter for an internship. Sample letter
Application sample letter for an administrative assistant
Follow up letter after application. Sample letter
Job application letter of interest. Sample letter
Letter of application for employment. Sample letter
Motivational letter sample for job application
Sample letter of intent of job application
Sample letter to apply to an excavation department abroad
Example letter of family visa application for wife
Letter Categories
Acceptance Letters
Acknowledgment Letters
Advice Letters
Agreement Letters
Announcement Letters
Apology Letters
Appointment Letters
Appreciation Letters
Approval Letters
Authorization Letters
Cancellation Letters
Celebration Letters
Claim Letters
Collection Letters
Complaint Letters
Compliment Letters
Condolence Letters
Confirmation Letters
Congratulation Letters
Cover Letters
Credit Letters
Delegation Letters
Denial Letters
Directive Letters
Disagreement Letters
Disapproval Letters
Dismissal Letters
Encouragement Letters
Endorsement Letters
Error Letters
Farewell Letters
Feedback Letters
Follow-Up Letters
Fundraising Letters
Get-Well Letters
Gift Letters
Goodbye Letters
Goodwill Letters
Government Letters
Greeting Letters
Holiday Letters
I'm Sorry Letters
Inform Letters
Inquiry Letters
Introduction Letters
Invitation Letters
Job Offer Letters
Love Letters
Marketing Letters
Miscellaneous Letters
Mistake Letters
Notify Letters
Order Letters
Persuasive Letters
Recommendation Letters
Reference Letters
Referral Letters
Refusal Letters
Rejection Letters
Reprimand Letters
Request Letters
Reservation Letters
Resignation Letters
Response Letters
Romantic Letters
Sales Pitch Letters
Social Event Letters
Suggestion Letters
Sympathy Letters
Termination Letters
Thank-You Letters
Transmittal Letters
Welcome Letters
Application for Admission in School (School Admission Request Letter)
Application Format for School Admission: Applying for a school or college admission can be very stressful for students as well as parents. Application for school admission is an important document that is sent to the authority of the school or college to where you want to be admitted.
There are three different types of school admission letters available such as Narrative, Analytical, and Technical.
A narrative school admission letter should reflect the beginning, the middle, and the end of the storytelling. Also, one thing to be careful of here is to avoid using words such as always wanted to, passion or dream.
An analytical admission letter could be the best option as here you are going to want to prove why you are a perfect and good fit for the school or university.
In the technical admission letter, you need to showcase your skills and knowledge on a specific subject. So if you like taking a challenge, then a technical admission letter is the best option for you.
Application Format for School Admission
In the current situation, it is not an easy task to get admission to a well-reputed school or college.
You must need to write a professional application letter as it is very important for your child's carrier.
Here you can find some important tips for writing a perfect request letter.
Sample school admission request letters always help you to write different kinds of letters, but in each one, you need to adjust the focus based on a specific situation.
The letter should be professional, simple, and point to matter.
Describe in brief why you want to attend this particular institute.
Highlight the skills, academic interests, and long-term goals.
Also, include any special connection to the institute. (Like your relatives who graduated from the same institute)
Details on how to contact you such as the mobile number and email id.
Applications for Admission in School (School Admission Application Format)
Below you can find some sample request letters for primary school, secondary school, college, university, and academy.
Sample 1: Application for Admission in School
To, The Principal, Whitney High School, 16800 Shoemaker Ave., California.
From, William Beeman 2070 Camp Whitney Cir
Date: 5 January 2022
Dear Sir/Madam,
I, William Beeman, father of Emma Johnson would like to request you for her admission to your school for the 6th standard (Academic year 2021-22). I heard a lot about your school in a positive way and I really feel it become a great platform for my child if she gets admission.
She has just completed her 5th standard from public school with impressive grades. I have attached copies of her grade sheets for your convenience. Also attached the various certificates that she won in her extra curriculum activities.
I would be very grateful if you would consider my application. Looking forward to having heard from you.
Yours Faithfully, William Beeman
Sample 2: Request Letter for Admission in School
To, The Principal, Lowell High School, San Francisco, California 94132
Respectfully, I, (Your name), father/mother of (Name of your child), request you humbly for the admission of my beloved child in your school. Recently we have moved to California due to which we had to change her/his school and I have selected your school out of many options. I had no second thoughts about any other schools.
My child is quite intelligent and already learned the basics of pre-school. If he/she studies in your school then it will definitely help in his/her carrier.
Thank you very much for your kind attention.
Sincerely Yours, Your Name
Request Letter Template for Admission in School
Template 1: email to school for admission for lkg.
Template 2: Primary School Admission Letter
Template 3: Request Letter to Principal for Admission in School
Final Words:
I hope guys you enjoyed the complete guide to write a request letter to the principal for school admission.
Now I'd like to hear what you have to say: Have you ever had to write an application letter to the school principal for admission for your child?
If so, how did you handle it? Let us know your experience in the comment section below.
Leave Application – How to Write Leave Application for School, College and Office
How to Write Letter to Bank Manager to Close Bank Account
How to Write Application for Teacher Job
Dharmesh Donda
iStaunch is written by Dharmesh Donda, an avid Internet geek, IT professional since 2012. Have been in IT industry for more than a decade, and currently doing management and consulting work have taken a plunge into entrepreneurship.
Share with friends
You may also like.
How to Send Messages on Ashley Madison Without Paying
How to Recover TextNow Account Without Email
How to Find Old LinkedIn Profile Pictures
How to Know If Someone Changed Their Phone Number
Leave a reply cancel reply.
Your email address will not be published. Required fields are marked *
Save my name, email, and website in this browser for the next time I comment.