Professionally Speaking...
Kathy reiffenstein's blog on creating confident, persuasive speakers, may 20, 2009, presentation tip: use notes.
When I teach presentation skills classes, I frequently get asked the question, "Should I use notes in my presentation?" [ Said in a tone of voice that assumes the correct answer is no ]. For some misguided reason, people seem to think that if they are delivering a presentation or a speech, they need to be able to do it completely from memory, sans notes. They seem to think notes are cheating or make them look like they're unsure of their material.
Well, my answer to the question, "Should I use notes?" is a resounding "Yes." Notes are useful on two levels: practical and perceptual.
Practically, having notes takes the pressure off having to remember every fact, as well as the order and flow, of what you are presenting. Perceptually, having notes provides a security blanket. If you don't need them, fine. But if you do lose your place or forget what you wanted to say, a quick look at the notes rectifies the situation.
Memorization, which some regard as the gold standard, is fraught with problems. Assuming you are capable of memorizing a 30-plus minute speech, if you draw a blank or get a section out of order, you're in trouble. A memorized delivery also runs the risk of losing the inflection and tone that makes you sound fully present and connecting with the audience.
TYPES OF NOTES
Now that I hope I've persuaded you to use notes, the next decision is what type of notes should you use. That depends on the kind of presentation, your own personal style, and to a lesser extent, the physical venue.
INDEX CARDS
3x5 or 4x6 cards work well as a way to remind yourself of the key messages of your presentation or important facts, statistics and quotes. Because you can't write much on the small cards, they are most effectively used as a prompt to keep you on track and jog your memory. This format is appropriate in most situations, whether you're presenting from a stage in a conference center or from the head of the boardroom table. [Hint: number the cards. In the unikely event that you drop them, you'll be glad you did.]
8.5x11 SHEETS OF PAPER
This is not a format I recommend. This size is too large to be held comfortably in your hands. It also provides room for way too much content, thereby tempting you to read from it. The place where this format could work is when you have the sheets in a 3-ring binder and it sits on the table in front of you, where you can refer to it periodically.
POWERPOINT NOTES
Using the notes field on PowerPoint can be effective, but there is a major shortcoming. It often means that you have way too many slides; you've created slides to accommodate your notes, where you might otherwise not have used a slide. [Click here to learn about the Presenter's View.]
Using the actual slides as your notes is something I strongly recommend against. Chances are it will encourage you to put excessive text on each slide. As well, it will create a temptation to read off the slides, possibly even turning to the screen behind you, instead of focusing your attention on the audience.
Here are some more great tips on creating notes from Olivia Mitchell at Speaking About Presenting.
HOW TO USE NOTES
Once you decide which note format is most comfortable for you, you now have to learn to use it so that it supports your presentation rather than detracts from it.  When using notes you should:
Practice, practice, practice until you can use your notes smoothly and seamlessly.
If you follow the advice above and remember to keep your focus on the audience, notes will become another excellent tool in your presentation tool kit.
There are so many different strategies with using notes. It depends on the person and their speaking style. Thanks for the list of suggestions. Shari' Alexander http://www.presentingmatters.com
Posted by: Shari' Alexander | June 16, 2009 at 11:28 AM
I'm a big fan, user, and advocate of notes. In addition to your recommendations, which I second, I suggest that speakers hold notes in their non-dominant hand. That's so they can gesture freely with their dominant hand, and not wave their notes around. Thanks for a great post. Chris
Posted by: Chris Witt | June 12, 2009 at 05:49 PM
Great advice! Using note cards has always been something of a challenge…organizing them, visual contact with them, etc. I find suggestion number 4 of the 5 particularly helpful as breaking eye contact with an audience can be cumbersome. Thanks!
Posted by: Mark Peterson | May 22, 2009 at 06:52 AM
This is a very useful blog post on the use of notes. It is one of those areas where we could all do with a little guidance. Rgds Vince
Posted by: Vince Stevenson | May 22, 2009 at 05:40 AM
Thank you! I feel like I just got "permission" to use notes when I present. :) I give a lot of product presentations via the web, and always felt guilty using notes even then! LOL Most of the notes are on random pieces of paper, though, so I'll clean them up and transfer to index cards for future use. Thanks!
Posted by: ColleenA | May 20, 2009 at 06:30 PM
The comments to this entry are closed.
NEXT POST LAUNCH OF SPEAKING PRO CENTRAL I am excited to be a featured participant in the launch of a great new site: Speaking Pro Central. This is a community of people (many of us are bloggers) who have come together to collect and organize the best... PREVIOUS POST TWITTER IN PRESENTATIONS...LOVE IT OR LEAVE IT? With the explosion in popularity of microblogging tools like Twitter, presenters are now faced with the possibility, or even likelihood, that some members of their audience will be tweeting (posting on Twitter) during the presentation. Initially, that idea is off-putting...
Kathy Reiffenstein
My Other Accounts
Recent Comments
Subscribe to this blog's feed
Powered by Typepad
Concordia University https://www.concordia.ca/content/concordia/en/students/success/learning-support/resources/oral-presentations/presentation-notes.html

Study resources
Calendar - Graduate
Calendar - Undergraduate
Class schedules
Class cancellations
Course registration
Important academic dates
More academic resources
Campus services
IT services
Job opportunities
Mental health support
Student Service Centre (Birks)
All campus services
Calendar of events
Latest news
Media Relations
Faculties, Schools & Colleges
Arts and Science
Gina Cody School of Engineering and Computer Science
John Molson School of Business
School of Graduate Studies
All Schools, Colleges & Departments.
MyConcordia
Directories
Future students
Current students
Alumni & friends
Faculty & staff
Student Success Centre
Welcome Crew Mentors
Orientation for new students
Events for first-year students
First-year support counselling
Math- & science-based learning support
Writing assistance
Conversation sessions
Indigenous bridging program
Learning resources
Learning Specialists
Students in failed standing
Career Development
Communication & Digital Capabilities
Innovation & Entrepreneurship
Leadership & Collaboration
Growth & Balance
Financial Literacy
SkillXchange
StartupReady
Career counselling and advising
Career events and job fairs
Job search resources
Online job bank
Résumés & cover letters
What can I do with my degree in ...
Alumni services
Employer services
Academic conduct
Research conduct
Academic requests
Behavioural complaints
Outreach support for faculty
Commissioner of Oaths
Concordia.ca
Learning services
preparing presentation notes
Preparing presentation notes
Good notes are key to a successful presentation.
The following information is arranged to show you how GOOD speaking notes should look. DO NOT WRITE FULL SENTENCES IN YOUR NOTES.
If you have full sentences, you may be very tempted to READ the notes instead of telling the audience the information. Reading an oral presentation sounds robotic and does not lead to audience engagement.
Good presentation notes are written in short phrases and key words (see below). They are arranged in a way that helps you remember the main ideas and details, and prompt you along as you TELL the audience your information.
Introduction Body of presentation Conclusion
Introduction
Give your thesis:
Example: According to The Book of Lists, what is the greatest human fear in North America?
Speaking before a group!
Some anxiety is good because . . . But too much anxiety causes problems . . .
To control anxiety and give a good talk, do 2 things (thesis)
Prepare your material.
Practice your delivery.
This presentation….= Prepare your materials (outline of presentation)
Select a topic.
Determine purpose.
Analyze audience.
Body of presentation
Pepare you material:.
Select a topic and a clear purpose - Here's how . . .
Brainstorm a list of topics that you know and care about.
Choose a topic from the list. If topic is too broad, narrow it down. Brainstorm questions your audience might have.
Determine purpose: to inform/teach or persuade/convince.
Write it down = purpose statement …specific: I want to teach my audience how to make a very good oral presentation by breaking the process down into easy steps.
Analyze the audience - keep their needs in mind as you design your talk:
Find out who they are.
Determine their attitude to the topic and to you (positive/negative?).
Estimate their knowledge about the topic (novice/expert?).
Gather ideas on topic to meet audience's needs and your purpose.
Organize ideas in chunks of information (main points).
Categorize and label ideas.
Develop a few main points relating to purpose (3-5).
Map or outline ideas in a hierarchy (tree).
Write out introduction and conclusion. Intro should create interest, reveal topic, and preview main points.
Sum up and give implications:
Good preparation = confident and = a good talk…also reduces your anxiety!
Choose a topic and get started early.
Determine a clear purpose and plan to fulfill it.
Know your audience and keep them in mind as you gather ideas and organize them.
Rehearse your talk often using a speech outline.
DO NOT read your presentation; tell the information.
Sum up by repeating main points + suggesting implications or action for the audience.
Prepare a speech outline similar to this model:
Write main points clearly with lots of space in between.
Consider breaking up talk on numbered file cards (do not write full sentences; continue with notes with indenting and spacing even though you are using cards).
Highlight important points and add instructions for delivery.
Practice your delivery:
Rehearse your talk using your cue cards.
Practice your talk aloud until you really know it (but do not memorize it!).
Practice out loud and practice with your PowerPoint slides.
Practice it before friends or family.
© Concordia University
Concordia University uses technical, analytical, marketing and preference cookies. These are necessary for our site to function properly and to create the best possible online experience.
Managing your Presentation Notes
Search SkillsYouNeed:
Presentation Skills:
A - Z List of Presentation Skills
Top Tips for Effective Presentations
General Presentation Skills
What is a Presentation?
Preparing for a Presentation
Organising the Material
Writing Your Presentation
Deciding the Presentation Method
Working with Visual Aids
Presenting Data
Managing the Event
Coping with Presentation Nerves
Dealing with Questions
How to Build Presentations Like a Consultant
7 Qualities of Good Speakers That Can Help You Be More Successful
Self-Presentation in Presentations
Specific Presentation Events
Remote Meetings and Presentations
Giving a Speech
Presentations in Interviews
Presenting to Large Groups and Conferences
Giving Lectures and Seminars
Managing a Press Conference
Attending Public Consultation Meetings
Managing a Public Consultation Meeting
Crisis Communications
Elsewhere on Skills You Need:
Communication Skills
Facilitation Skills
Teams, Groups and Meetings
Effective Speaking
Question Types
Subscribe to our FREE newsletter and start improving your life in just 5 minutes a day.
You'll get our 5 free 'One Minute Life Skills' and our weekly newsletter.
We'll never share your email address and you can unsubscribe at any time.
When you start to give presentations, you will realise that you also have to work out how to manage your text.
Whether you're confident enough to speak with very brief notes, or you need a full text, you need to consider how you record it to remind you what you're going to say.
There are various examples of ways you might choose to manage your text.
These include:
Full Text Notes
Notes on Cue Cards
Keywords on Cue Cards
Full text script.
The main advantage of this method is that the entire text is in front of you so you cannot forget what you want to say.
The disadvantage, however, is that you will pay less attention to the group or audience whilst reading the text. If you are speaking to a small group, this method might be overly formal, as written text sounds very formal when spoken out loud. If you read a prepared text, you should know what you are going to say very well so that you can maintain eye contact with your listeners whilst not losing your place.
Reading the text is not always an easy option as it can sound stilted and rather unnatural. Remember to engage with your audience as much as you can.
When reading from a full-text script it is also much harder to change what you're going to say halfway through, if you see that your audience is starting to fidget.
To help, you can use big bold headings to guide your eyes through the text so that you can skip sections if you want.
Notes Pages from a Slide Package
Most presentation packages, including PowerPoint, have an option to create a page of 'Slide Notes'.
You can use these to write out more or less detailed points about what you plan to say in relation to every slide that you use.
The advantage is that everything that you want to say is tailored to your slides. However, the packages are not very sophisticated: you cannot, for instance, highlight sections, or play with the font size very easily. This means that it can be hard to identify quickly and visually the most important points to make.
You will also end up with a sheaf of papers, which can get a bit flappy and hard to handle. This can come across as somewhat unprofessional.
To use cue cards, write your main points on separate index cards and, underneath each point, write the supporting material in a concise way.
When using Cue Cards...
Use only one side of the card and number the cards so that you can easily reorder them if you drop them.
On the bottom of each cue card, write a link statement to lead you into the next point.
The advantage of using cue cards is that you are speaking directly to the audience, which increases your rapport with them.
Small index cards also look more professional than large sheets of paper which may prove difficult to handle. The disadvantage is that you have to write them by hand since PowerPoint and similar packages don't offer an option for 'keycards', only 'Notes pages'.
To avoid losing your thread, ensure that you are familiar with the main points of your argument and the links between one idea and the next so that you become less reliant on the cards.
Further simplify the information on the cue cards by drawing out keywords that will remind you of the key points that you wish to convey.
The advantages of using keywords on cue cards are the same as above but their use increases spontaneity and rapport with the audience even further.
However, if you become side-tracked, it is easy to lose the thread and possibly miss key points. It's best only to use this method if you are very familiar with your subject and feel confident in making the presentation.
Mind maps are diagrams used to represent words, ideas, tasks, or other items linked to and arranged around a central key word or idea. Mind maps are used to generate, visualize, structure, and classify ideas, and can be used as notes to aid a presentation.
The advantages of using a mind map are similar to those of using keywords on cue words but it is easier to illustrate complex relationships than with keywords.
However, again, using mind maps as a presentation aid requires you to be familiar with the subject material and a confident speaker. When presenting it can be difficult to keep track of your progress through a mind map, but it can be very helpful if you want to interact with your audience, as you can just reorder your points to fit the session.
It's up to you!
When you're giving a presentation, it's up to you to choose a method of handling your notes that works for you.
Whatever you do, someone is sure to judge you on it, so you simply have to make sure that you're comfortable, and don't worry what anyone else says.
The important thing is to get your points across confidently and competently, and not to show off.
Continue to: Working with Visual Aids Deciding the Presentation Method
See also: Preparing for a Presentation Writing Your Presentation Coping with Presentation Nerves Dealing with Questions
Start the presentation and see your notes in Presenter view Article
Add speaker notes to your slides Article
Rehearse and time the delivery of a presentation Article
Record a slide show with narration and slide timings Article
Print your PowerPoint slides, handouts, or notes Article
Create a self-running presentation Article
Add speaker notes to your slides
When you're creating a presentation, you can add speaker notes to refer to later while delivering the slide show in front of an audience.
During your presentation, the speaker notes are visible on your monitor, but aren't visible to the audience. So the Notes pane is the place to store talking points that you want to mention when you give your presentation.
Add notes while creating your presentation
The Notes pane is a box that appears below each slide. (It is outlined in magenta in the picture below.) An empty Notes pane will prompt you with text that says, Click to add notes . Type your speaker notes there. If you don't see the Notes pane or it is completely minimized, click Notes on the task bar across the bottom of the PowerPoint window (also marked in magenta in the picture below).
If your notes exceed the allotted length of the Notes pane, a vertical scroll bar appears on the side of the pane. You can also enlarge the Notes pane by pointing your mouse at the top line of the pane and then dragging upward after the pointer turns into a double-headed arrow.
What the notes look like in Presenter view
Tip:  You can add notes either while you're presenting, directly from Presenter view, or as you're editing your presentation. For information on how to add speaker notes to while editing your presentation, see  Add speaker notes to your slides.  
The notes appear in a pane on the right. If you need to add or delete something, simply click in the text box to edit it. The text wraps automatically, and a vertical scroll bar appears if necessary. You can also change the size of the text in the Notes pane by using the two buttons at the lower left corner of the Notes pane:
Presenter view isn't something you have to create. PowerPoint assembles it for you by gathering the notes you've typed for each slide and pairing them with a set of controls for navigating through your presentation.
By default, PowerPoint is set to use Presenter view when you run a slide show. You can change this setting on the Slide Show tab of the PowerPoint ribbon:
Read Start the presentation and see your notes in Presenter view for more details about how to see and use Presenter view.
Print speaker notes
See Print slides with or without speaker notes .
Print slides with or without speaker notes
Start the presentation and see your notes in Presenter view
Transfer slides from one presentation to another
Add notes to your slides
To add notes to your slides, do the following:
On the View menu, click Normal .
Select the thumbnail of the slide you want to add notes to.
The notes pane will appear beneath your slide. Click where it says Click to add notes and type whatever notes you'd like to add.
View your notes while you present
If you want to view your notes while you're presenting but make sure your audience only sees what you've put on the slide itself, use presenter view. Here's how:
On the View menu, click Presenter View .
You'll see the main slide that you're presenting, a preview of the next slide, and any notes you've added for the current slide below the preview of the next slide.
Your audience will only the slides that you're presenting in your presentation, and not your notes.
Print your slides and handouts
PowerPoint for the web lets you create speaker notes, but it doesn't have the ability to show you the notes while you're presenting your slide show.
Create speaker notes
The pane appears across the bottom portion of the PowerPoint window, with the cursor blinking, ready for you to begin typing.
If you're a Microsoft 365 business subscriber and your presentation is stored on OneDrive for work or school or SharePoint in Microsoft 365, you can print your speaker notes. See Print your PowerPoint slides, handouts, or notes for more information.
See speaker notes while presenting
Currently you must use a desktop version of PowerPoint to see speaker notes while you're presenting.
Need more help?
Expand your skills.
EXPLORE TRAINING >
Get new features first
JOIN MICROSOFT 365 INSIDERS >
Was this information helpful?
Thank you for your feedback.
Sue Ann Kern
Executive speech coach, 435-201-8610, a speaker's guide to using notes during a presentation, we are all familiar with the image of a television newscaster, sitting behind a desk, eyes surreptitiously moving back and forth as they read the teleprompter. as a public speaker, this is not you. your job is not to read your presentation to your audience. when you are speaking in a professional setting, your job is to build a connection with your audience as you share your story and give them information that will transform their lives. this is difficult to do if you are reading your speech from a teleprompter, computer, or notes. if you audience does not feel an emotional connection, your power to inspire and persuade will be dimished., so does this mean that you can't use notes when giving your speech not necessarily. there are times when notes are appropriate if they are written and used correctly., the downside of using notes:.
They force you to look down at your words instead of at your audience.
They may make you seem less spontaneous and enthusiastic about your subject.
They may make the audience think you aren't prepared.
They may give the impression that you aren't in control of the knowledge; that you're reading rather than speaking from the heart.
It's difficult to read and emote at the same time, so that affects and limits your ability to connect with your audience.
Tips for Writing Notes Before Your Presentation:
Focus on writing down the key points, words, and phrases rather than your entire speech. Utilize bullet points with key ideas instead of complete sentences. If someone can look at your notes and deliver a speech similar to yours, then there's too much information.
It's OK to write your entire speech, but after you practice it, make your notes and store the written speech away. Be sure to practice with your notes, too.
Make sure your notes are easily readable. Use a large, 16pt sans serif font like Arial, double spaced. Write your notes in the upper half of the page to enable you to keep your head up, and to avoid having to look far down your notes or losing your place.
Use different fonts for different speaking points.
Use different colors for sections that you want to emphasize, or for different character's lines.
Use page breaks for different topics in your speech.
Use italics to remind you to speak softly.
Use BOLD to remind you to speak loudly.
Leave spaces or ellipses to represent pauses.
Different note formats can have benefits and drawbacks. It's easy to lose your place if you are using a single sheet of paper with too much information written on it. Stacked index cards are distracting when you hold them, are cumbersome to shuffle through, and may get out of order. A computer or laptop can be frustrating if it goes into sleep mode or if you have to be continually clicking on it to move to your next page of notes. I find it most helpful to make notes the old fashioined way: with 8 1/2 x 11 paper. I type my notes in large font on only the top half of one side of the paper (not dobule sided.) When I need multiple sheets, I leave them unstapled. Then, I lay my notes flat on the lectern and slide each sheet to the left, one by one, as I reference it. This is less distracting than flipping pages.
Choose a notes format you feel most comfortable with and practice with it!
Tips for Using Notes During Your Presentation:
Don't worry about memorizing your speech word-for-word; this may have the unintended effect of making you seem inauthentic or unnatural. You are more likely to lose your place and less likely to be flexible if you make a mistake. It's better to know the "broad strokes" of the speech and how the parts connect rather than memorize each individual sentence. Focus on staying fluid, improvising, and knowing the subject of your speech well enough that you can deal with minor interruptions, hiccups, memory lapses, and distractions.
During your speech, keep your notes on the lectern or table so you can easily reference them if needed. Don't store them behind you or in a pocket or bag! If you must hold your notes, do not fling them around or fiddle with the paper.
Don't speak into your notes. When you need to reference them, look down, pause, then look up and start speaking. Pauses can be helpful – the audience probably won't notice the pause, and may benefit from having a moment to digest the information you've given them. Pauses are also helpful for emphasis! Notice the spots in your speech where a pause would feel natural or impactful, such as when the audience pauses for laughter! Take advantage of these natural breakpoints to consult your notes.
Memorize the beginning and end of your speech and any joke you intend to share! You have to be able to walk onto the podium, look your audience in the eye, and deliver an enticing opening to get their attention. Likewise, you have to leave them with a memorable and catchy call-to-action or inspirational message, and that is hard to pull off if you are reading from your notes.
Let's conclude with an important reminder: your goal as a speaker is to build a connection with your audience. Use your notes as a guide, not as a guard rail. Practice, Practice, Practice. When you are well rehearsed, you are able to trust yourself to know your subject matter, respond to your audience, and improvise rather than memorize. You know your topic; you know your speech; stay loose and have some fun!
Recent Posts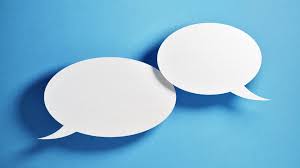 How To Deliver a Conversation When Storytelling
Making your presentation powerful: eye contact, making your presentation powerful: body language, more about sue ann, 6300 sagewood drive #h453 park city, ut 84098, making your presentation powerful, download, your copy.
Sign up for my newsletter and receive a copy of Making Your Presentation Powerful directly in your inbox.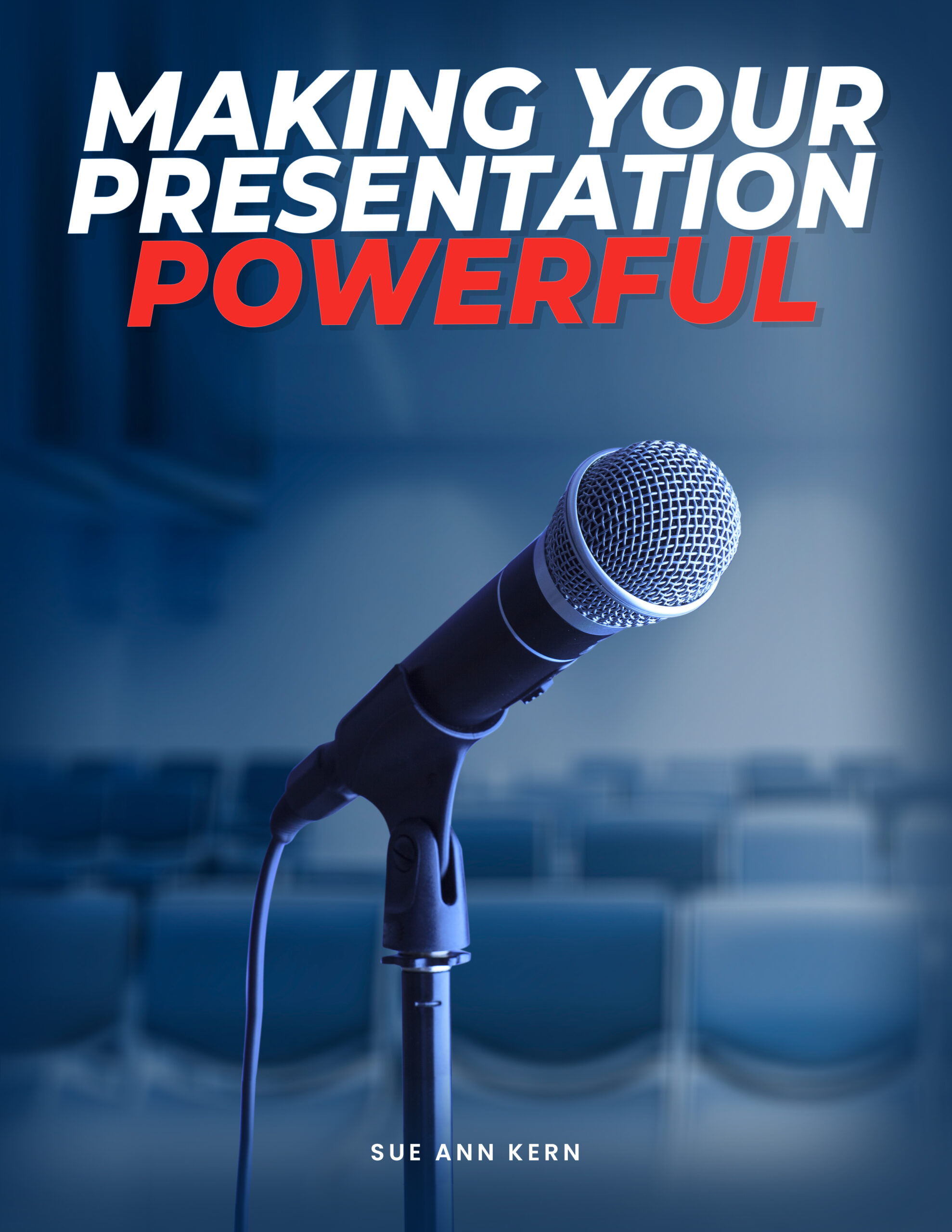 Everything You Need to Know About Using Speaker Notes in PowerPoint
By Chariti Canny
Through preparing for our newest Duarte workshop , Slide Design Lab , we realized there's a feature that many presenters don't realize plays a key role in slide design and speaker support: speaker notes in PowerPoint®.
To use your speaker notes in PowerPoint most effectively during your next talk, follow the tips below.
What are speaker notes in PowerPoint?
Speaker notes in PowerPoint help presenters recall important points, such as key messages or stats, as they give a presentation. The speaker note panel lives at the bottom of your screen in Normal view, although some users may have this section hidden.
Use the speaker notes to add more nuanced information about a slide's graphics, or instructions for how to click through an animation. It can also be handy to add links to important files or just use this space as a general note taking section—like someone would use a scratch piece of paper.
What are the benefits of speaker notes in PowerPoint?
You are the storyteller, and your slides are your support, forming the atmosphere and emphasizing your key points. Because there's a limit to how much information people can process at one time— they will either listen to you or read your slides —it's important to show only information essential for your story.
Speaker notes in PowerPoint allow you to move nonessential text and stats off your slides so that your audience can fully absorb your message. Having the info in the speaker notes allows you to be ready should your audience ask questions about your data, or other points in your presentation that may require additional information.
Though speaker notes should be a somewhat simplified version of what you are saying, using them for the high-level points of your script will help you match your talk track to what's happening on the slide behind you.
[bctt tweet="A presenter who doesn't need to look behind them to keep pace will have a stronger connection with the audience." username="duarte"]
Spending a little time structuring speaker notes in PowerPoint can also be an easy way to turn your presentation into a dual-purpose file. Not only can you use your file to present, you can use it as a standalone document that can be effectively shared without you presenting. This more advanced feature is described below.
How do I add speaker notes in PowerPoint?
There are two ways to add speaker notes in PowerPoint.
Method One: Directly edit in slide editing mode (aka Normal View). Click the notes section of the window and begin typing. If the notes are hidden, click the Notes button found in options on the bottom right of the PowerPoint screen.
Method Two: Edit your notes in Notes View. Click on the View tab in the ribbon and click Notes Page. Here you have more room on the screen to write your notes and adjust the font size and layout.
How should you write speaker notes in PowerPoint?
We typically advise speakers not to write their script word-for-word in the speaker notes section, as this can tempt a presenter to break a connection with an audience, as well as begin to sound inauthentic.
[bctt tweet="Remember: each slide should convey one concept." username="duarte"]
The first bullet point of your speaker notes can convey that overarching idea, and your other points can support it. I call these speaking touchpoints, and often they are short words or phrases that will remind me of what I want to say.
If one of your supporting concepts involves telling an anecdote or story, you can trigger your memory by leaving a note to yourself in brackets. For example, you could type:
As a company, we've been through difficult times before
[Story: 2008 financial crisis]
It's also important to keep these simple because the space to view them is limited. Though, there are times when a more elaborate note needs to be included. I've found that including a very important phrase in full is one of my favorite things about speaker notes. We often spend a lot of time crafting that pivotal moment, the pace of it, and the wording. Leave room to easily see it in presenter view.
Once, I sat through a presentation where the presenter stayed on one slide for quite some time. He was telling a long story that was coming back to resolve and tie together various points of information on the slide. To help himself stay on track, he wrote about six key speaking touchpoints in a list in the speaker notes, duplicated the slide (so it looked the same to the audience), then completed his next few speaking touchpoints for the slide. When he reached the bottom of the first six touchpoints he clicked the slide without missing a beat and continued the talk track. The audience had no idea that he just moved slides and he was able to use his notes, even though they were long.
The speaker notes are also an opportunity to include "stage directions." These can be anything from reminding yourself to click and advance an animation, gesture to a co-speaker or member of the audience, or even take a breath and pause.
How do you project speaker notes in PowerPoint during a presentation?
PowerPoint is set up to show notes only to the speaker when a presentation is connected to another output, such as a monitor, a projector, a video conferencing app, etc. Just select the Slide Show tab and click Presenter View to enable a display that only you can see on your computer.
You'll see your slides, speaker notes, and even a timer, but your audience will only see slides projected on a monitor or screen.
How else can I use my speaker notes in PowerPoint?
I mentioned that you can structure the notes pages to act as a standalone document that can be shared without you presenting. This is a more advanced way to use notes, but extremely valuable.
Let's say your presentation wowed your audience so much that they requested copies of your slides so they can reference them later, or share with others. Because you created a presentation meant to be shown, not read, chances are that your file won't make sense to someone who wasn't in the room.
Unless, of course, they can read and make sense of your speaker notes. Speaker notes can be used to create beautiful presentation artifacts for your audiences. By giving people a physical reminder of your presentation content, they'll keep thinking about your talk long after you give it, and they'll more easily share your message with others.
David Allen, the author of the bestselling series Getting Things Done , leaves information behind after his talks to ensure that his audience remembers his key principles and methodologies.
After we created a cinematic presentation for David, we translated the rich, evocative images and layouts of his presentation into handouts that anyone could read and understand.
How can I use speaker notes in PowerPoint to create handouts?
Here's how to do it:
1. Click on View in the ribbon and select Notes Page. You'll see that the slide visual takes up the top half of the page and the text below the slide defaults to a bulleted list.
This basic note layout is extremely modifiable. Not only can the Notes Master be adjusted, but each Notes Page itself can have text, charts, quotes, and images added as separate and additional content to augment what's on the surface slide.
2. ​To make changes that will impact the basic structure of all your notes pages, navigate to the Notes Master View: View tab > Master > Notes Master.
3. Make changes to the layout in the Notes Master, keeping in mind that changes here will be reflected on all the notes pages. In the image below, an example of a default Notes Master is shown at left, with a modified master page at right.
You can scale your slide thumbnail to any size and place it anywhere on the master. Headers, footers, and the note placeholder can be moved into any position you'd like. You can add objects to the Notes Master, but remember that objects added in Notes Master will appear on every slide's notes page. Thus, you must be strategic about what you add. To that point, adding a logo or some other universal image would make sense in the Notes Master.
4. Once the Notes Master has been restructured, return to Notes View: View tab > Notes Page.
5. For each page, add any custom graphics, data, text, or other items that relate to that slide. Remember, these will not appear on the slides; they only appear in these notes.
In the layouts we created for David Allen below, we placed a small image of the slide on the top left of the page and a graphic and quote at the top right.
How do I print speaker notes in PowerPoint?
Perhaps you'd rather print out your notes instead of viewing them digitally on a monitor. Or maybe you've gone the extra step and customized your notes and now you're ready to distribute them to your audience.
1. Click the File tab and select Print to open the print dialog.
2. Pull down the second menu within the Settings options. PowerPoint defaults to the Full Page Slides option, and you'll need to switch it to Notes Pages option.
Now you can print the file in Notes View to give a hard copy to your audience.
*Note: Image resolutions may be slightly less in printed or PDF Notes View. Text and shapes will remain the same.
By putting thought into how you prepare, use, and re-use your speaker notes, you ensure that your message resonates long after you and your audience leave the room.
Topics Covered
Design, Presenting
Chariti Canny
Knowing how to solve communication challenges is a challenge itself
This quick assessment will start you on the right path
I'm looking for training for
(Select one)
average workshop satisfaction score
What skills are you looking to improve?
(Select all that apply)
9 out of 10
learners likely to recommend a Duarte workshop.
My specific presentation goals include:
learners agree that the Duarte workshop they took will help them do their job better.
How would you like to learn?
learners said they will see a positive impact in their teams and organization if they consistently apply what they learned at their Duarte workshop.

London Office:
York office:, manchester office:, presentation speaker notes – getting them right.
How your presentation speaker notes can be both your best friend and your worst enemy.
"I'll be fine. I'll read from my speaker notes."
Is that you? Have you ever uttered that to yourself when preparing for an important presentation? How did that tactic work out for you? Not great, we're guessing.
When in presentation mode, Microsoft's PowerPoint is a presenters dream. While their audience can see only the slides, the person standing to deliver the talk can see a whole lot more, including what slide is next and those all-important speaker notes.
Speaker notes act like a memory aid to help you remember what to talk about while each of your slides appears. They are your digital cue cards, there to point your speech in the right direction. Or are they?
When planning your presentation, you might have asked yourself what you want in the speaker note section. We've seen that little text box be used for all many of things before, from hosting the speaker's full script, to sparsely containing just one of two words. In both cases the presentation wasn't great.
There isn't a standard winning formula to how you should use your speaker notes, and, like many things in the world of presentations, it often depends on the speaker's own style and confidence.
As we delved into in this article , writing a full script of your talk is often a great way of getting started. Like an actor memorising their lines, writing a script will help ensure you hit all the main points you need to cover and eliminate accidentally fumbling over subjects. Having the whole speech in your head, to recite word-for-word, will be a huge confidence boost.
The temptation, however, will be to then paste your entire script into the speaker notes of the PowerPoint presentation. As a sort of back up, right? Don't.
Having your full script sitting there on screen below your slides will draw your eyes and you'll find yourself reading out loud to your audience. Doing so will sever the connection between you and make you look like an under-prepared amateur – despite all your preparation.
Like a stand-up comedian jotting down a reminder for a joke on the back of their hand, sum up each slide's talking points with just a few words. Essentially enter into the speaker notes whatever will jog your memory. That will kick start the correct memorised segment of your speech.
This could be as simple as '2019 research findings' or, as shown above, 'Client highlights'; anything that will help you get to the right bit of your script that lives up their in your brain. The size and complexity of these aid memoirs will depend on how your mind works. Some people will need more words, while others will require fewer.
Don't chance which kind of speaker you are – work all this out during your many rehearsals.
All in the prep
We've written many times about the importance of rehearsing. Deciding what kind of speaker notes works best for you should be a part of that process.
If you've learnt your script off by heart, and are busily working on rehearsing it over and over, you might find the odd stumble points. Stumble points are sections of the talk that don't seem to naturally flow into the next. While you recite your words, you might get stuck at such a point, or find it hard to remember what comes next.
There can be lots of reasons for stumble points in a talk. It might suggest that two sections aren't well related to each other and you should go back to see if rearranging your sections helps. But it could just mean there is a natural break to the flow of the content, and you're struggling to adjust.
Either way, make a note of this in your speaker notes. Help yourself get over the stumble point as smoothly as possible by including a 'feeder line', pointing you in the right direction. One quick glance to your notes is all you'll need to remember the next section, and away you go.
Find what works best for you. This means that you might not find the best way to use your speaker notes on your first few presentations. After time you'll discover the method that you're most comfortable with.
PowerPoint's speaker notes feature is definitely useful. Be sure to see how it can aid you the next you 'stand and deliver' a presentation.
If you need more help in planning that killer client presentation, get in touch with us today . From expertly designed slides, to damn-clever PowerPoint development, no one does presentations like we do.
Let's Work Together
Building 8 The Leather Market 11-13 Weston St London SE1 3ER
Email London
+44 20 3026 0169
Get Directions
5 Innovation Close Heslington York YO10 5ZF
The Express Building, 9 Great Ancoats St, Manchester M4 5AD
Email Manchester
+44 161 533 0169