Medical Receptionist Cover Letter Example + Tips
A cover letter can make or break your chances of receiving a job offer. It is important to tailor your letter to the specific job description you are applying for, because this shows the interviewer that you have what it takes to succeed in the job. If you are experiencing a bit of a writer's block when crafting your letter, consulting this free medical receptionist cover letter sample might help get your juices flowing. Check out the following tips to get started.
Dear Mr. Doe,
I am writing to apply for the medical receptionist position that I saw advertised online. As an experienced medical professional who has previously worked a similar position for several years, I am confident that I am an ideal candidate for this opportunity.
At my previous job, I consistently provided exemplary service to a wide variety of hospital patients in several different departments. I answered any questions regarding hospital policies, insurance filings, healthcare costs, and appointment times with professionalism, tact, and friendliness. I also successfully collaborated with nurses and doctors if a patient was experiencing a serious health problem.
I have excellent interpersonal skills that allow me to provide the utmost service to patients. In addition, my well-developed organizational skills allow me to multitask easily in a fast paced environment. I can work on several tasks at once without confusion. I am positive that I can successfully manage sensitive patient accounts with ease, as well as maintain a professional demeanor when communicating on the phone and in person.
I would love to continue working in a field that lets my passion for good customer service shine. Thank you for taking the time to look over my application, and I hope that we can schedule an interview in the near future.
How Our Cover Letter Builder Saves You Time
Job-specific examples
No matter what job you're applying for, we've got you covered. Our builder will provide job-related information and skills you can incorporate into your letter.
Step-by-step guidance
Our builder contains expert tips to help you feature the right content in your letter — every step of the way.
Easy customization for different jobs
Create and save as many versions of your cover letter as you want.
Complement your resume's look
Create a unified "look" for your job application by using our Resume Builder to create a resume that matches your cover letter's design.
Export in seconds
When you're done with your cover letter, download it to your computer as a PDF, plain text file, Word document, SVG, or JPEG.
Check out our 5-star reviews
What to include in a medical receptionist cover letter.
An ideal cover letter like this free medical receptionist cover letter sample should be detailed yet brief, no more than a page long. Don't be afraid to borrow language from the job description in order to highlight the fact that you understand what the job is about, and that you have the necessary abilities to be a valued employee. Many medical receptionist positions value previous experience, so it can be helpful to include reasons how the tasks you conducted in past jobs specifically relate to your job application.
Industry Specific Skills to Include
As in this free medical receptionist cover letter sample, your letter should be an honest depiction of your skills and experiences. However, the following traits are often sought for these positions:
● Communication: Speaking professionally about a variety of complex and sensitive healthcare tasks is often critical to a medical receptionist job. ● Multitasking: Hospitals are busy; you should be able to work quickly and switch from one task to another with ease. ● Organization: You will most likely be keeping track of accounts, files, and appointments. Good organization skills are key to ensuring that nothing gets lost in the cracks. ● Problem-Solving: Keeping a cool head and resolving any issues you encounter is important, especially when patients are involved.
Related Skills
Comprehension of medical terminology
Testing network coverage
Basic medical terminology
Recovering and recycling
Medical evaluation
Discovery Education familiarity
Field medical assessments
Extended Coverage
Coverage assessments
Patient recovery assessments
More Resume Examples for the Next Step in Your Healthcare Support Career
Healthcare System Administrator Resume
Assisted Living Coordinator Resume
Assisted Living Executive Director Resume
Companion Caregiver Resume
Direct Support Professional Resume
Home Health Aide Resume
Medical Assistant Resume
Occupational Therapist Resume
Healthcare Operations Manager Resume
Patient Coordinator Resume
Personal Care Assistant Resume
Personal Support Worker Resume
Phlebotomist Resume
Healthcare Program Manager Resume
More Cover letter Examples for the Next Step in Your Healthcare Support Career
Caregivers Companions Cover Letter
Home Health Aide Cover Letter
Homemaker Cover Letter
Medical Biller Cover Letter
Occupational Therapist Cover Letter
Pca Cover Letter
Patient Care Tech Cover Letter
Patient Service Representative Cover Letter
Personal Care Aide Cover Letter
Personal Care Assistant Cover Letter
Personal Support Worker Cover Letter
Phlebotomist Cover Letter
More Cv Examples for the Next Step in Your Healthcare Support Career
Care Home Manager CV
Occupational Therapist CV
Phlebotomist CV
RESUME BUILDER
COVER LETTER BUILDER
Advertisement
Resumes Resume Builder Resume Templates Creative Resume Modern Resume Basic Resume Professional Resume Traditional Resume ATS Resume High School Student Resume Word Resume Resume Examples Resume Formats Hybrid Resume Functional Resume Chronological Resume How to Write a Resume Skills Summary --> Resume Objectives Work History list References Resume Skills
Cover Letters Cover Letter Builder Cover Letter Templates Cover Letter Examples Cover Letter Formats How to Write a Cover Letter
CV CV Templates
Job Overviews
Resources Career Guides How to Become
Resume Builder
Cover Letter
healthcare support
Medical Receptionist Cover Letter Examples
Medical Receptionists are responsible for liaising between doctors and patients and updating patient records. Common job duties of a Medical Receptionist are welcoming guests, taking phone calls, handling the correspondence, gathering patient information, collecting payments, and preparing receipts. Besides billing they are also required to process insurance.
Not exactly what you are looking for? Check our complete library of over 1000 cover letter examples .
Rate This Template:

For help with your resume, check out our extensive Medical Receptionist Resumes .
Improve your chances of getting noticed with a powerful cover letter. Take a look at our guide to create the best cover letter in 2023 .
Include These Medical Receptionist Skills
Knowledge of medical terminology and procedures
Computer literacy and the ability to use relevant software
Good communication and interpersonal skills
Attention to details and accuracy
Multitasking and the ability to work under pressure
Confidentiality
Information collection and management skills
An example Medical Receptionist cover letter showcasing similar assets is available below.
Dear Dr. Johnson:
As an experienced administrative professional , I am pleased to present the enclosed resume in response to your posting. With a strong knowledge base in handling patient scheduling and high-volume multi-line phone systems, I am prepared to excel as your next Medical Receptionist.
Through success in coordinating medical charts, patient records, and appointment scheduling functions—as well as providing outstanding general administrative support —I am well versed in the nuances of the medical industry. I adeptly manage a high volume of administrative tasks daily while simultaneously delivering excellent patient service.
Highlights of my experience include the following:
Experience preparing documents, managing patient files, scheduling appointments, and organizing medical charts and materials while maintaining first-rate level of accuracy and confidentiality.
Ability to manage patient information and medical records while ensuring adherence to strict regulatory mandates such as HIPAA.
Communicating effectively with physicians, nurses, medical assistants, and senior management staff to facilitate highly efficient and productive medical office operations.
Extensive secretarial / administrative background with strong abilities in full range of support tasks such as phone coverage, filing, and database management.
Excelling at balancing multiple tasks while providing top-level organization, interpersonal, and communication skills; exceptional computer abilities with extensive software proficiencies.
Furthermore, my detail-oriented nature and ability to effectively collaborate with other team members offer additional skills essential to this position. I believe I would be a great asset to your team and look forward to hearing from you to discuss how I may contribute to your goals. Thank you for your time and consideration.
Crystal S. Simpson
A professional cover letter is the first step toward your new job!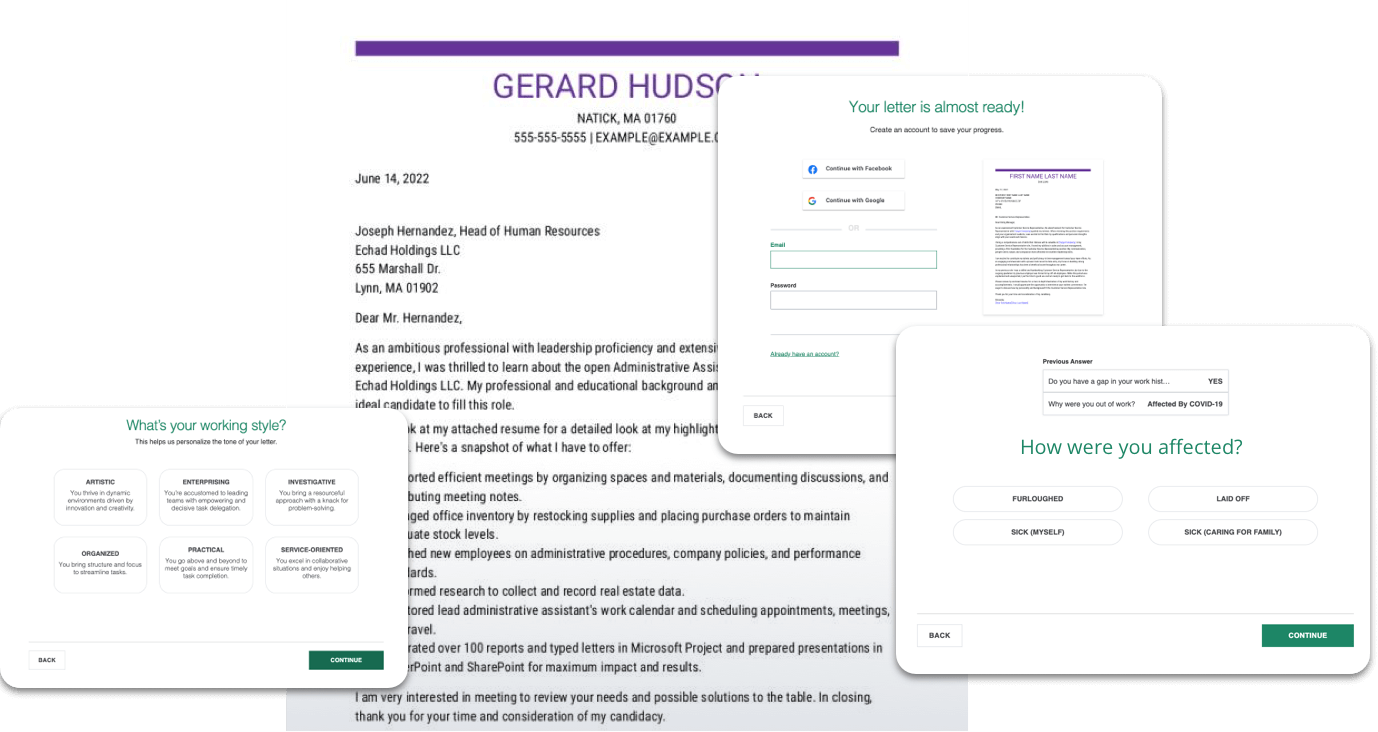 Cookie settings
This site uses cookies to ensure you get the best experience on our website. To learn more visit our Privacy Policy
Medical Receptionist Cover Letter: Samples & Templates
I had an interview yesterday and the first thing they said on the phone was: "Wow! I love your cover letter." Patrick I love the variety of templates. Good job guys, keep up the good work! Dylan My previous cover letter was really weak and I used to spend hours adjusting it in Word. Now, I can introduce any changes within minutes. Absolutely wonderful! George
Medical Receptionist Cover Letter Examples
Example #1: medical receptionist cover letter, example #1: medical receptionist cover letter—text version, example #2: cover letter for a medical receptionist with no experience, example #2: cover letter for a medical receptionist with no experience—text version, how to write a sterile medical receptionist cover letter, 1. use the business cover letter format, 2. list your contact information in the header, short cover letter for medical receptionist: header , 3. identify yourself and the position you're applying for, medical receptionist cover letter: introduction, 4. give them a reason to hire you, medical receptionist cover letter example: second paragraph, 5. give them a reason why you applied, sample of a medical receptionist cover: third paragraph, 6. sign off & request interview, medical receptionist cover letter samples: sign off & call to action, was it interesting here are similar articles.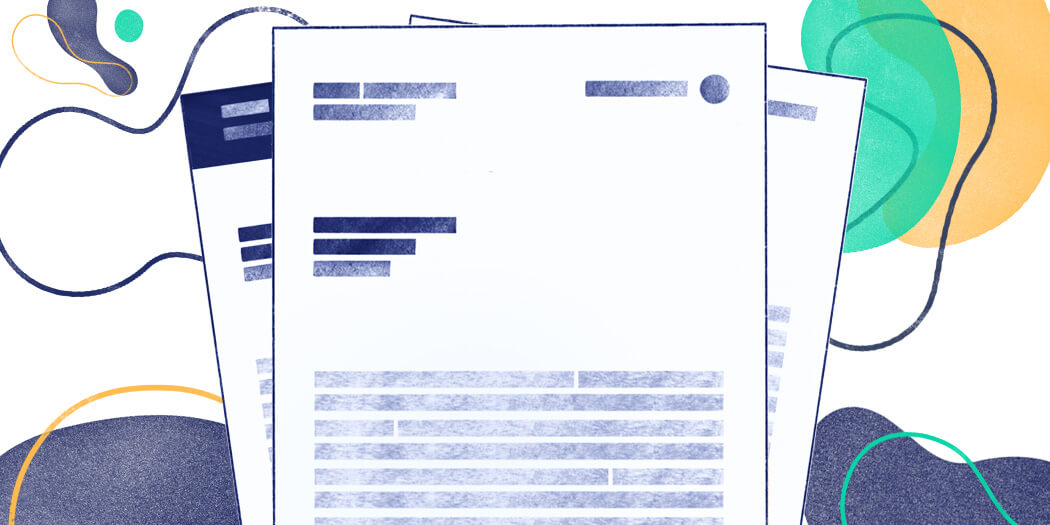 35+ Cover Letter Templates to Try Right Now [Free & Premium]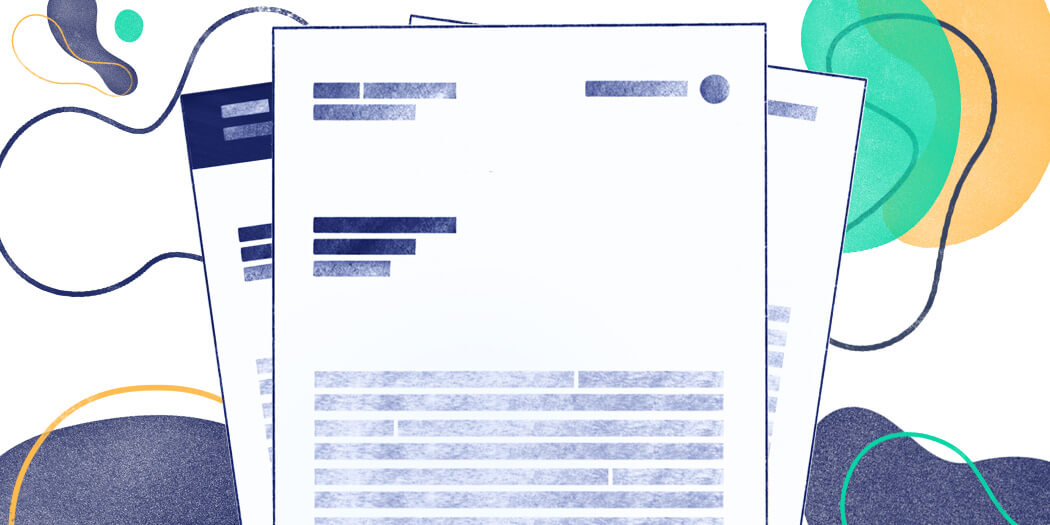 25 Free Cover Letter Templates for Google Docs [2023]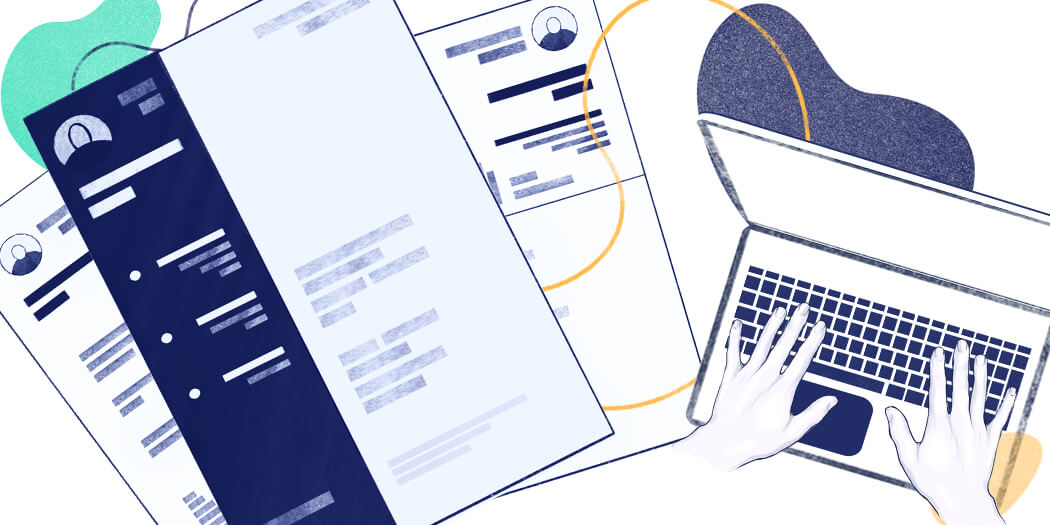 50+ Cover Letter Templates for Word [Download for Free]
Medical Receptionist Cover Letter Example
Medical receptionist jobs can allow for fulfilling work no matter where you're at in your career. So how do you land one? A stand-out medical receptionist cover letter is the key to your job-winning application. It can open better doors to the sought-after benefits of this rewarding occupation: collaborative work, regular hours and reasonable pay compared to other positions that don't require an advanced degree. 
Around the world, the healthcare industry is expanding at a rapid pace. Population growth, a longer life expectancy and global health challenges mean the need for medical professionals and those who support them – including medical receptionists – is on the rise.
What's more, the U.S. Bureau of Labor Statistics projects medical receptionists won't feel the squeeze, even as other industries cut back on administrative positions. Growing healthcare industries are projected to lead demand for receptionists, particularly in the offices of physicians, dentists, and other healthcare practitioners.
With Resume.io, you're never alone in the hunt for the perfect position.We've produced an extensive collection of occupation-specific writing guides and corresponding cover letter examples . We also offer resume writing tools, informative blogs and field-tested templates to help you create both job application documents.
This cover letter writing guide, backed by a medical receptionist cover letter example, will help secure your foothold in a promising job market. We'll be covering these topics:
Understanding the vital role of a cover letter in landing your next position
The best format for structuring a cover letter
Optimizing the impact of each cover letter part: header, greeting, introduction, body and conclusion
How to increase your odds of landing a medical receptionist position with no experience
Common mistakes to avoid in your medical receptionist cover letter.
Here is exactly how you can write a cover letter that will stand out from the crowd, and help you land that interview.
Why you need a medical receptionist cover letter
Primary purpose.
In order to write an effective cover letter, you'll want to understand the what and the why. A cover letter is one of the most powerful tools to land a position, yet it's often misunderstood. 
This one page document, usually 200 to 400 words, accompanies your resume and allows you to expand on your most impressive achievements, relevant experience and any personality traits that make you stand out from other candidates.
Since your resume is brief and focused mainly on the facts of your employment history, it doesn't offer much space to show why you're an interesting person, not just a receptionist robot. In a job as personal as the medical field, a cover letter with heart and passion can go a long way to make you stand out in a crowded field of applicants.
What if the medical receptionist job application DOESN'T require a cover letter?
Large hospitals and health systems often use online platforms to post job listings and manage applications. Unfortunately, candidates can often find themselves with no one to answer questions about their application. Many applications list a cover letter as "optional" or forget to mention the document entirely. So what should you do in this situation?
Unless a job application asks you NOT to write a cover letter, we recommend creating one and sending it. A good cover letter can only increase your chances of landing a medical receptionist position – why pass up a golden opportunity?
Professional and persuasive writing, while important, is only half the battle in creating a great cover letter. You'll also need clean formatting to carry the message. You can find a ton of useful tips, including the best fonts and sizes, in this guide to formatting a cover letter . 
Secondary purpose
Hospitals and doctors offices often receive dozens of applications for any given medical receptionist position, so how can you give yourself a fighting chance?
Imagine a hiring manager sorting through stacks of applications. Eventually, most of the resumes for people with at least some professional experience start to blur together. The hiring manager chooses your resume which is clean and professional but without many differentiating factors. Then he or she reads the first line of your cover letter. 
Boom! Your attention-grabbing and thoughtful first sentence hooks the hiring manager's attention and they find themselves interested in you and your personality. By the time they finish reading, they've decided to advance your application to the next round.
That's the power of a great cover letter. It's all about maximizing your chances and letting you focus on the qualities and experiences that make you an excellent candidate. In fact, a convincing cover letter may even help you beat out more qualified medical receptionists who don't know how to highlight their strengths.
The importance of tailoring your cover letter
If you understand the importance of a great cover letter, then you've almost won the battle in landing your next dream position. There's just one more step — tailoring your cover letter. 
Tailoring means adjusting your letter to each and every position you apply for. That can include swapping out anecdotes or choosing different statistics based on your potential office's clientele. You'll also want to scan the job description for the most important skills and adapt your cover letter (and resume!) accordingly.
This small time investment can make a huge difference when it comes to a hiring manager's first impression of your application. Instead of appearing desperate for any position, you'll come across as confident, professional and ready to take care of whatever challenges your employer hands you.
For additional cover letter inspiration, you can check out our related medical cover letter examples.
Nursing Cover Letter Sample
Medical Assistant Cover Letter Sample
Physical Therapist Cover Letter Sample
Lab Technician Cover Letter Sample
Dental Assistant Cover Letter Sample
Occupational Therapy Cover Letter Sample
Pharmacy Technician Cover Letter Sample
Pharmacy Assistant Cover Letter Sample
CNA Cover Letter Sample
Physician Assistant Cover Letter Sample
New Grad Registered Nurse Cover Letter Sample
Nursing Student Cover Letter Sample
LPN (Licensed Practical Nurse) Cover Letter Sample
Veterinary Assistant Cover Letter Sample
Doctor Assistant Cover Letter Sample
Best format for a medical receptionist cover letter
Some job candidates believe cover letters lack structure, but this couldn't be further from the truth. In the next section, we'll dive into the trusted cover letter organization which doesn't vary much between positions or industries. Here are the key components:
The cover letter header
The greeting
The introduction
The letter body
The conclusion
The signature.
Dear Mrs Summers,
As a front-desk medical receptionist, my role is to ensure a smooth flow of patients through the department, informing them of expectations and addressing their concerns. In my five years in the pediatric department at Saint Josephs, my department have consistently received five stars for patient care, and I have over 300 letters of recommendation.
Fast-moving multi-physician practices mean that any administration has to be carried out with maximum efficiency, but the needs of patients and staff must come first. My previous role as a teaching assistant taught me much about meeting the emotional needs of children and my approach is always to welcome them with a comforting attitude. When they feel relaxed, medical care can proceed smoothly.
In terms of improving process efficiency, I implemented a mobile-led patient management system that cut costs by 22% and decreased waiting times in the department by fifteen minutes. I also helped to pilot an innovative pediatric-play system whereby the youngest children had their basic health signs monitored while their parents were occupying them with toys and books. This decreased appointment times by 15 minutes and allowed more patients to be seen.
I am proficient in all major medical software, meticulous in maintaining medical records and go about my patient communications with the utmost integrity and confidentiality. Parents need to be candid about their children's situation without the worry that their privacy will be breached in any way.
To address some of the additional requirements for the role:
Procurement responsibility - 12% cost saving and reduced suppliers by a third.
Experienced in handling insurance claims familiar with ICD 10, CPT, and HCPC codes.
Managed accounts receivable and reduced outstanding balances by 35%.
I have heard much about your culture at Denver Municipal and I would welcome the chance of an interview to explore how I might be a fit for your pedatric team.
Cover letter header
As mentioned before, standing out is one of the biggest challenges your cover letter faces once it arrives on the hiring manager's desk. The cover letter header serves two purposes to help you do just that. 
The first is to keep your full name and contact information at the hiring manager's fingertips. It's going to be hard to get an interview if the recruiter can't find your phone number! Good organization, including keeping your personal details handy, helps you appear polished and professional. Just want sure to stick to the necessary information as you don't want to take away too much space from your convincing writing. 
The second purpose of your header is to create attractive formatting for an otherwise plain document. Since the medical field is quite a formal industry, it's best to avoid bright colors or other bold design elements. Nonetheless, a clean, neutral template can go a long way in creating the right image for a medical receptionist.
The goal of this section : Keep the necessary personal information and contact details at the very top of your cover letter, create an interesting and attractive format that catches a hiring manager's eye
Align document styles!
Keeping your contact information at the top of your cover letter is a smart idea — but what if a hiring manager looks at your resume first? Not only should you also include a useful header there too, but can take your entire application to the next level by aligning the header styles of both documents. 
A cover letter template and matching resume template can help you do just that. You'll want to choose a template that conveys your skill and expertise without appearing too stuffy. On the other hand, neon colors can give the impression you'd rather be a receptionist in an art gallery. An organized template, like one of these simple options from Resume.io, can help you find the perfect balance.
Cover letter greeting
For such a short section, your cover letter greeting sure does a big job. This is the place you'll make a personal connection and set up a respectful tone by greeting the cover letter recipient by name.
The traditional "Dear" followed by a last name works well in virtually all professional medical situations – just don't forget the proper salutation like "Dr."
The goal of this section : Establish rapport and set a professional tone through a personalized greeting whenever possible
The importance of names and addressed greetings
Memorizing and using someone's name can go a long way in establishing a friendly tone and making yourself memorable. In fact, scientific studies have shown this is true in multiple walks of life. 
You should always use this to your advantage by using the hiring manager's name when applying for positions with individual doctors or small clinics. However, for larger hospitals or centralized health systems, this may seem pretty near impossible.
No need to go to extreme lengths to find a name in that case. A collective noun like "Hiring Team" or the name of the health system and "Family" can work well.
Cover letter introduction
Your cover letter introduction might be the only chance your cover letter gets — make it good. That doesn't mean launching into a wild, yet unrelated story. But an interesting letter that starts with a relevant anecdote, statistic or skill will always put you ahead of generic, disinterested openers. Just make sure to keep the intro concise and professional so that the hiring manager finds themselves in the body of the letter before they know it.
The goal of this section : Use an attention-grabbing fact, anecdote or skill to catch the hiring manager's attention and lead to the rest of the letter
Cover letter body 
The main section of your cover letter should be devoted to the most convincing examples of your skills and experiences. The STAR method can be useful. Briefly describe a S ituation and the required T ask, then your A ction and the positive R esult. Focus on samples that clearly show situations similar to the ones you might face in the prospective position. You can also mention potential contributions here or even a few hard skills, since they are often very important to the medical receptionist job.
The goal of this section : Give relevant examples of your skills and experience through the STAR method, describe some potential contributions
Cover letter conclusion and signature
To wrap up your letter with professional flair, you'll want to create an effective call to action. This expresses your interest in the position and encourages a hiring manager to get in touch. You can even leave your personal data again here as well.
Then use the appropriate signature to finish things up. "Sincerely," Best regards" or "Thank you for your consideration" can all work well in formal positions.
The goal of this section : A call to action expresses enthusiasm and invites the hiring manager to contact you, end the letter with a respectful signature
Cover letter tips for candidates with no experience
If you don't have any work experience in a medical office, don't fret. Healthcare support positions like medical receptionists are some of the best ways to launch a new career in a growing field.
However, in a tough economy where many entry-level positions are quickly snatched up, you'll need the best cover letter to convince a hiring manager you're worthy of an interview.
To do this, it's best to brush up on your knowledge of medical terminology and the most important hard skills. How to file medical records can quickly be learned on the job, but you'll still need some basic knowledge of the paperwork procedures to find your way in the first few weeks.
Here are some important qualities to convey while on the job search for a medical receptionist position.
Communication skills : Good communication is the foundation of any great medical receptionist. Use your cover letter to give examples of the ways you can effectively serve as a link between patients and doctors, building staff and other representatives.
Problem solving : Patients have questions, doctors are busy, scheduling conflicts arise. How can you rise to the challenges of working in the front office to make sure that everything gets taken care of.
Hard skills : Normally cover letters are focused on soft skills and personality. While you should put your friendly demeanor on display, medical receptionists may want to sprinkle in a few of the most important hard skills based on the job description. These can be anything from knowledge of medical terminology and CPT to scheduling appointments and software like Microsoft Excel.
Organizational skills : Staying organized while multitasking is one of the most important skills for any experienced medical receptionist. In your cover letter, give concrete examples of the ways you stay on top of numerous tasks at once or make sure patient files are stored correctly.
Without vast experience as a medical receptionist, you can focus on the skills you do possess like great organization, a sparkling personality and the ability to handle multiple tasks at once. Give concrete examples of this from past non-medical receptionist positions and then briefly explain how you'd transfer that skill to this new position.
The power of a story
When you're just starting out as a medical receptionist, you're going to need to find ways to make up for lack of experience. Luckily, a story on your cover letter can help you do just that. 
Some places to begin your personal story:
A positive experience you had with a doctor's office staff
An interest in the medical field after a personal experience
A skill that you've mastered that's at the core of being a medical receptionist
What you believe you can bring to the position
A time you helped someone that is relevant to a receptionist position
Neuroeconomist Paul Zak sees storytelling as a strategic business tool. You can also use the power of storytelling to your advantage by incorporating it into your cover letter. Just make sure to keep these anecdotes concise and focused on the skills for the job.
 Common mistakes to avoid in a medical receptionist cover letter
Watch out for these simple mistakes which could take your dash your chances of landing the medical receptionist position:
A generic cover letter : A generic cover letter gives the impression you're just looking for any entry-level position. Show the employer you're interested in their job posting by tailoring your cover letter with the most relevant examples and facts for every medical receptionist position you apply to.
Typos and grammar mistakes : Simple errors like these take away from your credibility as a good communicator. Make sure to proofread your cover letter or have a friend look over your application before you submit.
Poor formatting : Don't sabotage your great writing with poor formatting. A clean and well-organized cover letter template shows an employer you're a serious candidate who understands hiring in the medical field.
Lack of interest in medical positions : A medical receptionist is a much more specialized position that others in the administrative field. While you can certainly land this position without years of experience, your cover letter should convey a basic understanding of medical paperwork and an interest to work with doctors and patients.
Resume.io's professional cover letter template s are the surest and simplest way to achieve professional results. Browse our collection of field-tested designs in four style categories. Choose your favorite and easily customize it with your own replacement text, using the cover letter builder tool .
Key takeaways for a medical receptionist cover letter
The best cover letter gives you a unique advantage in winning your next medical receptionist position. In virtually all cases, it's important to write and send a thoughtful cover letter with your application.
Generic cover letters are one of the biggest pitfalls of any entry-level position. Make sure to tailor your cover letter with the skills needed for each of the medical receptionist jobs you apply to.
The trusted cover letter structure can help you keep your writing organized and focused on the most important points.
If you're applying for a medical receptionist position with no experience, try sharing a story of your interest or skills to hook the hiring manager's attention.
Poor formatting can ruin all the work you've put into your writing. A simple and professional cover letter template can help you create a great layout in just a few clicks.
Get your next interview with resume.io's awesome cover letter and resume tools. Take all the stress out of job applications!
Free professionally designed templates
You control your data
We use cookies to tailor the experience of creating resumes and cover letters. For these reasons, we may share your usage data with third parties. You can find more information about how we use cookies on our Cookies Policy . If you would like to set your cookies preferences, click the Settings button below. To accept all cookies, click Accept.
Cookie settings
Click on the types of cookies below to learn more about them and customize your experience on our Site. You may freely give, refuse or withdraw your consent. Keep in mind that disabling cookies may affect your experience on the Site. For more information, please visit our Cookies Policy and Privacy Policy .
Choose type of cookies to accept
These cookies allow us to analyze our performance to offer you a better experience of creating resumes and cover letters. Analytics related cookies used on our Site are not used by Us for the purpose of identifying who you are or to send you targeted advertising. For example, we may use cookies/tracking technologies for analytics related purposes to determine the number of visitors to our Site, identify how visitors move around the Site and, in particular, which pages they visit. This allows us to improve our Site and our services.
These cookies give you access to a customized experience of our products. Personalization cookies are also used to deliver content, including ads, relevant to your interests on our Site and third-party sites based on how you interact with our advertisements or content as well as track the content you access (including video viewing). We may also collect password information from you when you log in, as well as computer and/or connection information. During some visits, we may use software tools to measure and collect session information, including page response times, download errors, time spent on certain pages and page interaction information.
These cookies are placed by third-party companies to deliver targeted content based on relevant topics that are of interest to you. And allow you to better interact with social media platforms such as Facebook.
These cookies are essential for the Site's performance and for you to be able to use its features. For example, essential cookies include: cookies dropped to provide the service, maintain your account, provide builder access, payment pages, create IDs for your documents and store your consents.
To see a detailed list of cookies, click here .
This site uses cookies to ensure you get the best experience on our website. To learn more visit our Privacy Policy

Medical Receptionist Cover Letter Samples for Any Specialty
Welcome to the only cover letter writing guide you'll ever need. In 5 minutes, you'll learn how to write a medical receptionist cover letter that stuns every hiring manager.
As seen in:
You came to the right place to learn how to write your medical receptionist cover letter.
And you need to make it perfect.
It's one of your best chances to stand out from the competition. See, most candidates don't include cover letters.
Those who do, write nothing but generic, worn-out phrases.
A well-written, personalized cover letter for a medical receptionist will make the hiring manager's heart pound with joy.
This guide will show you a medical receptionist cover letter example and the best tips on how to write yours step by step.
Want to write your cover letter fast? Use our cover letter builder. Choose from 20+ professional cover letter templates that match your resume. See actionable examples and get expert tips along the way.
Create your cover letter now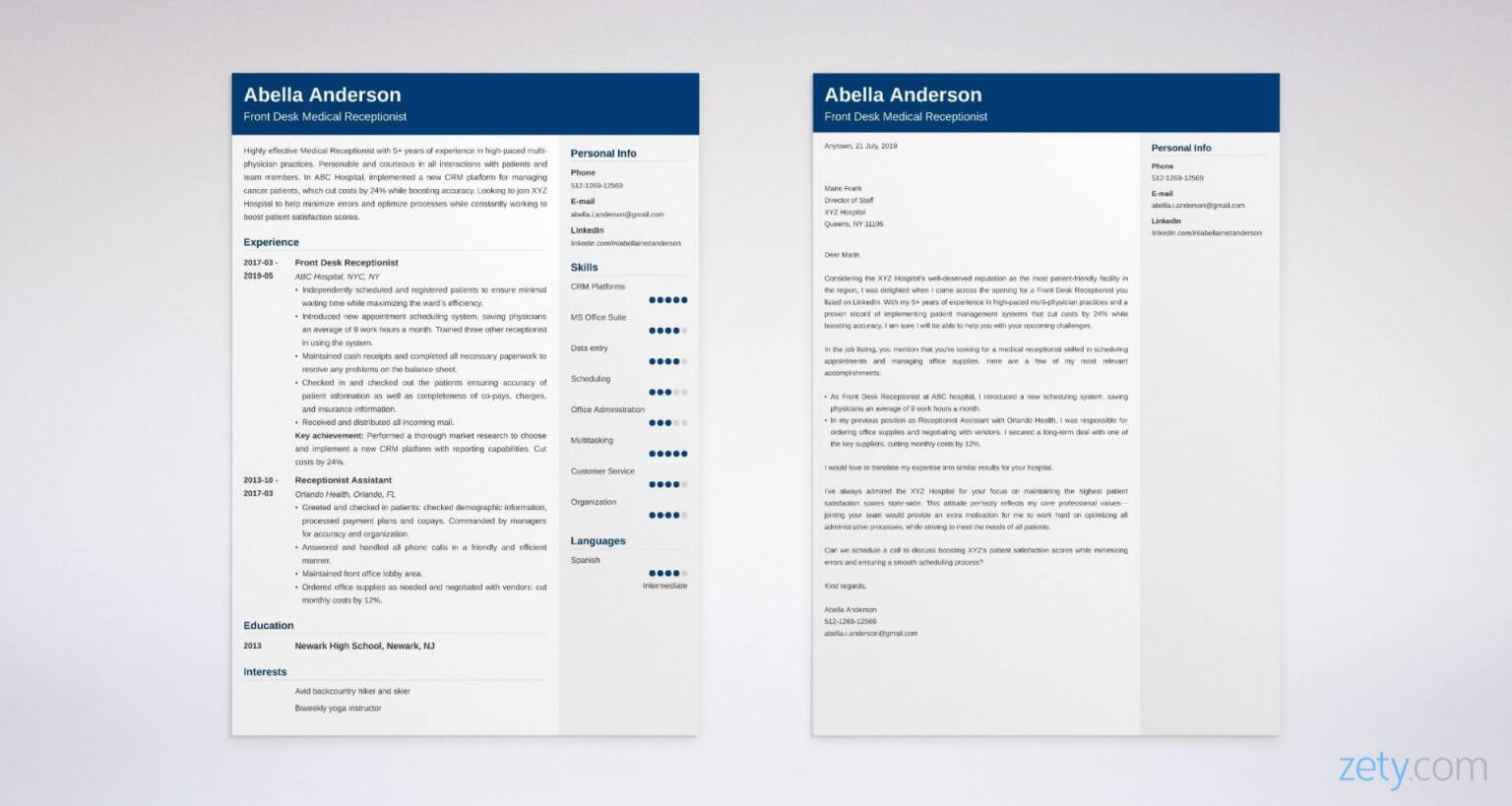 Sample cover letter for a resume— See more cover letter examples and create your cover letter here .
Considering similar positions too? See other cover letter examples for jobs in your industry:
Medical Cover Letter
Medical Scribe Cover Letter
Nurse Practitioner Cover Letter
Administrative Cover Letter
Administrative Assistant Cover Letter
Executive Assistant Cover Letter
Office Assistant Cover Letter
Office Manager Cover Letter
Personal Assistant Cover Letter
Receptionist Cover Letter
Secretary Cover Letter
Want to explore your options further? See our full selection of cover letter examples for every career: Cover Letter Samples for Any Job
Let's begin:
Medical Receptionist Cover Letter Sample
Abella Anderson
Front Desk Medical Receptionist
512-1269-12569
[email protected]
linkedin.com/in/abellainezanderson
Anytown, 21 July, 2019
Marie Frank
Director of Staff
XYZ Hospital
Queens, NY 11106
Dear Marie,
Considering the XYZ Hospital's well-deserved reputation as the most patient-friendly facility in the region, I was delighted when I came across the opening for a Front Desk Receptionist you listed on LinkedIn. With my 5+ years of experience in high-paced multi-physician practices and a proven record of implementing patient management systems that cut costs by 24% while boosting accuracy, I am sure I will be able to help you with your upcoming challenges.
In the job listing, you mention that you're looking for a medical receptionist skilled in scheduling appointments and managing office supplies. Here are a few of my most relevant accomplishments:
As Front Desk Receptionist at ABC hospital, I introduced a new scheduling system, saving physicians an average of 9 work hours a month.
In my previous position as Receptionist Assistant with Orlando Health, I was responsible for ordering office supplies and negotiating with vendors. I secured a long-term deal with one of the key suppliers, cutting monthly costs by 12%.
I would love to translate my expertise into similar results for your hospital.
I've always admired the XYZ Hospital for your focus on maintaining the highest patient satisfaction scores state-wide. This attitude perfectly reflects my core professional values—joining your team would provide an extra motivation for me to work hard on optimizing all administrative processes, while striving to meet the needs of all patients.
Can we schedule a call to discuss boosting XYZ's patient satisfaction scores while minimizing errors and ensuring a smooth scheduling process?
Kind regards,
That's a stunning medical receptionist or medical secretary cover letter example, right?
Now, let's walk through the process of writing a medical receptionist cover letter.
Medical Receptionist Cover Letter Template
Here's how to write a medical scribe cover letter for a job application:
1. Use the proper cover letter formatting and layout
Margins: one inch on all sides.
Spacing: 1.15.
Font : one of the classics (Tahoma, Verdana, Calibri, Arial, Georgia).
Read more: Cover Letter Formatting, Layout & Design
2. Make a good-looking cover letter header
At the top, list your name, job title , and contact details: phone number, email, LinkedIn profile (yes, LinkedIn is a must nowadays, 87% of recruiters use it and will look you up —make sure you have a good profile and always link to it on your cover letter.)
Make the cover letter header match that of your resume.
Type in the city and date a double-space below your contact info.
Another double space below, put the hiring manager's name and inside address.
Read more: How and to Whom Should I Address a Cover Letter?
3. Use a personal greeting and write a head-turning opening
Start with "Dear [Hiring Manager's Name]."
Introduce yourself and identify the job for which you're submitting the cover letter.
Briefly outline your experience and mention an achievement relevant to the job.
Read more: How to Begin a Cover Letter
4. Prove you're the ideal candidate
Refer to the job description and show you have the necessary qualifications.
If you can, mention a few quantifiable accomplishments.
Say you've got what it takes to translate your expertise into their success.
Need more in-depth cover-letter-writing guidelines? See our 101: Cover Letter: Sample and How to Write Yours
5. Explain what makes you want to join them
Make them feel special: mention something you admire about the way they operate.
Clearly show that you want to join this institution, not just land a job.
This way, they'll know that you're likely to stay for longer, so their onboarding budget won't be spent in vain.
By the way, according to Bloomberg and the BLS data , healthcare jobs are the fastest-growing employment sector in the US, so you're sure to be spoilt for choice.
Before you apply, make sure to pick an organization that you really want to work in.
6. Make an offer and include a call to action in the final paragraph
Ask for a meeting to discuss what you can offer.
Reiterate what's in it for them—remind them that you're willing to join to help with their challenges.
Read more: The Best Cover Letter Closing Lines
7. Put a professional sign-off at the bottom of the page
Sign-off with your full name.
Consider including a digital scan of your signature—it will add a nice, classy touch.
In the footer, retype your phone and email address.
All done? Once you send your medical receptionist cover letter and a resume, don't just sit and wait. Follow up. A well-placed call or email can make all the difference. Find out more: Job Application Follow-Up Email Templates
A good cover letter is a must in today's hiring. But it's still your resume that matters most.
When making a resume in our builder, drag & drop bullet points, skills, and auto-fill the boring stuff. Spell check? Check . Start building a professional resume template here for free .
When you're done, Zety's resume builder will score your resume and tell you exactly how to make it better.
Questions? Concerns? I'm here to listen and respond. If you have any doubts about how to write a perfect cover letter for medical receptionist positions, drop me a line in the comments.
Don't miss out on exclusive stories that will supercharge your career!
Get a weekly dose of inspiration delivered to your inbox
Similar articles
How to Make a Resume: Step-by-Step Writing Guide for 2023
How to write a resume that will get you the job you're looking for? This step-by-step guide will show you the best resume examples, and you can write a resume in a few easy steps.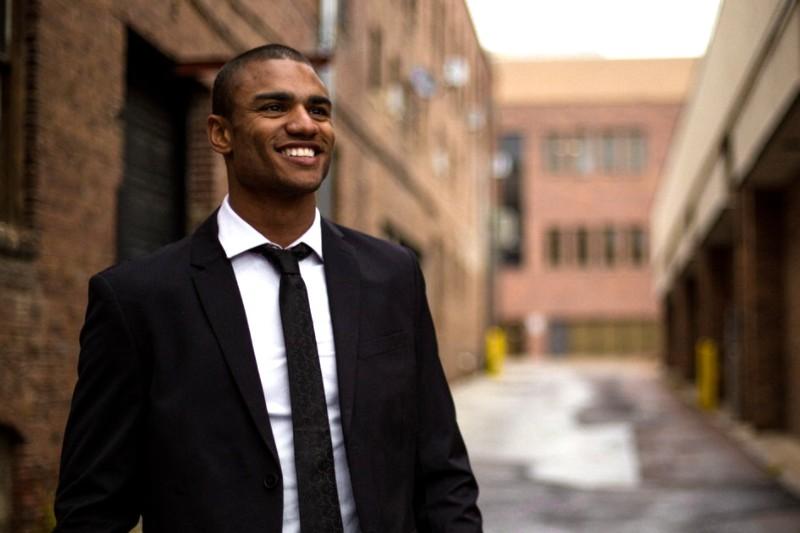 30+ Best Job Search Engines & Boards for Finding a Job 2023
List of top job search sites: online boards, search engines, and employment websites plus 15 niche alternatives. With expert advice on finding a job fast.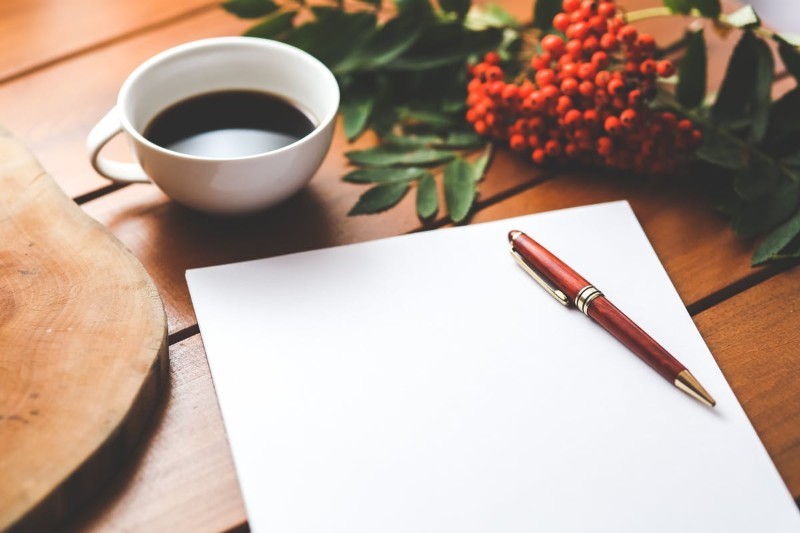 General Cover Letter That Isn't Generic (Sample for Any Job)
How to write a general cover letter? Copy our sample generic cover letter template, adjust and use it to land an interview. Read more!
Cover Letter Examples
Medical Receptionist
The Best Medical Receptionist Cover Letter Examples
A medical receptionist needs to combine general receptionist duties with medical knowledge. How do you show that in a cover letter?
OUR USERS HAVE BEEN HIRED BY
Medical receptionist cover letter example.
Medical receptionists need all the skills of any front desk job along with a healthy dose of healthcare knowledge. This helps them handle the medical requests that they often receive. A medical receptionist cover letter can help you showcase why you're the perfect person to head the front desk of a medical office. Here's a great medical receptionist cover letter example to help you write yours.
Tips for Writing Your Medical Receptionist Cover Letter Using This Example
Faq: medical receptionist cover letter example.
Do I need a cover letter to get a medical receptionist job?
How long should my cover letter be to get a medical receptionist job?
Does this cover letter example work if I don't have a lot of experience?
Q: Do I need a cover letter to get a medical receptionist job?
A cover letter is one of the best tools you can use to get any kind of job. If you want to get a job interview, a cover letter will help guide you to that end goal. Additionally, since many other job seekers won't write a cover letter, it puts you in front of anyone else who doesn't write one. If you're not confident in your ability to write a cover letter, use the cover letter builder from ResumeHelp.
Q: How long should my cover letter be to get a medical receptionist job?
Cover letters typically need to stay between half a page and 3/4 of a page. The perfect cover letter is long enough that it shows off all of your qualifications, but short enough that the hiring manager wants to read it. No matter how many years of experience you have, stick between 250-350 words.
Q: Does this cover letter example work if I don't have a lot of experience?
Yes. You don't need lots of experience to go through a job search, just skills and a drive to succeed. If you don't have a lot of experience and you still want to use this cover letter template, replace discussions of your experience with skills and general competencies. For example, anyone can be good at scheduling appointments, but if you're amazing at problem-solving, you might be seen as far better than other job seekers.
Move your cover letter to the top of the yes pile!
We personalize your experience..
We use cookies in our website to ensure we give you the best experience, get to know our users and deliver better marketing. For this purpose, we may share the information collected with third parties. By clicking "Allow cookies" you give us your consent to use all cookies. If you prefer to manage your cookies click on the "Manage cookies" link below.
Manage Cookie Settings
Select which cookies you'd like to accept. Disabling cookies may negatively impact your experience on the site. For more information visit our Privacy Policy and Cookie Policy .
Performance cookies allow us to gather statistical data on how the website is performing to make improvements. Web Analytics cookies allow us to gather information regarding how you access the Site, for how long you stay and what parts of the Site you have visited. These cookies don't collect identifiable information from you, which means all the data is collected is anonymous and only used to improve the functionality of a website.
Marketing cookies allow us to gather information to display advertisements based on topics that are relevant to you, allowing us to send you tailored offers. They also allow our partners to display relevant advertisements based on your interests.
Functional cookies are essential for the Site to function properly. These cookies allow websites to remember the user's site preferences and choices they make on the Site, including username, region, and language. They are anonymous and don't track browsing activity across other websites. These cookies remember your preferences on our website.
Type above and press Enter to search.