Presenter? = A Person Who Gives A Presentation?
moon7296 Do I call a person who gives a presentation "presenter?"
Mister Micawber
add a comment
Answer this Question
How to achieve native english fluency
10 ways improve learning english
Top 10 learn english apps 2020 guide
Learn english as a second language
How to study english grammar 12 ways
* National organizations and associations (a list can be found in Appendix E). * Local and State associations and coalitions. * Local assistance programs. * Government organizations, including the OVC Trainers Bureau (See Appendix F). * Speakers and attendees from your previous conferences. * Speakers from conferences sponsored by your colleagues. Create a file of brochures publicizing other related conferences. * Journals, local papers, and magazines. Think about speakers when you are reading; you can find some interesting prospects.
* Location and address of the conference. * Purpose of the conference. * Size and general profile of the target audience. * Topic of the presentation and length of time of the session. * Layout of the room where the presentation will be given. * Acceptable attire or dress requirements. * Honorarium and expenses to be paid. * Details regarding travel, accommodations, and where and when your conference representative will greet the speaker. * A deadline for requesting audiovisual aids, if unknown at the time of the invitation, or a confirmation of what will be provided. * A request for a picture or biographical material, as needed.
* Any program changes that could affect the speaker. * Any information the speaker might find valuable. * What accommodations have been arranged. * Confirmation of where the speaker will be greeted and by whom. * Your current telephone number, the date you will arrive at the site, and a number at which you can be reached onsite. * The names of other guests and any appropriate background if the speaker will be seated at the head table.
Stack Exchange Network
Stack Exchange network consists of 181 Q&A communities including Stack Overflow , the largest, most trusted online community for developers to learn, share their knowledge, and build their careers.
English Language & Usage Stack Exchange is a question and answer site for linguists, etymologists, and serious English language enthusiasts. It only takes a minute to sign up.
Q&A for work
Connect and share knowledge within a single location that is structured and easy to search.
presenter vs speaker
I am organizing a seminar but i wonder how to address the person who presents the presentation in that seminar. presenter or speaker? What is difference between presenter and speaker? Are they interchangeable?
pretty much so, i would initially say 'yes they are' – JMP Mar 20, 2015 at 7:33
plz explain why -1? – Aaiam Litigoner Mar 20, 2015 at 8:58
I misread your question - I thought you asked are they the same. my mistake. – JMP Mar 20, 2015 at 9:43
4 Answers 4
Speaker is the correct word.
Note: In context of seminars, presenter and speaker have the same meaning i.e. the person who gives the discourse. However, the word "presenter" may give an impression that the speaker is presenting on behalf of someone else; for instance a proxy for the original researcher or the first author .
While I think one could safely use the words "speaker" and "presenter" interchangeably in the given context, there are, as usual, shades of meaning involved with each term that should not be ignored completely.
I agree with Blessed Geek's assertion that a presenter presents a presentation, which usually includes visual aids, and which may or may not allow for audience feedback; while a speaker speaks a speech, and speeches are usually non-interactive, non-visual affairs.
However, I would make the case that even a speaker who does nothing but read a speech is still technically a "presenter"--he's presenting that speech to the audience. A presenter, meanwhile, could theoretically not speak at all, perhaps merely gesturing at his or her visual aids. So no, the words are not completley interchangeable, but unless your seminar is about avant garde performance art, they're pretty darn close.
Normally we use presenter , when a presentation is involved, where the presenter is not simply just speaking on and on and on . Especially when charts, diagrams and audiovisuals as well as demos are involved.
It is untrue that "presenter" correlates strongly towards "presenting for someone else", because a speaker could just as easily "speak for someone else".
For example,
The presentation of the new software was done very well. The presenter was none other than the engineer architecting the software.
After reviewing a few practical examples, shown below, I support that Speaker is the person's role when delivering seminar or conference presentations.
Game Developer Conference: http://www.gdconf.com/conference/c4p/ National Association of Broadcasters: http://www.nabshow.com/attend/speaker-benefits
Exceptions include presentation of published papers, such as SPIE conferences , where the participants are referred to as authors or presenters.
Your Answer
Sign up or log in, post as a guest.
Required, but never shown
By clicking "Post Your Answer", you agree to our terms of service , privacy policy and cookie policy
Not the answer you're looking for? Browse other questions tagged differences synonyms or ask your own question .
Featured on Meta
We've added a "Necessary cookies only" option to the cookie consent popup
Hot Network Questions
Forced to pay a customs fee for importing a used wedding dress into the Netherlands. Is there a way to avoid paying?
What laws would Jesus be breaking if he were to turn water into wine today?
Active thermistor giving skewed readings immediately when heating element turned on
how to fix object creating a duplicate of itself during animation?
Linear Algebra - Linear transformation question
How do you ensure that a red herring doesn't violate Chekhov's gun?
Randomly offset duplicate points along a linestring x meters using PostGIS
Rolling cube on an infinite chessboard
Why Chandrasekhar in 1931 used 2.5 for molecular weight?
Is this summary of MCMC correct?
How would you design the following table?
Is there a non-constant function on the sphere that diagonalizes all rotations simultaneously?
Basic page layout program from the PrintMaster 2.0 era
How to flatten a QuantumCircuit object to a single QuantumRegister and ClassicalRegister form in Qiskit?
How can we prove that the supernatural or paranormal doesn't exist?
std::to_array for multi dimensional array
Specify tilelayer position on Leaflet
Are the plants animated by an Assassin Vine considered magical?
Should sticker on top of HDD be peeled?
FAA Handbooks Copyrights
What sort of strategies would a medieval military use against a fantasy giant?
Example of trickiness of finite lattice representation problem?
Does melting sea ices rises global sea level?
Does single case chance actually exist?
Your privacy
By clicking "Accept all cookies", you agree Stack Exchange can store cookies on your device and disclose information in accordance with our Cookie Policy .
SUGGESTED TOPICS
The Magazine
Most Popular
Newsletters
Managing Yourself
Managing Teams
Work-life Balance
The Big Idea
Data & Visuals
Reading Lists
Case Selections
HBR Learning
Topic Feeds
Account Settings
Email Preferences
3 Group Presentation Pitfalls — and How to Avoid Them
Strategies for a polished, unified final product.
Putting together an effective group presentation takes teamwork and coordination so it doesn't look like a patchwork quilt. And yet, many of us never budget the time to fully prepare. The author outlines some of the common mistakes people make in group presentations and offers best practices to keep you on track. 
Many of us have experienced poor group presentations. If you're giving one, it's the last-minute scramble the night before to decide who is presenting which part of the presentation. If you're observing one, it's the chaos of hearing multiple people talking over one another or, even worse, simply reading their slides word-for-word and ignoring their audience.
For many organizations, group presentations are a part of life. Your team may deliver a group pitch to a new client, or perhaps the capstone exercise of your leadership development program includes a series of group presentations to the head of your business unit. Virtual meetings make these presentations easier than ever because your team doesn't have to be in the same location.
Putting together an effective group presentation takes teamwork and coordination so it doesn't look like a patchwork quilt. And yet, many of us never budget the time to fully prepare.
Read more about
Do You Have What It Takes to Give a Great Presentation?
What's at stake here? Every presentation is an opportunity to build trust with your audience. The cohesiveness of your group presentation is an indicator to your clients of what their relationship will be like working with you. If your presentation is disjointed and disorganized, your client will wonder what the outcome of your project will be. If one member of your team puts down another during the presentation, how will your team treat the client's team? You are presenting a glimpse into your working relationship as well as into your organization's capabilities.
My colleagues and I have been coaching our clients on their group presentations for nearly 20 years. In addition, I'm part of the faculty in an executive education course on persuasive communication at the Harvard Kennedy School. This three-week course culminates in a series of group presentations, which I evaluate along with the other faculty in the program.
Based on this experience, here are some of the common mistakes we see in group presentations, followed by a few best practices to keep you on track.
Three Common Missteps
1. each slide looks like it was designed by a different person. .
When no single person is in charge of a presentation, you tend to see a disjointed slide deck of different fonts, text styles, and images. You also see people put their entire script on the slide and read from it word-for-word. This distracts your audience and loses their attention.
2. Presenters talk over one another.
When we don't take the time to decide who is covering what — and how we will transition from one person to the next — we start to interrupt one another, which reduces our professionalism. One of my clients once said to me, "What must our clients be thinking when we interrupt one another?"
3. Forgetting that you are "on."
Once someone finishes their part of a group presentation, they are so relieved to be done speaking that they forget they are still "on stage" or on camera. They start checking their phone or zoning out instead of actively listening to the person speaking next.
Luckily, each of those missteps can be prevented with the right preparation.
Three Best Practices
1. strategize in advance..
When preparing for any type of presentation, I teach people to ask three questions: Who is your audience? What is your goal? and Why you? For group presentations, it's important to answer those questions together. The last question, Why you?, which actually means Why do you care?, prompts you to share your own motivations on the topic, helping your team bond as a cohesive unit.
When you add a group presentation to your calendar, block off time to prepare as a group. Use this time to agree on your audience's level of knowledge about the topic, your specific goal for the presentation, the main message, the general outline and who will present each section before each of you starts writing your individual components. This helps you avoid the last-minute stress trying to fit each of your slides into one cohesive unit. Also decide who will take what kinds of questions, or decide who on the team will be in charge of fielding questions and assigning them to the right person to answer.
2. Practice as a group.
Before the presentation, make time for a complete run-through, with slides. Specifically, practice your transitions from one person to the next, such as, Stacey did a great job talking us through the challenges of entering this new market. Now, I'll provide a few solutions based on our firm's expertise. Use a timer to ensure you are keeping to the allotted time, or set a realistic time limit based on the format of your meeting, so you ensure plenty of time to field questions. Make time to evaluate the slides together so that the language, font, and use of graphics are consistent.
3. Deliver with confidence and authenticity.
When it's time for the group presentation itself, lead with the speaker who best represents your organization; give junior speakers an opportunity to present in the middle. This ensures a strong first impression and takes some of the pressure off newer speakers. When speaking in person, position yourself so that you can reference the slides but speak directly to the audience. Bring your own personality to the presentation; you could say something like, If you're from California like I am, then you'll know …Personal anecdotes that connect to the audience are a terrific way to build trust between the audience and each member of the group presenting.
What changes in a virtual setting?
All the above suggestions hold true in virtual presentations , especially the importance of doing a complete run-through on the virtual platform you'll be using. In these situations, designate one person to run the slides for the entire presentation so each person doesn't have to share their screen. Ensure each speaker has a professional background, adequate lighting on their face, and is clearly audible. Use this video for reference on how to prepare for virtual presentations. When speaking, look directly into the camera lens so the audience sees and feels your eye contact. When you are not speaking, mute yourself so your background noise doesn't interfere with the speaker.
Done well, a group presentation demonstrates the strength of your team and the quality of your work. Take advantage of this powerful opportunity to build trust with your audience and, as a result, help your organization succeed.
Allison Shapira teaches "The Arts of Communication" at the Harvard Kennedy School and is the Founder/CEO of Global Public Speaking, a training firm that helps emerging and established leaders to speak clearly, concisely, and confidently. She is the author of the new book, Speak with Impact: How to Command the Room and Influence Others (HarperCollins Leadership).
Partner Center
Status message
Presentation tips.

"The mind is a wonderful thing. It starts working the minute you're born and never stops working until you get up to speak in public." (Unknown)
The quality of your presentation is most directly related to the quality of your preparation. Rarely will you have difficulties in your presentation due to being overprepared.
If you are responsible for the promotion of your presentation, create an accurate, but inviting, description. Emphasize the relevance of the content to the audience.
Include a statement in promotional materials on how participants with disabilities can obtain disability-related accommodations for the presentation. This statement will provide an example that may be adapted by participants to use in their own publications.
Believe in the importance of your message.
Visualize yourself giving a great speech.
Organize your material in a way that is most comfortable to you by using a script, outline, notes, or 3 x 5 cards. Number them.
Proofread all printed materials.
Practice, practice, practice—by yourself or with someone. During practice sessions you can work out the bugs and add polish to your presentation. (Note: a rehearsal usually will run about 20% shorter than a live presentation; adjust your content accordingly.)
As participants enter, consider providing them with 3 x 5 cards and asking them to write at least one question they have about the topic of the presentation. Read them silently as people settle in. Address the questions throughout the presentation and/or at the closing.
Have a backup plan for delivering the presentation if all of your audiovisual materials become unavailable. Do not rely on technology to work.
Test all audiovisual equipment. Practice using your presentation slides and other visual displays. If you are using a video, make sure it is set to the correct beginning point, at the appropriate volume and with captions turned on.
Check the lighting. If you need to adjust it during your presentation, practice the adjustments before you begin. Consider showing someone else how to make the adjustments for you.
Have a glass of water available for yourself.
Think about questions that might be asked and rehearse brief, clear answers to each.
Memorize the first few minutes of your presentation.
Review your main points.
Dress for success.
Create a Comfortable Learning Environment
"More important than the curriculum is the question of the methods of teaching and the spirit in which the teaching is given." (Bertrand Russell)
It is important to create a learning environment that is comfortable and welcoming.
Arrive early and get a feel for the room, including its temperature, size, and overall set-up. Re-arrange furniture as needed.
Warmly welcome participants, use eye contact and a welcoming posture, and thank participants for coming.
For smaller groups, ask them to introduce themselves and indicate what they hope to learn. For larger groups, poll the audience, asking them to respond to questions related to your topic. For example, ask the audience, "How many of you have had a student with a learning disability in your class?" and then ask one individual to elaborate.
Create a safe and nonthreatening environment where participants are not afraid to ask questions. Encourage them to share experiences and ask questions of you or other participants.
Emphasize that everyone can contribute to the learning process.
Clearly identify the objectives at the beginning of the session.
Keep to the time schedule, but show that you value participant input by not rushing.
Frame questions so that they are easy to understand.
Do not criticize or allow audience members to criticize other participants.
Maintain confidentiality and ask the audience to respect the privacy of other participants.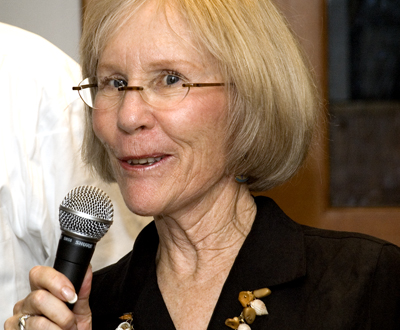 Manage Your Anxiety
"There are two types of speakers. Those who get nervous and those who are liars." (Mark Twain)
Nervousness before a talk or workshop is healthy. It shows that your presentation is important to you and that you care about doing well. The best performers are nervous prior to stepping on stage. Below are suggestions for assuring that anxiety does not have a negative impact on your presentation.
Use nervousness to your advantage—channel it into dynamic energy about the topic.
Remind yourself that you and the audience have the same goal, and, therefore, they want you to succeed as much as you do.
Speak about what you know. Keeping your presentation within the realm of your knowledge and experience will build confidence and minimize nervousness.
Focus on delivering your message, not on how you feel.
Smile. Be relaxed, poised, and at ease on the outside, regardless of how you feel internally. Acting relaxed can help make you relaxed.
Keep presenting! Your anxieties decrease the more presentations you give.
Create a Strong Beginning
"The greatest talent is meaningless without one other vital component: passion." (Selwyn Lager)
Keep your opening simple and exciting to engage your audience in your content.
Consider using a short icebreaker activity.
A tasteful, humorous commentary can be effective if related to the topic.
Explain the purpose of your presentation in one sentence that is free of professional jargon and emphasizes what participants will gain.
Start off with a natural pace—not too fast and not too slow—to establish a strong, positive image. Make a strong ending statement that reinforces the objectives of the presentation.
Incorporate Universal Design Principles
"I hear and I forget. I see and I remember. I do and I understand." (Confucius, 451 BC)
Model accessible teaching methods that your participants can use. Incorporate universal design principles to address the needs of participants with a wide range of knowledge, abilities, disabilities, interests, and learning styles. Examples are listed below.
Use large fonts in your visuals. Make copies of slides available for participants.
Be prepared to provide your materials in an alternate format, which may include electronic text, audio recording, large print, or Braille.
Show captioned videos. If not available, provide a transcription of the content upon request.
Arrange for a sign language interpreter if requested by a participant.
Use a clear, audible voice. Use a microphone as needed. Face the audience at all times.
Make sure the room is well-lit.
Use multimedia in your presentation, such as videos, visual aids, props, and handouts.
Demonstrate how to speak the content presented on slides and other visuals. For example, verbally describe graphs and cartoons.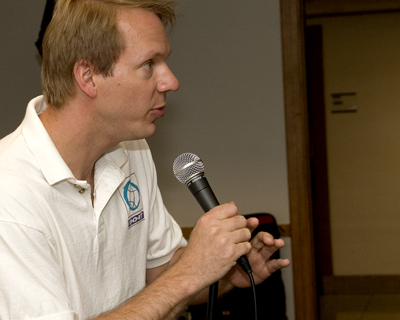 Create a Dynamic Presentation
"It is the supreme art of the teacher to awaken joy in creative expression and knowledge." (Albert Einstein)
If your audience enjoys and remembers your presentation, it is because you presented it in a dynamic or compelling manner.
Talk to your audience, not at them.
Project enthusiasm for the topic without preaching. The majority of communication is nonverbal, so how you look and sound are vital.
Present your material in a well-organized manner. However, be flexible to adjust to your audience. Let participants know if you wish to field questions during or after your presentation.
Speak to the knowledge level of your audience. Define all terms they might not be familiar with.
Choose your major points carefully and illustrate them with examples or stories.
Incorporate real-life experiences into your presentations. Recruit students with disabilities or faculty to share their experiences. Ask audience members to share experiences and use these examples to illustrate key points or to answer questions.
Role-play interactions between students and professors.
Use natural gestures and voice inflection to add interest to your presentation.
Address different learning styles by incorporating a variety of instructional methods that use a variety of senses (e.g., visual, auditory, kinesthetic).
Repeat questions participants pose to ensure that the entire audience hears and understands them.
Redirect the discussion if it strays from the topic at hand.
Postpone questions related to resolving specific or individual problems to private discussions later. Do not get locked into an extended dialogue with one person; move on to questions from other participants and offer more time to talk after the presentation.
If people ask questions that you cannot answer, say that you will locate the answer and get back to them (and then do!), suggest appropriate resources that will provide the answer, or ask for suggestions from members of the audience.
Give demonstrations.
Never apologize for your credentials or your material.
Tailor your topic to audience interests.
Never read your presentation word for word.
Talk clearly and in well-modulated tones. Avoid speaking too rapidly, softly, or loudly. Make sure that the ends of your sentences don't drop off.
Maintain eye contact. It conveys confidence, openness, honesty, and interest. It also lets you know how the audience is responding to your presentation. In large groups, mentally divide up the room into sections, and then make eye contact with different people in each section on a rotational basis.
Use hand gestures naturally, gracefully, and to emphasize points. When not gesturing, let your hands drop to your sides naturally. Keep them out of pockets, off your hips, or behind your back. Avoid fiddling with clothes, hair, or presentation materials.
Maintain good posture, but do not be rigid.
Occasionally move from one spot to another, stop, then continue to speak. Don't pace.
Remember that adult learners have a wealth of experience; are goal oriented and appreciate outcomes more than process; have set habits, strong tastes, and little time to waste; have strong feelings about learning situations; are impatient in the pursuit of objectives, and appreciate getting to the point; find little use for isolated facts and prefer application of information; and have multiple responsibilities, all of which draw upon their time and energy.
Make Your Presentation Interactive
"It is better to know some of the questions than all of the answers." (James Thurber)
Avoid simply lecturing to your audience. Engage your audience in an active discussion.
Listen attentively before responding to questions.
Encourage interactions between audience members.
Present an accommodation challenge and ask audience members how they would address the issue.
Respectfully reflect back to people what you observe to be their attitudes, rationalizations, and habitual ways of thinking and acting.
Allow plenty of time for questions. Address all questions within your presentation or direct participants to appropriate resources.
Demonstrate or provide hands-on experiences with assistive technology.
Give useful or entertaining prizes for responses from the audience or have a drawing for a larger prize at the end of the presentation.
If your audience is small, ask members to identify themselves and their
experiences and interests related to the topic.
Involve the audience in a learning activity. People remember more of what you teach them if they are able to learn it via an activity.
Ask audience members how they have used specific accommodations or worked with students with specific disabilities. Ask questions like, "Has anyone done this? How did it work for you?"
Stimulate group interaction and problem-solving.
Promote discussion to help participants integrate themes and key points.
Include a Group Activity
"Real prosperity can only come when everybody prospers." (Anna Eleanor Roosevelt)
Include a short activity that makes an important point and encourages participation and discussion. Here's one to try. Announce that you're going to have a five-minute activity, then ask your participants to choose someone sitting nearby and share with each other two things:
One thing you are very good at.
One thing you are not very good at.
Have the instructions written on a presentation slide or write them on a flip chart. Read the instructions aloud. Give participants three to four minutes (there will be a lot of laughter and lighthearted talk), and then say you're not really interested in what they do well; ask people to share things that their partner does not do well. (This usually ends up funny—participants enjoy sharing that he can't do math, he hates public speaking, she's not good at fixing things around the house.)
After the fun, make the point that, "You have experienced, in a small way, what a person with an obvious disability experiences all the time—that people first notice something they are not particularly good at (e.g., walking, seeing, hearing) and don't take the time to learn his or her strengths. A disability may impact 10% of a person's life, yet is considered a defining characteristic by others. We need to pay attention to what everyone, including those with disabilities, can do, rather than accentuating what they can't do." To emphasize the point ask participants to reflect on how they felt when you said you weren't really interested in what they do well.
This activity is short, fun, and effective. It addresses the issue of attitudes, yet does not have some of the negative elements of traditional simulations that leave people feeling like having a disability is an impossible problem with no solution. This activity is also good to use when talking about internal and external barriers to success for students with disabilities, which can include lack of self-advocacy skills (internal barrier), and negative attitudes or low expectations on the part of individuals with whom they interact (external barrier).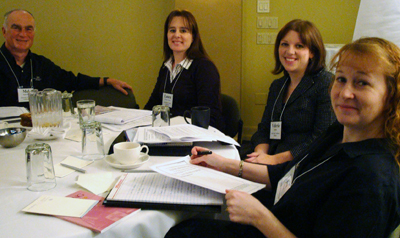 Incorporate Case Studies
"Learning is an active process. We learn by doing . . . Only knowledge that is used sticks in your mind." (Dale Carnegie)
Have participants discuss case studies in small groups. At the end of this section are sample case studies that can be used in your presentation. They are all based on real experiences at postsecondary institutions. Each case study is formatted as a handout that can be duplicated for small group discussion. On the back of each activity sheet is the full description, including the solution actually employed. This version can be used for your information only or can be distributed to the group after the initial brainstorming has occurred. Participants can compare their ideas with the resolution in the actual case.
Address Key Points
"Enthusiasm is one of the most powerful engines of success. When you do a thing, do it with all your might. Put your whole soul into it. Stamp it with your own personality. Be active, be energetic, be enthusiastic, and faithful, and you will accomplish your objective. Nothing great was ever achieved without enthusiasm." (Ralph Waldo Emerson)
Be sure that your presentation covers the most important content for your audience.
Explain the legal requirements regarding accommodating students with disabilities in clear, simple terms. Make it clear that legislation, such as the ADA, provides broad statements about accessibility, but our judicial system ultimately decides what is legal or illegal in a specific situation.
Explain the rights and responsibilities of students with disabilities, faculty, and the disabled student services office.
Describe specific situations that have occurred on your campus, including what was successful and situations that could be improved, and how.
Demonstrate low-tech and high-tech accommodations, including adaptive computer technology.
Explain how accommodations that are useful to students with disabilities can also benefit all learners.
Provide information on campus-specific resources and procedures.
Provide Resources for Participants to Keep
"The philosophers have only interpreted the world in various ways; the point, however, is to change it." (Karl Marx)
Make sure that you provide your audience with information on which they can follow up after your presentation.
Provide written materials of key content for future reference.
Provide contact information and invite participants to contact you with questions after the presentation. Distribute business cards.
For further exploration refer participants to The Faculty Room and to the Center for Universal Design in Education .
Conclude with a Strong Ending
"The greatest good you can do for another is not just to share your riches but to reveal to him his own." (Benjamin Disraeli)
The most important and remembered words you speak are the last ones.
Summarize key points.
Consider concluding with examples that show the importance of providing educational opportunities for students with disabilities. One idea is to have an alumnus with a disability discuss how they navigated your campus, worked with the disability services office, received the accommodations they needed, graduated with a degree, and went on to succeed in employment.
Empower your audience to use information you presented to improve access for and education of all students with disabilities.
Improve Each Presentation
"I have the simplest tastes. I am always satisfied with the best." (Oscar Wilde)
Take steps to gain feedback about your presentation that will lead to improvements.
Practice your presentation with colleagues or friends and ask for their feedback.
Record your presentation for self-analysis.
Evaluate your presentation through an anonymous written survey. Two examples of evaluation instruments are included on pages 188-190.
Incorporate suggestions into subsequent presentations.
"When you can do the common things in life in an uncommon way, you will command the attention of the world." (George Washington Carver)
In summary, to give effective presentations where participants gain valuable information in a dynamic way, make sure to:
prepare well in advance
incorporate universal design principles
facilitate interaction, sharing of experiences, and creative problem?solving within the session
promote a welcoming and non?judgmental learning environment
Case Studies