Loyalty Case Study: Starbucks Rewards
Starbucks is a staple coffee brand with more than 32,000 locations in over 80 countries around the world. It's safe to say Starbucks has an abundance of loyal customers. The iconic brand has revolutionized the coffee industry and changed the way everyone consumes coffee. Starbucks took something that had been done the same way for decades and turned it upside down with effective partnerships, beautiful branding, and a variety of types of coffee drinks. They have been doing things differently ever since, including customer loyalty.
Starbucks Rewards is often regarded as one of the best retail loyalty programs in existence and one of the most engaged among its members. According to a CNN report, by October 2022, there were 28.7 million active Starbucks reward members. Giving Starbucks a 16% year-over-year growth in its loyalty program.
They have created a loyal following of customers both with their customer experience and revolutionary rewards program. But recent changes to its loyalty program have its members criticizing the new changes. It's now going to cost more to earn that free drink and menu item, meaning customers will have to work harder to earn those stars.  
Let's dive into what makes Starbucks Rewards unique and what we can learn from its recent changes in loyalty.
Changes no one asked for
Starbucks Rewards has over 28.7 million active reward members and with new changes to its rewards program that went into effect last month in February, customers were not happy. Starbucks increased the amount of "stars" (loyalty points) customers will need to redeem items.
Here is the breakdown of what changed:
What costs 50 stars increased to 100 stars.
What costs 150 stars increased to 200 stars.
What costs 200 stars increased to 300 stars.
Hot coffee or tea, baked goods, and packaged snacks will be 100 stars, up from 50.
Lattes, frappuccinos, parfaits, and hot breakfast items will be 200 stars, up from 150.
Sandwiches, salads, and protein boxes are 300 stars, up from 200.
Currently, Starbucks reward members can earn 1 star per every dollar spent if members just pay with a credit, debit card, or cash in-store or pay in-app. Members can earn 2 stars per dollar if they preload money into their rewards account or register a gift card to pay with.
Idk if anybody told y'all BUT @Starbucks made their rewards about 50 stars more to redeem. It sucks a lot. What used to be 50 stars is now 100. Lol now I don't even want to use them. 🥹 — AshCash ✌🏾 (@TechBaeAsh) February 16, 2023
With the recent changes, that free iced coffee or chocolate croissant will cost a bit more, $100 to be exact if you're paying with cash or a debit card or $50 if you preload money in your account. To earn that free cold brew or a breakfast sandwich, you will have to spend $200 if you're paying in cash or $100 if you preload your account.
The reason for the change is unclear if it's because of inflation or the rising cost of products everywhere. According to an Axios report, Starbucks said it was due to the changing needs of customers. "We occasionally need to make changes to ensure the long-term sustainability of the Starbucks Rewards program and to meet the changing needs of our members." Members will disagree.
Starbucks really moved the reward levels back……..in this economy — Jobe Bean Bryant (@jeauxdeci) February 27, 2023
How Starbucks Rewards misses the mark
Starbucks Rewards is one of the best examples of customer loyalty and how to build a brand community. Based on its recent changes and the reactions from customers, there are a few ways Starbucks Rewards misses the mark.
1. Changes no one wanted
Why change something when it's not broken? Starbucks customers have tweeted, commented, and made dozens of TikTok videos on the unwanted changes Starbucks made to its reward program.
Customers were given a few weeks' notice of these changes, which left many to have to use all of their points before changes went into effect. Starbucks really missed the mark here because so many customers voiced their dissatisfaction with the recent changes and Starbucks did not relent and went ahead with their changes.
@maddykim16 #greenscreen starbucks is a scam!! #starbucks #stars ♬ original sound - Maddy Kim
2. Current tiers don't create exclusivity
Tiered programs are an amazing way to encourage customers to spend more and engage more. Tiers challenge customers to reach the next level while also introducing an element of gamification that customers love. Tiers are also effective when the highest tier is reserved for only the most loyal and profitable customer.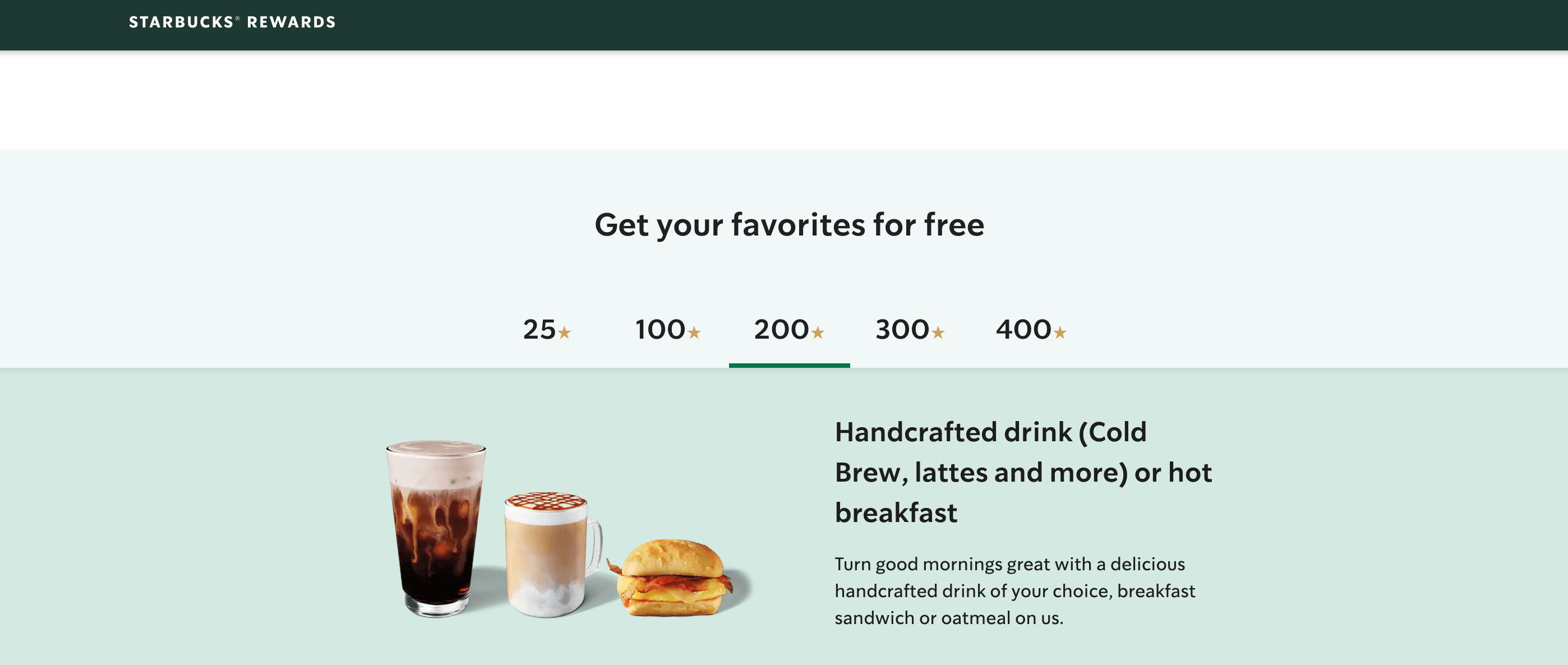 Starbucks currently has five tiers of different rewards customers can redeem. If Starbucks turned those five tiers into different levels of earnings, meaning each level would double the points earned, it would incentivize customers to spend more to enter and remain in a certain tier. Customers love an incentive or something to reach for and if Starbucks brought their famous gold card back, this would be a perfect way to entice customers into different tiers for their reward program.
How Starbucks Rewards raises the bar-ista
For a loyalty program contributing 55% of the company's revenue, Starbucks has clearly locked in loyalty and a brand community. With an increase in prices in every industry, loyalty has become a key to growth and recession-proof for Starbucks. So what is Starbucks Rewards doing so well?
1. Outstanding mobile experience
Starbucks has become a global brand worth billions of dollars and we can take lessons on what great things they do in loyalty and rewards. Their top quality is their outstanding mobile experience.
How a customer interacts with a loyalty program can often make or break that program. Starbucks' app makes its loyalty program more interactive and more effective. The app makes it easy to see how many "stars" (points) you currently have, as well as make orders and payments right from your phone. You can even use the service to find the nearest Starbucks location.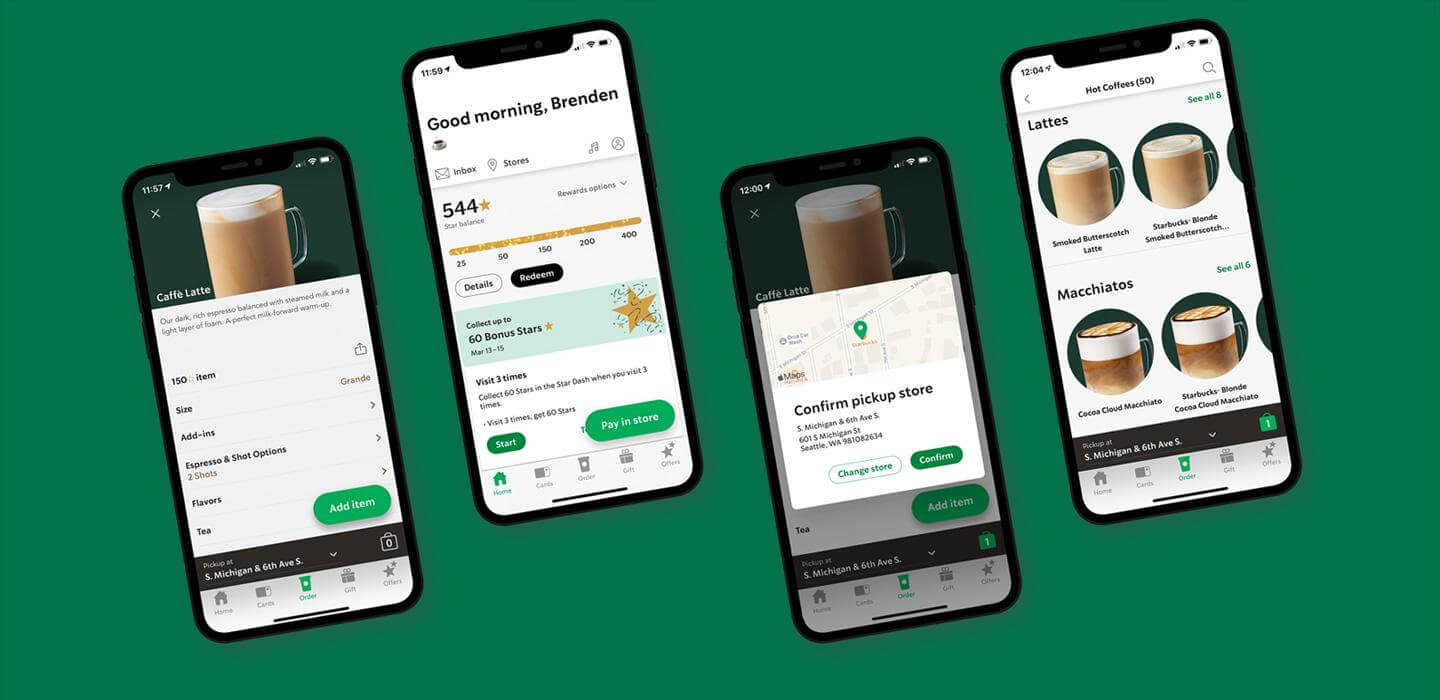 Starbucks mobile app, drive-thru, and deliveries generate over two-thirds of orders and up to 26% of sales from mobile apps alone. The app gives Starbucks Rewards an edge that other standard loyalty programs do not have. In today's competitive environment, just having a loyalty program is not enough. You have to make an effort to differentiate your program from others.
2. Omnichannel retail
This leads to the second top quality of Starbucks Rewards and that is their omnichannel presence throughout the apps and physical retail locations and across their marketing. Not only can you pay on a mobile device or through in-store locations, but you can also shop online, order drinks through the app, or have an experience visiting different locations in any country. You know what you will get no matter where you are in the world.
From the rise of new services such as BOPIS (buy online, pickup in-store) to the conveniences of ordering from an app. Surprisingly, how we collect and receive our purchases are also different. Starbucks has expanded into delivery through its partnership with DoorDash which it tested in California, Florida, Texas, and Georgia last fall.
3. Experimenting with partnerships
The third top quality and characteristic of Starbucks Rewards are its partnerships. Starbucks has recently been experimenting with new partnerships in loyalty programs, going a step further with established brand partnerships. After testing its delivery partnership with DoorDash , Starbucks will expand nationwide in all 50 states by March 2023.
View this post on Instagram A post shared by Starbucks Coffee ☕ (@starbucks)
Starbucks is expanding into the NFT market with its program Odyssey. According to Starbucks, "selected participants will be able to engage in Starbucks Odyssey 'Journeys' which are a series of entertaining, interactive activities to earn collectible 'Journey Stamps' (NFTs) and Odyssey Points that will unlock access to exciting new benefits and experiences."
View this post on Instagram A post shared by Delta Air Lines (@delta)
What's better than one loyalty program? How about two loyalty programs? For those frequent travelers, Starbucks and Delta announced a partnership where members can link both of their loyalty programs and earn points. "Link your Delta SkyMiles and Starbucks Rewards accounts to start earning 1 mile per $1 spent at Starbucks." This is another way Starbucks can in a way gamify their loyalty program, while also offering more to its customers.
Gold Stars for Starbucks Rewards
With almost 30 million program members, Starbucks Rewards is a top standard for loyalty programs that any ecommerce business can take lessons from and be on their way to replicating. Whether it's building an awesome omnichannel strategy or delivering a fantastic mobile experience or partnering with other brands in your industry, Starbucks can deliver lessons to all of us.
Editor's Note: This post was originally published on July 24, 2017 and was updated for accuracy and comprehensiveness on March 13, 2023.
You might also like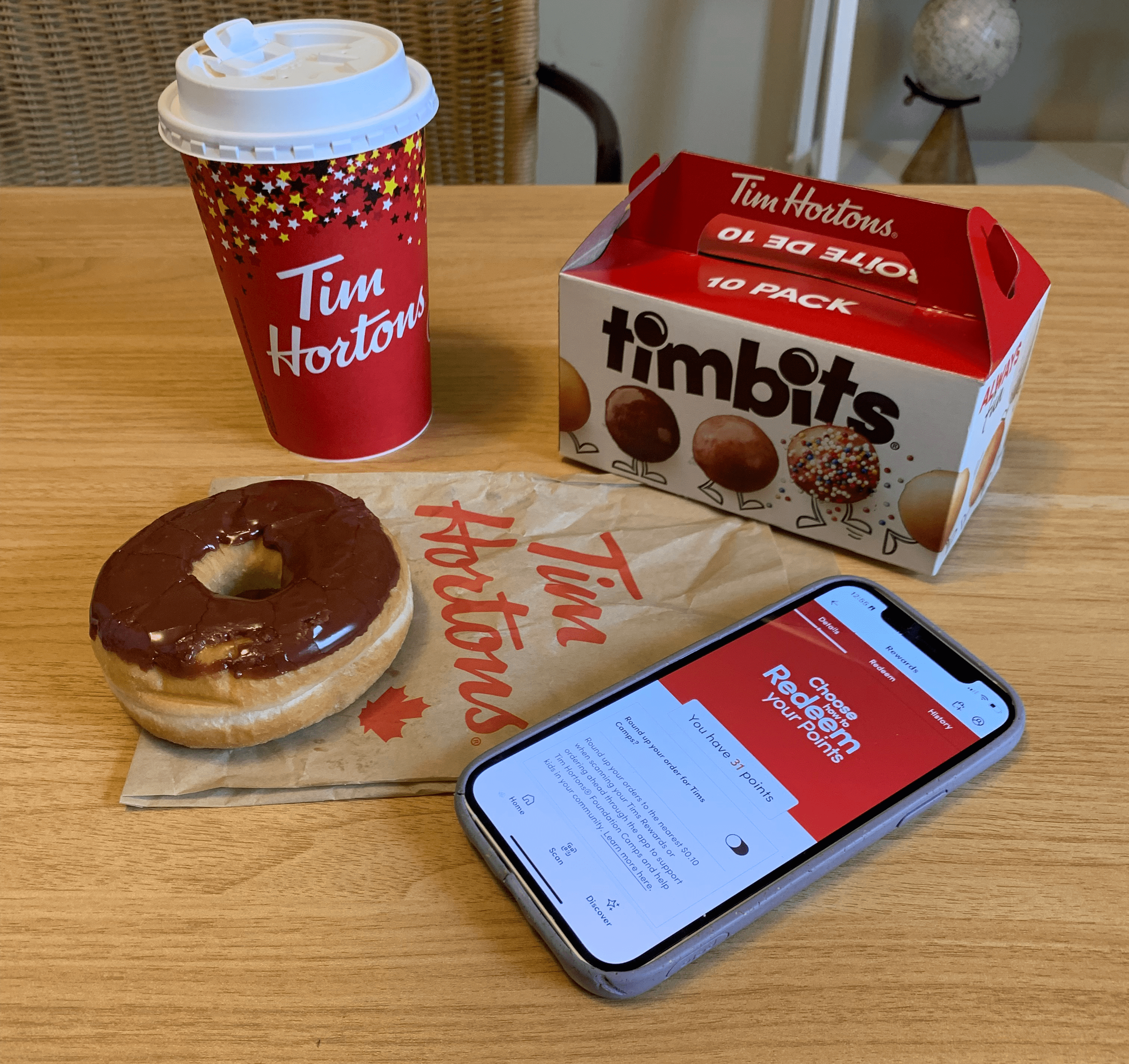 Rewards Case Study: Tim Hortons Rewards
5 Loyalty Program Examples in the Fashion Industry
How Lululemon Uses Lifestyle Marketing to Create a Strong Brand Community in 2023
6 Loyalty Program Examples in the Beauty Industry
Rewards Case Study: Jimmy John's Freaky Fast Rewards
Subscribe to the smile newsletter, learn how to grow your ecommerce brand from expert entrepreneurs each issue of talking shop, we'll dive deep into a single ecommerce-related topic to share practical insights from small businesses like you..

Starbucks Loyalty Program Case Study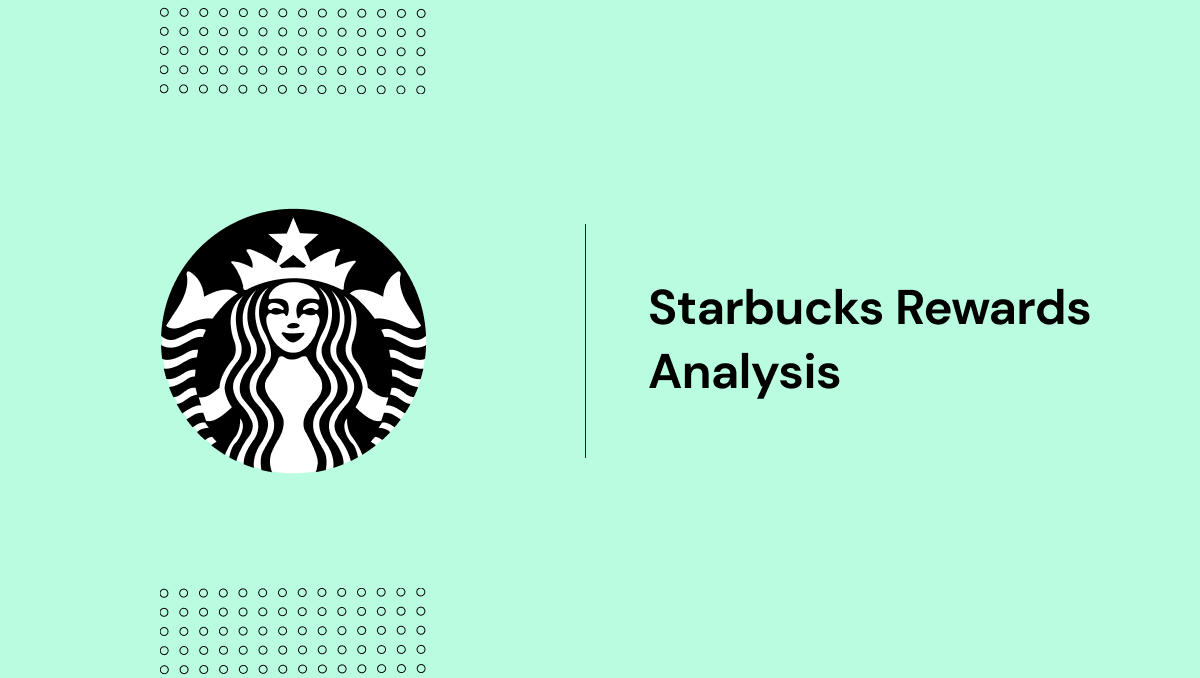 Starbucks is arguably one of the biggest coffee brands in the world, not just because of the great products they serve. The Starbucks Loyalty program happens to be well-loved by its large customer base and modeled after by top US restaurant chains and other retail stores. In 2019, Starbucks is reported to have increased sales by 7% due to its rewards program. This post discusses how the Starbucks rewards program works, as well as its major benefits and drawbacks.
How does the Starbucks loyalty program work?
Starbucks' loyalty program is designed in such a way that customers keep patronizing because they can save some money and earn rewards as well. Customers only need to register for the rewards program either by visiting starbucks.com/rewards or downloading the Starbucks Rewards app on their smartphones. The rewards program offers a variety of benefits and features, including:
Earning free add-ons, drinks, or food items
Free refills on brewed coffee and tea
Bonus rewards
Free birthday treats each year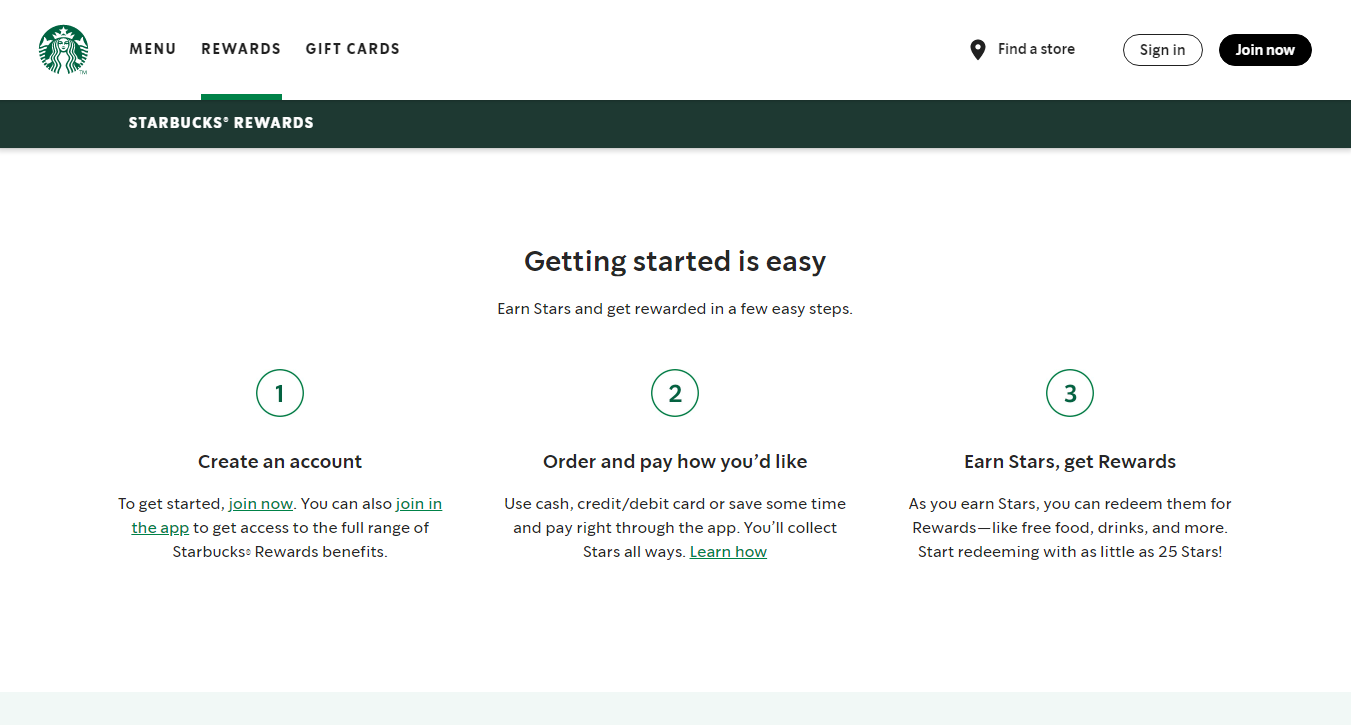 Starbucks uses a hybrid loyalty program that includes a points system (referred to as stars), which can be redeemed for certain free items. It also utilizes a tiered structure that comprises two levels: Green and Gold.
Customers earn 2 stars for each dollar spent when they purchase at a participating Starbucks location either with their gift card or with their mobile app.
When customers purchase any of Starbucks' packaged products from retailers such as K-cups, packaged prepared beverages, and coffee, among others, they earn stars. These items have been labeled with a "star code", thus the receipt can be scanned with the mobile app and redeemed.
One can also earn stars by purchasing Starbucks branded coffee online and connecting their purchase to the Starbucks rewards account. There are periodic double star days that allow members to earn double the amount of stars on each qualifying purchase. With the mobile app, customers can participate in games and special offers to gain bonus stars.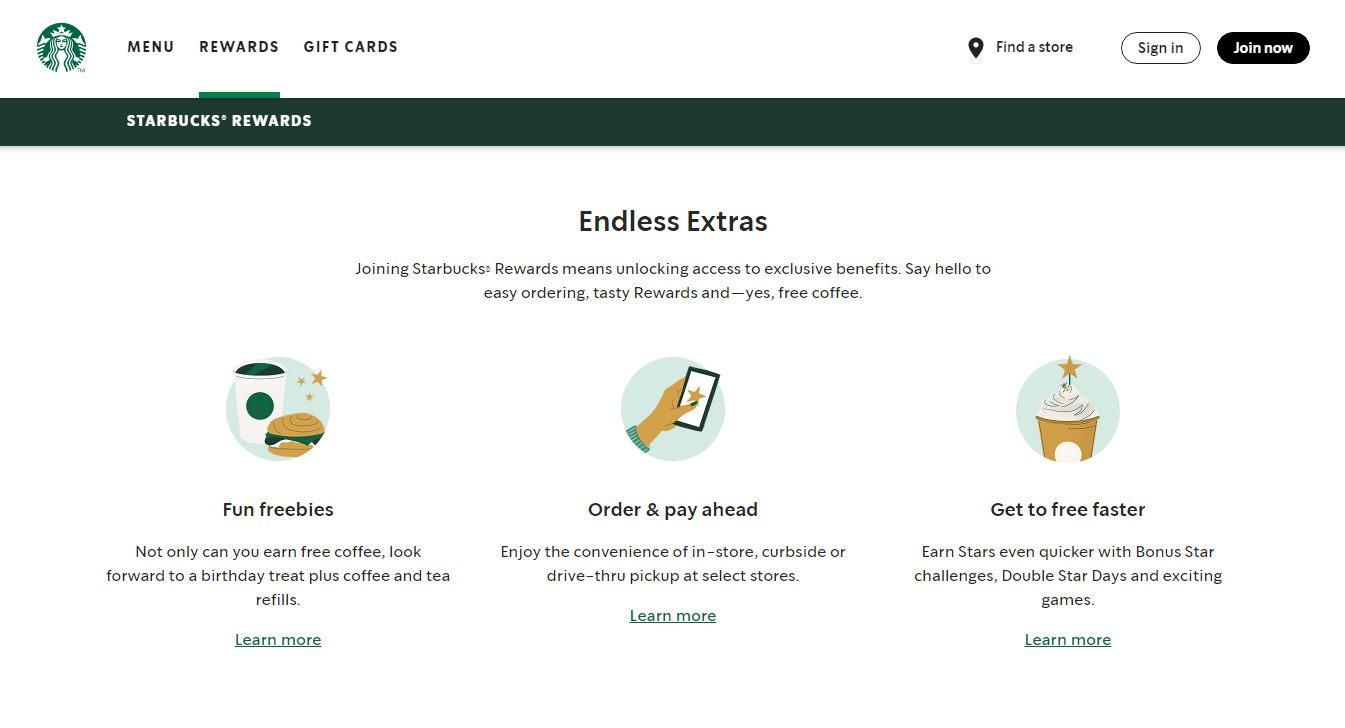 Reward Earnings at Different levels
The levels and equivalent results are in tiers. Customers can either choose to redeem their rewards at a lower level or save their stars for a higher level reward.
25 stars: When you reach 25 stars, you can get free drink customization which includes adding a flavored syrup, an extra shot of espresso, or getting a milk substitution such as coconut milk or almond.
50 stars: A free brewed hot coffee, tea, or a pastry such as a bagel or a croissant.
150 stars: A free handcrafted drink, hot breakfast (such as oatmeal or a breakfast sandwich), or parfait.
200 stars: A free packaged lunch such as a salad, sandwich, or protein box.
400 stars: Packaged coffee beans or a Free selected merchandise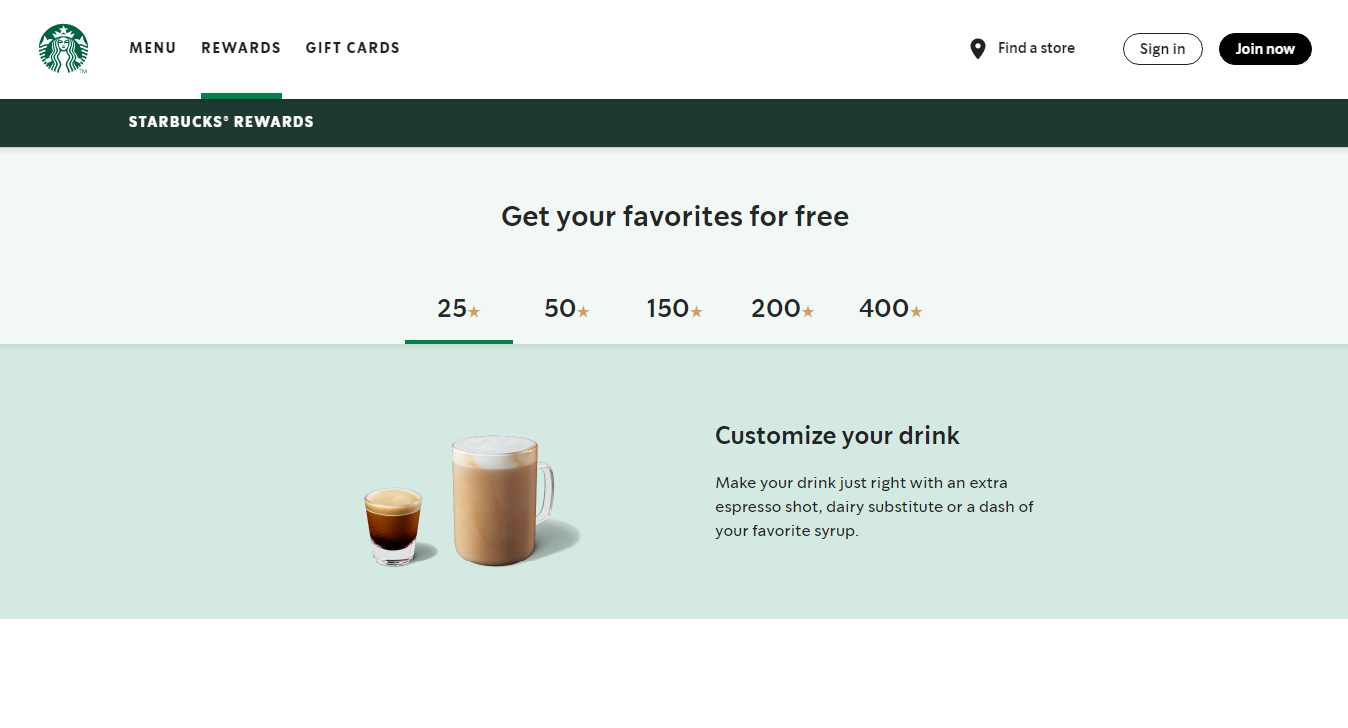 Redeeming the Rewards
Once a customer has reached their desired star level, they can choose to redeem their reward when they order ahead with the mobile app or show it to the cashier at a local Starbucks. After redemption, the stars will be removed from their account. Customers can also choose to redeem their stars as they please. For instance, if you've earned 50 stars, you could either redeem them for two 25-star rewards or a 50-value reward. They can always choose to keep earning more stars to claim a higher reward.
What are the good things about the Starbucks loyalty program?
Communicated value.
The loyalty program presents customers with value irrespective of their purchasing habits. They inform customers about the different ways they can earn and redeem rewards through their dedicated webpage and via the app. By offering stars on every single purchase, members understand that they are getting some value on each purchase. Customers feel that they have made a good bargain because the number of stars to redeem a reward is attainable, and they can see the reward they stand to gain.
Enhanced Customer Experience
Starbucks' strategy of tailoring the different star level rewards makes customers feel that Starbucks is augmenting their unique customer experience without necessarily monitoring their moves. The free tea and coffee refill feature particularly sets them apart from their competitors. It will be extremely hard for active Starbucks members to visit other local and national restaurant chain brands that do not give them free refills.
High Customer Engagement
One of the best things about Starbucks' loyalty program is its ability to keep its customers actively engaged with their brand most of the time. As of 2019, there were over 16 million active loyalty program members with the brand. The Starbucks Rewards app has been instrumental in getting members to place orders and earn rewards right from their phones. To increase engagement and purchase frequency , the app is also designed to send push notifications in the form of advertising promotions to its users. Apart from this, Starbucks also includes free games and music in its rewards program. When members play these games in the mobile app, they get to earn bonus stars.
Starbucks ensures that its customers feel appreciated and unique by offering their loyal members free drinks on their birthdays. The loyalty program is also designed to boost acquisition in that it allows its active members to share gift cards with their loved ones and other members through the app.
Exclusivity and personalization
Innovative rewards ideas are the best way to get customers to actively engage with your loyalty program. To delight and secure the loyalty of their customers, Starbucks gives exclusive benefits by announcing new product releases and promotions to their members first. They also offer double star campaigns to their most loyal customers. When it comes to personalization, Starbucks gives members a personalized homepage in the app and access to the playlist of their desired store.
How Starbucks could have made its loyalty program more attractive?
Observing the Starbucks Loyalty program, one would notice that almost every feature or benefit is integral to making it an exemplary loyalty program. Its major drawback, however, involves communication regarding dropping from the Gold to Green level. After achieving Gold Status, members stand a chance of losing their status and starting from scratch if they are unable to earn 30 stars within that year. This, coupled with the timing of such notices (New Year), comes off as a shock to such members.

Therefore, to make the Starbucks program more attractive, the company should give more advanced notice of status loss. They could give customers at least a months' notice. They could have also changed the tone of the message into a motivator by sending something like this instead. The goal here is to keep motivating customers to reach a goal, instead of demotivating them.
Another thing Starbucks could have done is to give their expired members a head start. For instance, if a customer has already made the effort to join the rewards program and purchase enough to attain the gold status, they shouldn't be alienated if they have been unable to keep up for some reason. Instead of notifying them that they would have to start from scratch, they could make it easier for existing members to maintain their status by offering them, say, 10 out of the 30 stars needed. In doing so, the customer is motivated to purchase more to reach their former status and feels appreciated.
This article is part of our series of case studies of loyalty programs implemented by the world's most famous brands.

10 Ways to Increase Repeat Purchases on your Online Store
Repeat customers are the backbone of almost every successful business. Here are ten ways you can increase repeated purchases made in your store.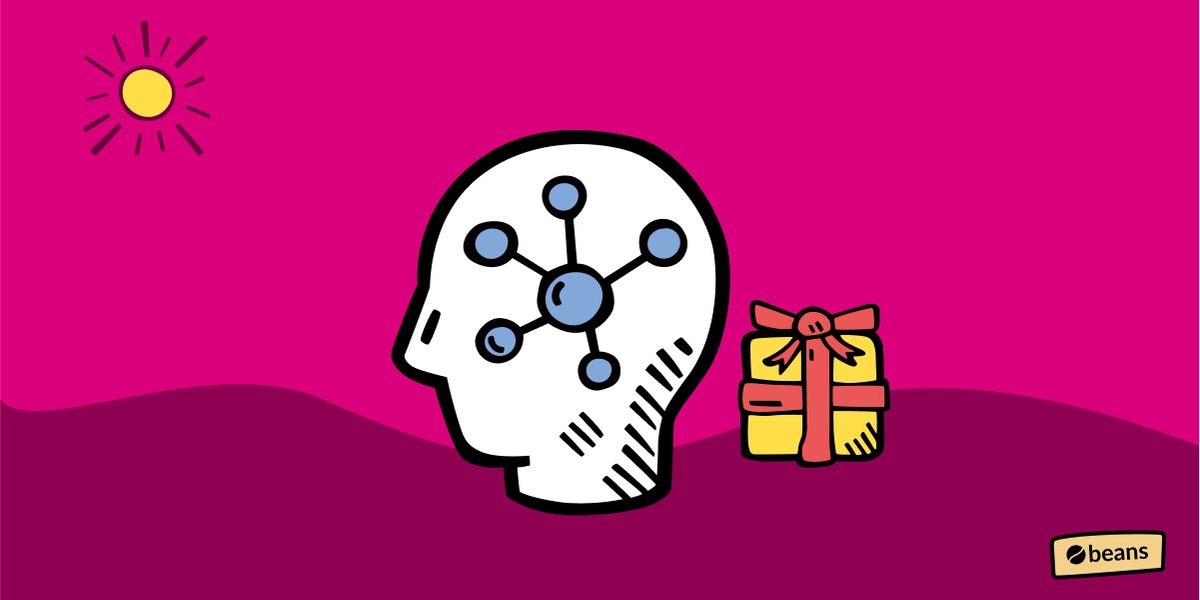 The Psychology behind Loyalty Programs
What makes a loyalty program effective in retaining customers? Why does it work, and how can brands make reward programs work for them? In this post, we explore the psychology behind loyalty programs' effectiveness.
Ready to grow your business?
This site uses cookies to store information on your computer. Some are essential to make our site work; others help us improve the user experience. By using the site, you consent to the placement of these cookies.
Starbucks Rewards Case Study – What Makes It Work?
Coffee helps us to kick start our day or helps us take the best breaks when we need one!  Coffee gives us the much-needed boost of energy. The coffee market is growing at a CAGR of 5.5% during the forecast period (2019 – 2024).  The number of Americans who drink a cup of coffee daily has been the highest in six years.   This highlights the massive potential of this market segment. One of the key players in the coffee market is Starbucks, a common name to the coffee cravings! Starbucks has 30,184 stores worldwide, making a consistent coffee experience available in different countries throughout the world.
Starbucks offers one of the most sought-after loyalty programs 'Starbucks Rewards' program that offers freebies and discounts to members giving them plenty of reasons to choose Starbucks over other players. 'Starbucks Rewards' program represents a significant portion of the coffee chain's recent fiscal growth. Starbucks has reported an increased revenue of $2.65 billion, attributing their rewards program for most of the increase. Over the last two years, membership has grown more than 25%, loyal customers use Starbucks' membership program (16 million members) for about 40% of sales at the company's US stores.   Revenue rose 4.6% to $6.31 billion  during the quarter from the previous year.
How does Starbucks Rewards Program work?
Starbucks has enabled customers to check their gift card balance, points, and mobile orders via phone, website, in-store, or on their user-friendly app. Real time correspondence of different channels eliminates the possibility of a lapse in communication. This omnichannel capability is attractive to customers, encouraging engagement at many levels. Customers earn birthday rewards, free in-store refills and double-star days- these are limited-time promotions during which members earn twice the points for purchases made.
Experience the Zinrelo Loyalty Rewards Platform to Believe it!
Mobile app makes online ordering and payment easy. The mobile ordering system acts as a digital marketing tool, allowing customers to see new items much in advance of launch. The Starbucks app provides users an inviting and innovative personalized experience, just like the coffee chain itself. The convenience of using an app acts as a powerful driver of loyalty. The simple layout of the app makes it appealing to users.
Starbucks gathers information on customers habits, interests etc. thus empowering them to offer more relevant perks & communication to customers. According to a survey by Manifest, a technology survey data company in 2018, Starbucks has the most regularly used loyalty rewards app (48%). Launched in 2015, the mobile order and pay feature helped customers to order via the app & skip the line. The app offers customers convenience while clearly communicating how customers can earn rewards points (stars) and what they will get with them. A strong gamification strategy fueled by exclusive customized offers, has helped the brand stay top of mind for customers.
Changes & enhancements to the 'Starbucks Rewards' programs are on the leading edge of customer loyalty. They have recently revamped their rewards program in North America to offer occasional customers greater access to freebies. With the aim to provide more flexibility in the program to bring in greater value to more people.
Few highlights of the new rewards program-
Customers have multiple benchmarks to cash in their stars for rewards. They can get rewards faster, option to make minor customizations for free in exchange for 25 stars. Some of the most popular rewards like Macchiatos, Starbucks' lattes and other drinks will now require 150 stars, an increase from the previous program.
Members can redeem smaller amounts of stars for lower value buys
Starbucks rewards will form a single-level program, where all members can begin to earn stars toward free rewards from the day they join.
Points will not expire for customers, who attach the loyalty program membership to their Starbucks rewards visa credit card or a prepaid card. In the previous program, any gold level points would expire six months after the calendar month they are earned in.
When a customer walks in a Starbucks store, any purchase they make can be used towards rewards.
Starbucks used to give a free drink of customers choice after $62.50 in spend; now, customer must spend $75. Customers were upset with this change, as there were initial hiccups in the communication of the new program benefits. However, Starbucks was fast to address customer concerns on social media.
What has not changed in Starbucks program?
Free Starbucks birthday drink, this could be a complimentary handcrafted beverage, or one complimentary ready-to-drink bottled beverage or one complimentary food item.
Opportunity to earn bonus stars on monthly double stars days.
How does the rewards work in the new program?
New redemption options-
25 stars: an espresso shot, dairy substitute or additional flavor
50 stars: brewed hot coffee, hot tea or bakery item
150 stars: handcrafted drink, hot breakfast or parfait
200 stars: lunch sandwich, protein box or salad
400 stars: select merchandise or at-home coffee
The move to revamp the program is to offer customers more flexibility and options.
Starbucks is continuously revamping its loyalty program   to offer more value to customers. Further enhancements will help make the program more enjoyable to customers.
Originally written Apr 12, 2017. Last updated May 30, 2019 Image courtesy of Starbucks
Share this post:
About author.
Samir Palnitkar , is the VP of Customer Success at Zinrelo, An expert on building and growing "retention-first" businesses, he frequently writes on customer retention and rewards programs. Samir holds five technology patents, and is the author of two technical books.
More blog posts by Samir Palnitkar
Digital Innovation and Transformation
Mba student perspectives.
Remember Me
Lost your password?
Assignment: Digital Winners and Losers
Starbucks: Winning on rewards, loyalty, and data
Starbucks Rewards Program generates customer loyalty, increased revenue, and data for the company to create meaningful 1:1 relationships and personalized marketing efforts.
Starbucks Reward Loyalty Program
The Starbucks Reward Loyalty Program has a staggering 16 million active members (as of March 2019), with 11% growth of their user base in Q2 2018. Starbucks attributes 40% of its total sales to the Rewards Program and has seen same store sales rise by 7%. The Reward Program is available on mobile devices as the Starbucks app, and has seen impressive membership and growth since 2008, with multiple iterations on its original form. The investment made into the mobile interface has increased the frequency and spend of both regular and occasional customers. Starbucks uses this tool to individually market specific products and features based on data collected from the app about its users. Customers can order and pay through the app ahead of arriving at a physical location, as well as earn stars (rewards) that translate into free drinks, food, and merchandise. Starbucks is a clear winner that has reinvented their relationship with customers and captured enormous value through their investment into digital technologies.
How does Starbucks create value?
Customers benefit from using the app by:
Ease of payment in store through mobile app
Ability to order and pay ahead of arriving in store (and therefore skip any Monday morning rush lines by having a separate 'mobile order pickup' station – which in itself serves as a highly effective marketing tool for the app)
Rewards and benefits: such as free refills on brewed coffee and free drinks on member's birthdays, relatively quickly earned other rewards from purchases, such as free food/drinks/merchandise
Special member events
Ability to send other members and friends gift cards through the app
App integration with other platforms such as Spotify to discovery music playing in store (a big part of Starbucks and more generally coffeehouse culture)
Members are first to know about upcoming seasonal and new product releases
Starbucks reaps many of its own 'rewards' from the app:
Pathways to a Just Digital Future
All these features have created an intense loyalty for customers to the app and reward program, which kicks back nicely for Starbucks. Members of their rewards program are feeding in valuable data that Starbucks can then mine to personalize marketing efforts to individuals and create a uniquely direct relationship with their customers. Besides drawing in the 'occasional user' to come back and increase their frequency of purchase (key in this business), the app has also been seen to increase the frequency and spend of regular and super-user customers. According to CFO Patrick Grismer, "We know from our experience that when customers join our rewards program, their total spend with Starbucks increases meaningfully".
Aside from the increase in revenue associated with the app, the real value lies in the innovative potential uses for the large amounts of user data collected, which forms the base of Starbucks' digital strategy. Starbucks has begun experimenting with digital menu boards in their physical locations to allow for a dynamic menu based on customer demand (varying with regional preferences and times of day), that would ideally continue to boost same store sales. The decision of where to place new stores and how to expand has also been informed by this user data. The ways in which this user data can be used in the future are important in the ever more personalized retail world, where customers want less of being 'talked at' and more of being included in a conversation.
What's Next?
Starbucks continue to prove itself to be truly customer centric, building innovation around the core theme of their relationship with customers. Their willingness to adapt and invest in their digital technology has allowed them to create and capture enormous value for both customers and the company. As Starbucks gets access to more customer data, the ability to continue to create more meaningful, personal relationships with customers will only increase, and this is how Starbucks is positioned to win in the future. They have continued to innovate on ease of use with the app, now integrating voice as a feature when ordering for mobile pickup. Of course, Starbucks will have to continue within this theme of digital innovation to remain a winner in the future. Use of consumer data builds a strong base for a number of potential technologies to harness in the future, but it doesn't guarantee success.
https://www.e-zigurat.com/innovation-school/blog/companies-digital-transformation-strategies/
https://www.restaurantbusinessonline.com/marketing/starbucks-rewards-program-pushes-chains-growth
https://www.usatoday.com/story/money/2019/03/19/starbucks-redesigns-its-loyalty-program-so-you-get-free-stuff-sooner/3174227002/
https://zinrelo.com/loyalty-rewards-case-study-new-starbucks-rewards-program.html
https://themanifest.com/app-development/success-starbucks-app-case-study
Student comments on Starbucks: Winning on rewards, loyalty, and data
I loved this post, Leah! (Not just because I'm a Starbucks junkie and heavy user of the app.)
One thing that I think about whenever I use mobile ordering is the way my experience has changed in the store – I spend less time on the transaction, keep my headphones in, and don't have to interact with anyone behind the counter. This is a huge positive for me (e.g., when I'm in a rush) and probably makes me lower cost-to-serve for Starbucks, but I wonder does the presence of in-and-out customers like me make non-mobile users' experience worse? Are they served more slowly? Do they no longer enjoy lingering over a book in Sbux's "third place" when there's a constant stream of mobile customers with headphones in, coming and going? Maybe this is why Starbucks is doubling down on its Reserve Roastery high-end concept, to segment out the grab-and-go types like me from the coffee shop experience-seekers.
To generalize, it seems that greater investment in/growth of digital channels can negatively impact traditional channels if not addressed proactively.
Really good point!
Great article highlighting Starbucks, Leah!
Your blog post reminds me of our first case in class on Dominos Pizza. At one point, Dominos was considered a huge winner in the app/delivery space as they were an early adopter of app & ordering technology. But as competition moved quickly, other players such as UberEats and DoorDash threaten the competitive advantage these single-brand apps, such as Dominos, had developed. I sat in class wondering if Dominos could follow the Starbuck's app model and develop a loyalty program, or if selling pizza vs. cappuccinos are just too different of business models?
Interesting read! I think the membership programs that have become increasingly common in retail are an interesting way for traditionally analog companies to begin to experiment in the digital world. There is clearly value on the table for both the company and the consumer so I can imagine it would be an easier internal sell than some other digital transformation projects. I wonder how Starbucks will continue to improve their application to build an experience that connections the physical and digital worlds for their consumers and differentiate against other big chain coffee shops.
Thanks Leah for the interesting post. I completely agree that the reward loyalty program is an effective initiative to reduce the customer churn due to the entry of new coffee players. However, I believe that it is even more important to improve the customer experience by creating new products that match with the evolving preferences of customers. As you mentioned in the article, data will play a critical role in the future to offer a more personalized service. Starbucks has developed some initiatives in this line. For example, in 2019 Starbucks installed 1,900 Mastrena II expresso makers, which have IoT sensors for preventive maintenance purposes. This initiative will allow Starbucks to reduce machines' failures, reduce customer wait time and improve customer experience. In the future, Starbucks should continue working with data to improve their products and increase customer retention.
Great analysis Leah and really unique viewpoint on what's next for Starbucks! As brands continue to focus on building a deeper connection with their consumers loyalty programs that collect more personalized data and usage trends will help organizations better differentiate their service and product offerings. I am curious as Starbucks begins to really leverage big data what major changes do they decide to implement. There may be opportunities to decentralize operations and curate offerings providing localized products, location designs, and services which can further help Starbucks capture a larger share of wallet.
Great post, Leah!
I feel conflicted about Starbucks' shift to the digital channel that allows for a greater number of customers to be served in a shorter amount of time. Personally, I'm the type of customer that spends hours at coffee shops for the quiet and relaxing ambiance, smell of coffee, and calming music. These days, Starbucks stores feel more like McDonald's and the relaxing user experience has been completely lost. While they've now lost me as a customer, I recognize that they've gained 8 in my place that probably result in higher profitability. A win for Starbucks, but unfortunately a loss for me.
Great post! This is super interesting to me – I had no idea this was such a powerful tool. There is one main thing I'm wondering about: What do you think allowed Starbucks to be more successful than other coffee shops with their Rewards program? Was it more the technology, the convenience, the recommendations, or the combination of everything together? I guess my thought is that I don't know why more companies haven't been able to replicate this.
A second thought is just that the power of this loyalty seems so strong that it may be impossible to disrupt, despite lower prices elsewhere. We see new coffee shops popping up all the time, and I'm not sure any of them stand a chance knowing this.
Thank you for sharing! This has opened my eyes to how important loyalty is and how brands can work on building that with customers.
Leave a comment Cancel reply
You must be logged in to post a comment.
Nov 10, 2022
Case Study: Starbucks Odyssey
The first in our case study series: why starbucks' foray into web3 and nfts is such a massive deal for the future of customer loyalty..
Starbucks has always been a pioneer in the loyalty space, being one of the first major brands to introduce a seamless mobile app experience, where customers could both earn rewards, as well as make payments for their orders, directly in app. Starbucks' rewards program is so successful that it has over 27 million active users, making it the most used restaurant loyalty app in the US.¹
Earlier this year, Starbucks announced the biggest change to their loyalty program since it started: Starbucks Odyssey, a new experience based on Web3.
What is the program?
According to Starbucks,
"Starbucks Odyssey is a new experience powered by Web3 technology that will offer Starbucks Rewards members and Starbucks partners (employees) in the United States the opportunity to earn and purchase digital collectible assets that will unlock access to new benefits and immersive coffee experiences."²
In short, Starbucks Odyssey will serve as an extension of the Starbucks Rewards program, where users will be able to earn digital collectible stamps (NFTs) based on completing journeys, as well as purchase limited-edition stamps featuring artwork from outside artists and partners. There will be no need to use cryptocurrency or connect a crypto wallet on the platform, and branding seems to intentionally mask the technology involved.
How does it work?
Users can earn Journey Stamp NFTs in one of three ways:
Spend on Starbucks goods
Engage with educational coffee activities
Play virtual interactive games
They can also purchase limited-edition stamps from the dedicated marketplace.
Each stamp will have a point value based on its rarity, and as users accumulate more points, they'll be able to unlock experiences such as a virtual espresso martini-making class or a trip to the Starbucks coffee farm in Costa Rica.
A portion of the proceeds from each limited-edition stamp will also be donated to charity. In addition to customers, Starbucks also says the Odyssey platform will have an element for employees.
Why the change?
First , Starbucks understands that technology is changing the way that brands and their customers interact with each other, and customers are embracing a more participatory experience, where ownership and community matter more. While Starbucks has always prided itself on being the "Third Place," it's often a place where people end up alone together, rather than a true forum for community. By creating an NFT-based loyalty program, they're opening the door for customers to become real stakeholders in the brand, boosting customers' sense of ownership in the community.
Second , according to the Starbucks team, internal user research suggested people wanted more personalized recognition and more community out of the Rewards Program, two pillars of the new Odyssey initiative. Recognition comes in many more diverse forms (both in terms of ways to earn it, and rewards to redeem), while community is core to the ethos of the program.
Third , from a technical perspective, shifting to a Web3-based system makes it much easier for Starbucks to go global with its loyalty program. Today, this is difficult to implement, as it has different tech stacks (including different POS systems) in the different countries it operates in. However, by making NFTs the standard system of value, Starbucks will be able to expand its loyalty app footprint across its global locations.
What Starbucks did well
Starbucks has set a new bar for Web3-based loyalty, spending time thinking through the high level implications as well as the details of implementation. Here's what they did well:
They're not completely changing the rewards program right away; instead, they're first experimenting with a pilot program that exists as a standalone web app, and it's fully opt-in without disrupting their existing rewards program.
They've minimized the use of Web3 jargon, and are not requiring ownership or even knowledge of wallets or crypto.
This is not purely pay-to-play. There's a thoughtful mix of stamps you can earn and stamps you can purchase. Ultimately, it's the collector score total that unlocks the perks, providing more than one way to get there. Moreover, stamps can randomly have different levels of rarity. Both of these properties further enhance the dynamics of gamification in the program.
Starbucks understands the value of going multiplayer by bringing in partners and employees, creating a network of loyalty that can create more value for customers as well as the Starbucks brand.
They've nailed the messaging around creating a community in the virtual third place, which is a genuine extension of Starbucks' original mission.
Interested in creating your own program?
What Starbucks has done is a game changer for customer loyalty. But the great news is that you can do it too!
At 3mint we've made it incredibly easy for brands and consumer businesses broadly to launch their own Web3-based loyalty programs. Our all-in-one customer engagement platform abstracts away all the technical aspects of Web3; no crypto knowledge required. Simply identify how you want to reward your customers, launch campaigns, and leverage the insights we provide based on customers' purchase behavior to target and re-engage users accordingly.
About 3mint
3mint is the all-in-one Web3 customer engagement platform for brands, with a toolkit of enterprise-grade APIs and SDKs that enable brands to build any Web3 product or experience at scale — without any of the complexity associated with blockchains. Check out our docs here and sign up for our Alpha here !
[1] Restaurant Dive, " Despite menu price increases, Starbucks Rewards members keep coming back "
[2] Starbucks, " Starbucks Brewing Revolutionary Web3 Experience for its Starbucks Rewards Members "
More from 3mint
3mint builds higher-level APIs and SDKs for any developer to leverage Web3.
About Help Terms Privacy
Get the Medium app
Tom Borgers
Office of the CEO, ConsenSys 👹
Text to speech
Starbucks opens up its web3 loyalty program and NFT community to first beta testers
Starbucks today is launching its blockchain-based loyalty program and NFT community, Starbucks Odyssey , to its first group of U.S. beta testers. The new initiative, which includes coffee-themed NFTs that translate to real-world experiences, is an extension of Starbucks' existing loyalty program, Starbucks Rewards, but leverages web3 technology like the polygon blockchain and NFTs.
Announced to investors earlier this year, the coffee chain giant said it envisioned Starbucks Odyssey as a way for its most loyal customers to earn a broader, more diverse set of rewards beyond the perks they can earn today, like free drinks. Instead, Odyssey introduces a new platform where customers can engage with interactive activities called "Journeys" that, when complete, allow members to earn collectible Journey Stamps — which is Starbucks' less geeky name for NFTs.
Image Credits: Starbucks
The Journeys are designed to promote the Starbucks brand and teach customers about coffee and the company's history. They could include any number of activities, like watching videos or taking quizzes, playing puzzles or even going to the store to try out new drinks the company wants to promote. The latter example is part of what makes Starbucks Odyssey more interesting than some other corporate NFT initiatives, as it's actually connected to the company's existing loyalty program, business goals and mobile payment technologies, rather than functioning as a quickly tacked on addition.
In the case of Journeys tied to in-store purchases, Odyssey members would scan their existing Starbucks Rewards card when purchasing the required drink or menu item, and that activity would then be shared back with Odyssey, earning the member points.
At around 500 points, members will earn Stamps — that is, a coffee-themed NFT hosted on the Polygon blockchain. These Stamps also unlock special experiences. There will be three levels of benefits and experiences that can be unlocked. At the lower end, these could be online experiences, like a virtual class that teaches you how to make espresso martinis, or provides access to unique artist merchandise. As you earn more points and NFTs, you may then begin to gain access to real-world experiences, like special events hosted at Starbucks Reserve Roasteries or even a trip to the Starbucks Hacienda Alsacia coffee farm in Costa Rica .
Image Credits: Starbucks (opens in a new window)
The points accumulate over the course of the year, instead of being redeemed for rewards (like Stars are). At year-end, the points reset and you'd start over. But you'll still retain your NFTs, which will later be integrated with the Starbucks app, allowing customers to customize their Starbucks Card or perhaps be printed on other merchandise.
As the Odyssey program launches into beta, the first Journey Stamps will include those designed with inspiration from Starbucks' history, like its first location in Pike Place Market in Seattle; others will feature classic designs and this year's "Gift-Wrapped Magic" holiday cup art.
The company declined to confirm how many customers have signed up on the waitlist but said the demand had "far exceeded" its expectations. It will now begin to let a portion of those waitlisted users in to test Odyssey and offer feedback on the initial experience, which it will use to adapt the program further. Users will be emailed if they're being invited into the beta, then have three days to join. If they don't, they'll return to the waitlist for a future invite.
To enter Starbucks Odyssey after getting an invite, members will need to have an existing Starbucks Rewards account as this program is tied to the company's larger loyalty initiative. (There are not separate accounts just for Odyssey.)
As members participate in Odyssey, they'll earn NFTs, which have a point value based on their rarity. That means, in addition to being tied to real-world experiences, the NFTs will be able to be bought or sold on Odyssey's marketplace, launching in 2023. This part is powered by Nifty Gateway, with NFT ownership secured on the blockchain.
Starbucks is also simplifying the process of purchasing NFTs, as it won't require that members have a crypto wallet, own cryptocurrency or have any understanding of the underlying web3 technologies. Beyond dropping the word "NFT" from Odyssey's lingo, members can buy the "Stamps" with a credit card, as they would any other online purchase.
"It happens to be built on blockchain and web3 technologies, but the customer — to be honest — may very well not even know that what they're doing is interacting with blockchain technology. It's just the enabler," Starbucks CMO Brady Brewer told TechCrunch in an interview back in September.
For the coffee chain, the program allows the company to engage its most loyal customers and build community, but also provides a potential revenue stream. Starting next year, it will release Limited Edition Stamps, which members can purchase to support various causes. The artwork on these NFTs is being co-created by Starbucks and outside artists while "a portion" of the sales will support causes chosen by Starbucks employees and customers. (The company wouldn't yet say how much of the remaining revenue it would keep.) These Stamps will be released four-six times per year.
While many corporate forays into the NFT market are gimmicky and ill-thought-out, Starbucks has been more cautiously weighing its approach to web3. The company said it had been investigating blockchain technologies for a couple of years, but it has only been involved in this particular project for around six months. Brewer earlier said the company didn't want to treat its investment as a "stunt" side project, but rather wanted to use the tech to expand its existing loyalty program.
Starbucks also brought in Adam Brotman, the architect of its Mobile Order & Pay system and the Starbucks app, to help serve as a special advisor on Odyssey. Now the co-founder of Forum3 , a web3 loyalty startup, Brotman's team worked alongside the Seattle coffee chain's own marketing, loyalty and technology teams, the company said.
In a demo of Odyssey, the program looked simple to use. You sign in, pick an avatar and go through an onboarding experience that teaches you about Journeys and Stamps, then get started. The company says there will always be at least two Journeys available at any time.
The first invitations are being sent to a small group of waitlist members today, December 8. In January 2023, Starbucks will begin to send out monthly invitations to a wider group of waitlist members.
Two business school professors break down the deeper reasons why Starbucks customers were so enraged when the company changed its loyalty program
Starbucks , the coffee chain giant, is modifying its rewards program, and the news is  full of stories  of  outraged consumers .
The main focus of their ire is that, starting Feb. 13, 2023, it will  cost twice as many  of the program's reward points, called stars, to earn a free cup of hot coffee.
When companies pare rewards programs back, there is often  significant customer pushback . A recent example in the coffee market was seen in the fall of 2022 when  Dunkin' made it harder to get free  items  with its rewards program , also leading to customer backlash.
We   are  business school  professors  who study  frequent flyer  and other rewards programs. While we don't drink very much Starbucks coffee, we are fascinated by the reaction of Starbucks customers – and what they seemed to miss.
Building loyalty
Reward and frequent flyer programs are designed to  build loyalty , as they provide a form of rebate to regulars. They also are seen by consumers as a good way to save money, particularly when inflation is high.
They are also  meant to lock customers  into a particular company or airline. In the case of Starbucks, the rewards program reduces the likelihood that its customers will buy coffee from  competitors like Dunkin ,  Costa Coffee, Tim Hortons or Peet's Coffee .
Even though  airline rewards programs have been around  for years, rewards programs among large restaurant chains are relatively new. Sandwich chain Subway, for example,  didn't start one until 2018 . Fast-food company McDonald's  only launched its loyalty program  in 2021.
And now, even small businesses  are finding it valuable and easier  to start loyalty programs, thanks to the acceleration of digital technology in restaurants during the pandemic. About 57% of restaurant chains  now have a loyalty program .
Rewards math
Starbucks, however, is an old-timer, having started its  rewards program all the way back in 2008 .
The program, which  had been regarded by some  as one of the most rewarding, gained members steadily during its first two decades but  exploded in growth during the pandemic . At the end of 2022, about 29 million people were enrolled,  up from a little over 16 million  in early 2019.
The  rewards program's rules are quite complex : The legal language runs about five times longer than this article.
Briefly, customers earn credits by spending money. Each dollar spent on food or drinks earns one star. However, preloading money onto a Starbucks gift card or mobile app earns two times the stars.
Stars can then be spent on drinks, food or merchandise. Under the current program, the  simplest and cheapest reward , for 25 stars, is adding a free shot, dairy substitute or flavoring to a drink. The highest cost items, for  400 stars, are merchandise , like a branded cup or a bag of ground coffee.
Consumer friendly?
Starbucks  announced changes  to the  terms and conditions  of its rewards program in December, adjusting the "price" for some of its items.
The change that received the most attention was that the cost of a cup of plain hot coffee or tea would double from 50 stars to 100.
At first glance, Starbucks' modification to its rewards program might be perceived as bad for consumers. But there is more to this change than meets the eye. What went less noticed is that the company is also lowering the price to get a free iced coffee or tea from 150 points to 100.
To an unsuspecting consumer, the points reduction for iced coffee may not mean as much against the points increase for hot coffee. The coffee business, however, has radically changed over the last few years. The change is best summarized by a recent New York Times headline, " Does anyone drink hot coffee anymore? " Iced or  cold-brewed coffee is now the rage  – even in winter – and  growing quickly . Cold beverages  have accounted for at least 60%  of Starbucks' total sales every quarter since early 2021, thanks in part to the popularity of iced drinks among Gen Z customers.
This means that for a large share of Starbucks customers, one part of the rewards program is actually getting more generous.
So why the uproar, if one of the more popular items on Starbucks' menu is getting cheaper?
Loss aversion , a key concept in behavioral economics, provides a simple explanation. Loss aversion means people perceive something they lose as a bigger deal than something equivalent they gain. People who need to spend 50 more stars from now on to get a hot coffee feel more pain than customers who will spend 50 fewer stars to earn a free iced coffee. This extra pain leads to more complaints from those hurt and little praise from those benefiting.
Rewarding customers
Starbucks, for its part,  explained the new rewards system this way :
"This change allows us to improve the health of our program while making member favorites like iced coffee easier to earn."
While its critics may disagree about the reason for the decision, ongoing research by  one of us  conducted into a tea chain suggests retailers have a profit incentive to make their rewards programs more generous. The reason is simple: When rewards are easier to earn, customers become more motivated to collect points, especially as they  approach a reward  they can redeem. This is why airlines see some customers  doing mileage runs at the end of the year , just to earn better status.
From the company's perspective, the benefits from customers shopping more frequently can surpass the costs incurred by providing more rewards. And so for companies and consumers, rewards programs can benefit everyone.
H. Sami Karaca is a professor of Business Analytics at Boston University
Jay L. Zagorsky is a clinical associate professor at Boston University
Learn how to navigate and strengthen trust in your business with The Trust Factor, a weekly newsletter examining what leaders need to succeed. Sign up here.
Most Popular
Explore the no.1 cloud POS system for all devices!
April 26, 2022
Business , Insights
By Quinn T.
How Starbucks became #1 in customer loyalty with its rewards program
Starbucks is the leading coffee chain in the world known not only for the quality but also for the programs created for its customers. In this article, we provide some necessary information about the Starbucks loyalty program that your business can apply.
Overview of Starbucks loyalty program
The Starbucks loyalty program is a symbol of its identity and brand. The structure of this program consists of 2 levels with 2 icon colors: Green and Gold, each level will have separate incentives. For each standard spend, the customer will earn one star. These stars will help the customer receive incentives such as free products or free recharge along with personalized rewards complementary. This program is constantly being updated, most recently the Starbucks Rewards app allows users to use it as an in-store digital card. In addition to tracking their points, users can access the menu and order before they even arrive at the cafe.
This loyalty program has brought many advantages to Starbucks. The calculation of accumulated points and the announcement of available rewards will help Starbuck to increase customer interaction and encourage them to repeat purchases. This also helps Starbucks build longer-term relationships with members and as of 2019, up to 16 million active loyalty program members with the brand. Since then, the Starbucks brand has expanded in size and is favored by the vast majority of coffee lovers.
Points can be earned at non-Starbucks locations and mobile integrations
Customers can earn and accumulate points based on purchases of products at Starbucks stores, but in addition, Starbucks also links with other grocery stores to sell its packaged coffee products. Therefore, when members buy Starbucks products at other stores, they also accumulate points . This incentivizes the coffee house's customers to shop in more channels and benefits their affiliated retailers.
Starbucks also has integration with mobile apps, Starbucks also enhances engagement by creating free games and music in its mobile app. Customers playing games in the app can also earn stars and redeem rewards.
Personalization
The Starbucks loyalty program has created personalization for its customers by using their data and offering tailored privileges and offers. The coffee chain says many of its purchases are due to personalized promotions. This program provides customers with comfort and relevance so it is always attractive to use and attracts repeat customers .
Member specials
Starbucks also always creates special events for loyalty program members. Besides, the coffee chain can also send gift cards to friends and other members of the program through the app. Through the events they create, Starbucks loyalists know in advance about new product releases and seasonal products.
ConnectPOS is a special tool that supports coffee chains like Starbucks to manage loyalty programs . ConnectPOS is a great tool to help coffee chains record and store information, orders and other programs in the loyalty program. This software also supports the use of loyalty program settings from your backend with available extensions from reliable providers.
This Starbucks loyalty program is always improved to match social trends and consumer needs. Contact us to get support for your business's loyalty program.
►►► See our products: Magento POS , BigCommerce POS , Shopify POS , Woocommerce POS , Restaurant POS , NetSuite POS , Thailand POS , South Africa POS and Commercetools POS
Write a comment Cancel reply
We've updated our privacy policy. Click here to review the details. Tap here to review the details.
Activate your 30 day free trial to unlock unlimited reading.
Case Study Starbucks Loyalty Program
You are reading a preview.
Activate your 30 day free trial to continue reading.
Check these out next
Download to read offline
Creator: Selina Mai This is my Case Study for Customer Relationship Management (CRM) course in Minghsin University of Industry
Recommended
More Related Content
Slideshows for you (20).
Similar to Case Study Starbucks Loyalty Program (20)
More from Selina Mai (7)
Recently uploaded (20)
1. Case Study Starbucks Loyalty Program Student: Selina Mai 梅芳草 Class: 蔡瑤玉
2. Starbucks Rewards A loyalty program launched by Starbucks has been one of the most successful implementations of a loyalty and customer retention strategy. It has been instrumental in propelling Starbucks to 16 billion in revenue and a market cap that exceeds $80 billion
3. Starbucks Rewards The new Starbucks Rewards program was launched on April 12, 2016 and it replaced the previous loyalty rewards program named My Starbucks Rewards
4. Reason for the change: The older program gave the customers a star for each visit regardless of the spend level. high incentives for low spenders. By moving to the new loyalty program, Starbucks aligned the customer benefits with their spending levels. In the new program, customers who are high spenders ($5 or more per visit) will earn rewards faster than before.
5. I. How does the new Starbucks Rewards Work? II.Why do customers like the Starbucks Rewards program? III. Why does Starbucks love the new program?
6. I. How does the new Starbucks Rewards Work?
7. • Customers are rewarded 2 stars for every dollar spent on any drink, food, or other item at Starbucks. The more money they spend, the more stars they earn. 1. Reward: 2 stars for every $1
8. • Customers are enrolled into the Green tier upon sign-up. • They will then need to earn at least one star per year in order to maintain Green status. Once a customer earns 300 stars, the customer is upgraded to the Gold tier. • Gold customers must earn 300 stars every 12 months to maintain their status. • Starbucks is therefore encouraging customers to spend at least $150 per year in order to maintain Gold status. 2. New Tiers: Green, Gold
9. 3. Benefits Benefits of Green member: • a free drink on the customer's birthday, • free drink refills in-store, and • the ability to pay by phone and order in advance so the customer can waiting in line. Downside: while they are earning stars with each dollar spent, the stars are worth nothing until they reach Gold status. Benefits of Gold status (300 stars) • a free drink for every additional 125 stars.
10. II. Why do customers like the Starbucks Rewards program? • Starbucks is making it easy for customers to earn rewards! • Customers load up pre-paid balances on their Starbucks app, making it quick and simple to make in- store purchases.
11. 1. Getting something for FREE • Customers who were going to drink coffee anyway are now receiving something for FREE! • Customers appreciate goodies like free drink refills, a free birthday drink, and the ability to pay using the phone app. • Getting 2 stars for every dollar spent (while it doesn't mean much until Gold status is achieved) creates a feeling of appreciation and anticipation.
12. 2. Elite Gold Status for High Spenders • High spenders love this program. • Once they earn 300 points to reach Gold status, they are rewarded with a free drink for every 125 points earned.
13. 3. User Experience • Starbucks has created a fun and engaging user experience in their mobile app. It helps the Starbucks Rewards program become more interactive and effective.
14. The mobile app • gives the program an edge that other standard "card only" programs do not have. • differentiates the program in the eyes of the consumers.
15. III. Why does Starbucks love the new program? Starbucks loves the new program because it is aligned with user spending. • It encourages higher spending • It helps collect copious amounts of valuable user data.
16. 1. The More You Spend, The More You Earn • The new program is directly aligned with high spenders. • For Green members, there is very little payback in terms of free drinks. • For Gold members, the payback percentage is close to 8%.
17. 2. Getting More Users to Download the App • The new loyalty rewards program is getting users to download the Starbucks app • When customers visit the store, an in-app balance encourages greater spending compared to when payments are made in cash or credit card. • The app collect data on user behavior, spending patterns, and locations  give Starbucks a wealth of new information on customer behavior, enabling them to better target their customers.
18. The new Starbucks Rewards program is one of the top loyalty rewards programs in the world. It significantly reduces the probability that customers will buy coffee at another store. It is worth top marks for creating an amazingly engaging user experience.
19. Thanksyou! It'sCoffee
20. But the money banked at Starbucks appears to be growing rapidly, with the current $1.2 billion nearly double the $621 million the company had in 2014, according to Bloomberg. That growth has been fueled by the company's popular app: Starbucks has "one of the most successful mobile wallets," Leena Rao writes in the new issue of Fortune. In March, Starbucks announced that it will launch a prepaid Visa card later this year. As more customers join the company's loyalty rewards program—it now has 12 million members—they are paying for their coffee using the Starbucks (SBUX, -9.07%) cards or its mobile app, which now have a total $1.2 billion loaded onto them for future lattes or snack purchases, according to a Wall Street Journalanalysis of "Where Money Lives."
21. https://investor.starbucks.com/financial-data/annual-reports/ https://investor.starbucks.com/press-releases/financial- releases/press-release-details/2017/Starbucks-Reports-Q4- and-Full-Year-Fiscal-2017-Results/default.aspx
Editor's Notes
https://zinrelo.com/loyalty-rewards-case-study-new-starbucks-rewards-program.html
http://fortune.com/2016/06/10/starbucks-card-balance/
https://news.starbucks.com/news/starbucks-2016-annual-meeting-of-shareholders
Share Clipboard
Public clipboards featuring this slide, select another clipboard.
Looks like you've clipped this slide to already.
You just clipped your first slide!
Create a clipboard
Get slideshare without ads, special offer to slideshare readers, just for you: free 60-day trial to the world's largest digital library..
The SlideShare family just got bigger. Enjoy access to millions of ebooks, audiobooks, magazines, and more from Scribd.
You have now unlocked unlimited access to 20M+ documents!
Unlimited Reading
Learn faster and smarter from top experts
Unlimited Downloading
Download to take your learnings offline and on the go
Instant access to millions of ebooks, audiobooks, magazines, podcasts and more.
Read and listen offline with any device.
Free access to premium services like Tuneln, Mubi and more.
Help us keep SlideShare free
It appears that you have an ad-blocker running. By whitelisting SlideShare on your ad-blocker, you are supporting our community of content creators.
We've updated our privacy policy.
We've updated our privacy policy so that we are compliant with changing global privacy regulations and to provide you with insight into the limited ways in which we use your data.
You can read the details below. By accepting, you agree to the updated privacy policy.