10 Steps For Writing An Unforgettable Graduation Speech
Pick A Theme
Begin With Gratitude
Motivational Quotes
Get Personal
Add Your Personality
Avoid Cliches
Create A Call To Action
School is almost out, but for many students, there's one more major task to complete before summer: graduation. Whether you're graduating from high school or earning a college degree, a graduation ceremony is a huge milestone. And, if you've been asked to speak at graduation, you might be feeling the pressure right now.
Graduation speeches of all kinds date back to at least the 1600s, and though a lot has changed since then, these kinds of speeches still contain similar key elements that help make them effective, inspiring, and something every graduating student and their loved ones look forward to.
Public speaking can be nerve-racking in any setting, particularly when you know the audience is filled with people's cousins and grandparents who are likely to remember this day forever, but fear not! We're here to help with these 10 key steps to follow to write and deliver a truly unforgettable graduation speech.
1. Pick a theme.
If you want the audience to feel moved and inspired by your speech (Who doesn't, right?), then it helps to build your speech around a central theme or message. Think about what's important to you as the speaker and what you'd like others to take away from your words. Once you have a theme, it will be easier to select the quotes and anecdotes that tie back to that central idea and create a speech that leaves your audience in awe.
🎓 Here are some popular themes to consider:
Embracing failure.
Overcoming adversity.
The importance of having big dreams.
Facing change with grace.
Taking responsibility for your future.
Learning from past mistakes.
The importance of friendship.
Becoming a lifelong learner.
2. Begin with gratitude.
When you step up to the mic on graduation day, you'll need to begin with a few formalities. First, thank the previous speakers, as well as everyone in attendance. Then, express your feelings about the privilege of being asked to address the audience on this momentous occasion. Go ahead and write this part down so you don't forget to do it on the big day. Here are some examples:
Thank you, [name of previous speaker], and thank you, friends, family, faculty, and fellow graduates for being here today. It's an honor to celebrate this milestone with you as your valedictorian.
Thank you, [name of previous speaker]. Graduates, loved ones, and distinguished faculty members, it is an honor to be here with you today. I'm so grateful to [name of school or university] for the privilege of being your [type of speaker].
3. Use a motivational quote.
The greatest commencement speeches typically include a motivational quote, whether it's from a famous person, a beloved teacher, or something your grandfather taught you. The right motivational quote will tie into your theme and serve as a thesis statement for the message you hope the audience will take from your words. Consider these celebrity quotes from other powerful commencement speeches:
"Your time is limited, so don't waste it living someone else's life. Don't be trapped by dogma, which is living with the results of other people's thinking. Don't let the noise of others' opinions drown out your own inner voice." — Steve Jobs , Stanford University, 2005
"You must lead. You're never too young to lead. You're never too old to lead. We need your leadership now more than ever before." — John Lewis , Harvard, 2018
"The day you graduate, you do not arrive. This is not the end. This is the beginning for you. To graduate is to change gradually." — Rita Moreno , Northeastern Illinois University, 2015
"Ultimately, your life is made up of moments. So don't miss them by being lost in the past or anticipating the future." — Jessica Lange , Sarah Lawrence College, 2008
"You are full of complexities and wonders that haven't even begun to surface. Life's unpredictability will draw these out and what defines you now will be mere shades and hues of a more vibrant you over the next five, 10, 50 years. Honestly, I can't think of anything more liberating than that, knowing that life will look differently than you think it will." — Octavia Spencer , Kent State University, 2017
4. Get personal.
When Conan O'Brien delivered the commencement speech at Dartmouth University in 2011, he talked about being fired from his dream job and what that failure taught him. Some lauded it as one of the best graduation speeches of all time.
Sharing personal anecdotes, even ones that mention failures or humiliations, is a powerful way to connect with your audience and drive your message home in a personal way. When writing your speech, draw on your experiences as a student and be clear about how those experiences shaped and prepared you for what lies ahead.
Learn how to a sensational graduation card here.
5. Infuse your personality.
Graduation speeches may follow a formula, but that doesn't mean they need to be boring! Use your personal sense of humor, unique story, and life experiences to give the speech character and charm. What does this look like in action?
In 2016, author John Green brought levity to his commencement speech when shared with the graduating class at Kenyon College that the best life advice he ever got was, "You're a good kid, but you need to learn when to stop talking."
At the University of Virginia in 2016, late night host Stephen Colbert joked that people should leave their cell phones on because "I wouldn't want you to miss a text or a tweet while I'm giving my speech."
You may not be a famous comedian or author, but being uniquely yourself can help your speech shine.
6. Reflect, then look ahead.
You and the rest of your graduating class are sharing a major life milestone, and you've all worked hard to get to this point. What has life been like during your years in school? What experiences have you shared, and how have those shaped you as people moving forward into the next phase of your life?
In your speech, include real-life examples of the things you've faced in your time as students. Put those events in context in your life, and remind your audience that you have all learned so much more than just what was on the course syllabi.
7. Avoid clichés
The tricky part of writing a graduation speech is being inspiring without resorting to clichés. If you use personal anecdotes and weave personality into your speech, it's unlikely that you'll fall back on tired, overused statements. But, sometimes they still sneak in. If that's the case, try to swap them out with a fresher take.
Here are some ideas:
Instead of talking about the "real world" as a future destination, talk about how you already live there and you're ready for whatever life throws at you.
Instead of defining a typical graduation word (like courage or future ), talk about the words that come to mind when you think about school and what they mean to you.
Instead of talking about what you're "leaving behind," talk about what lessons and people you're taking with you.
Make Your Writing Shine!
Comments This field is for validation purposes and should be left unchanged.
8. Create a call to action.
Graduation speeches serve two important purposes: celebrating everything that came before graduation day and building excitement for everything that will come after it. The easiest way to leave people inspired is to include a call to action. This doesn't mean providing strict instructions for some task they must complete. Think of it more as broad instructions for how to meet the challenges ahead.
Your call to action should restate the theme of your speech and give the audience a clear takeaway message to carry with them. Need some examples? We have a few:
"Whatever you want to do, do it now. For life is time, and time is all there is." — Gloria Steinem , Tufts University, 1987
"Let excellence be your brand." — Oprah Winfrey , Spelman College, 2012
"Fight for the job you want, fight for the people who mean the most to you and fight for the kind of world you want to live in." — Elizabeth Warren , Suffolk University, 2016
9. Keep it brief.
While you surely have a lot of great things to say, no one wants to sit through a 12-page speech. Graduation ceremonies are already long, and the audience is usually asked to listen to multiple speeches. Keep this in mind, and say what you'd like to say in the briefest way possible. Aim for a speech that falls between 500 and 750 words, and time yourself to make sure you don't exceed 10 minutes during delivery.
10. Practice, practice, practice.
The only way to ensure your speech flows, makes sense, and holds people's attention is to practice reading it out loud. Practice by yourself in front of a mirror, being careful to notice and edit any places where you trip over words or have awkward pauses. Once you've perfected the solo read-aloud, ask a parent or friend to serve as an audience. This will help you test out your jokes and polish your anecdotes based on their reactions. By graduation day, you'll be ready to take to the stage like a pro.
Need more inspiration? These graduation quotes should do the trick.
Ways To Say
Synonym of the day
Mar 16, 2023
Words with Friends Cheat
Wordle Solver
Word Unscrambler
Scrabble Dictionary
Anagram Solver
Wordscapes Answers
Make Our Dictionary Yours
Sign up for our weekly newsletters and get:
Grammar and writing tips
Fun language articles
#WordOfTheDay and quizzes
By signing in, you agree to our Terms and Conditions and Privacy Policy .
We'll see you in your inbox soon.
Writing a Winning Graduation Speech: Outline and Tips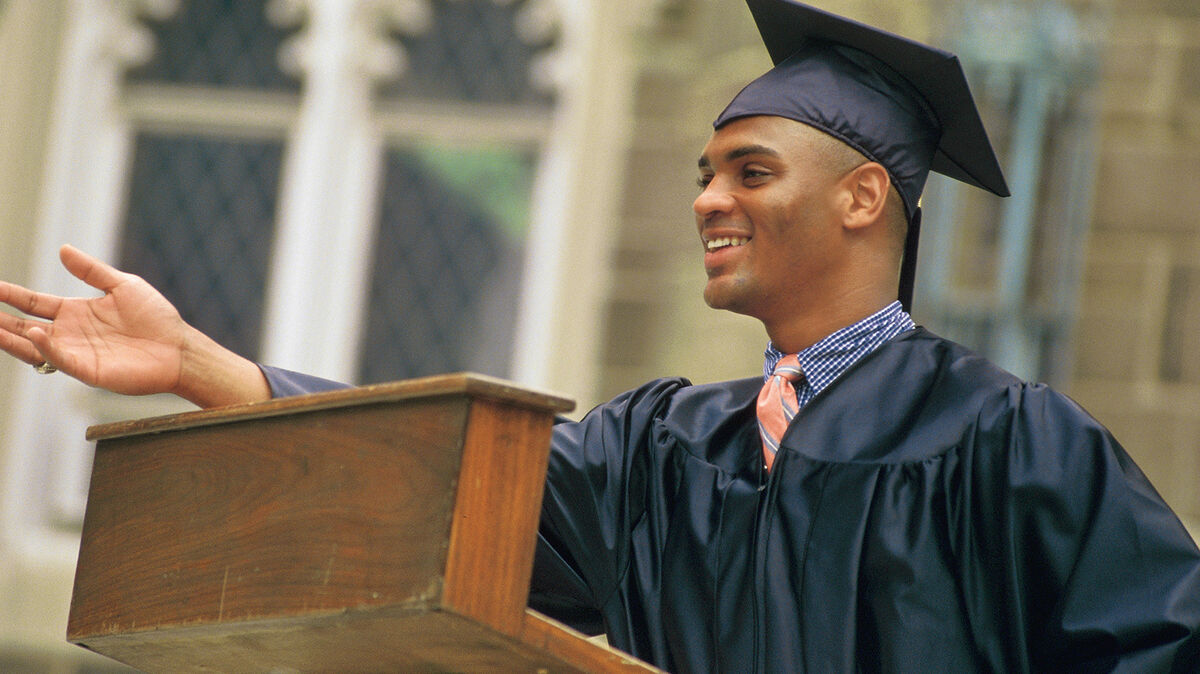 DESCRIPTION Young man giving graduation speech
SOURCE Comstock / Stockbyte / Getty Images
PERMISSION Used under Getty Images license
Writing a graduation speech is a huge honor and your chance to send off your classmates with wit and wisdom. Whether you're excited or terrified to give the speech, this is not the kind of opportunity you should wing. Get started with our graduation speech outline and a few writing tips to ensure your speech is the most memorable part of your school years.
Sample Graduation Speech Outline
The graduation speech outline we've provided here can help you get started, but feel free to make this your own. Omit any categories that don't fit your style, and add others as you see fit. You can also reorganize these categories for a flow that fits your personal style.
1. Thank the Previous Speaker
Begin with gratitude and grace: Be sure to thank the person who introduced you, both for the introduction and the work they do with the school.
2. Introduce Yourself
Don't assume that all the people in the room know who you are. Introduce yourself, including your name and why you were chosen to give the speech.
3. Share a Motivational Quote
Plan to share some sort of motivational quote or personal narrative with your classmates. Illustrate how it connects with your class's experiences in the school. This will serve as an opportunity to bring everyone together and get your classmates excited about the future.
4. Share Some Good Advice
This is, perhaps, the most important part of your speech. Share meaningful advice for the years to come. Highlight some of the expectations that are about to come your way. Keep the tone positive, and remind everyone they have what it takes to succeed in their future.
5. Recall the Good Times
Encourage your classmates to remember the good times at your school. Highlight a momentous occasion that everyone partook in. Encourage your peers to take those memories with them wherever they go.
6. Restate Your Motivational Quote
Finish by reiterating the motivational quote you began with, giving it more context. Although you just dipped into the past with one of those "good times," the focus of a graduation speech is on the excitement that's yet to come.
7. Create a Call to Action
Call your fellow students into action. Leave them with an inspiring sentence encouraging them to go out and make a difference in the world.
8. Thank Everyone
Finally, thank everyone for their time. Thank them for the memories over the last few years and their time during your speech.
Graduation speech outline
Tips to help you write a graduation speech.
Make sure that your graduation speech is something that you would want to listen to, if you were in the audience. Think of this experience as a time to share an important moment with your peers as a representative of your class.
Speak truthfully and courteously while piquing the interest of your peers . Common themes include dreaming big, learning to fail or never giving up.
Write a speech that showcases your unique voice.
Elicit shared memories of the past, as well as a hopeful vision for the future.
Keep your speech short. People may be too emotional to remember everything you said, but they'll likely remember who talked for too long.
Inspire and Entertain
Graduation speeches can inspire, entertain, or both. Remember to be yourself and have fun in this final moment to connect with your class.
Writing Your Valedictorian Speech
Quotes About Life Lessons
Funny Farewell Quotes
Order Status
Working With Jostens
Find My School/Group Store
Order your class yearbook, shop for your custom class ring, shop for your graduation needs, and show your pride with custom school apparel and gifts.
Our Collections Yearbook Buy Your Yearbook About Yearbooks Yearbook Ads Yearbook Personalization Yearbook+ Technology Experience Yearbook Inspiration Classroom Tools Contests & Awards Events & Workshops Yearbook Guides Yearbook Blog Graduation High School College Homeschool Pre-K to Elementary School Kinderkraft Graduation Guides Grad Club Jewelry High School College Homeschool Military Pilots Police, Fire & EMS Jewelry Guides Sports College Championships High School Championships Football Championships Basketball Championships Youth Sports Fantasy Sports Championship Ring Gallery Jostens Letter Jackets Letters & Patches Awards and Trophies Activities & Interests Boy Scouts of America Greek Life NWTF Rings Distinguished Young Women World Series of Poker Apparel High School Senior Apparel High School Senior Accessories High School Caps & Gowns Jostens Letter Jackets Photography JostensPIX Overview Order Photos Contact Jostens About Photography
Pro Sports Pro Championship Experience NFL MLB NHL NBA Racing
School Culture Jostens Renaissance Renaissance Overview Research & Success Stories Events Get Started Resources Awards & Recognition School Branding School Branding School Branding Products
Account Details
Forgot your password?
Buy Your Yearbook
About Yearbooks
Yearbook Ads
Yearbook Personalization
Technology Experience
Yearbook Inspiration
Classroom Tools
Contests & Awards
Events & Workshops
Yearbook Guides
Yearbook Blog
High School
Pre-K to Elementary School
Kinderkraft
Graduation Guides
Police, Fire & EMS
Jewelry Guides
College Championships
High School Championships
Football Championships
Basketball Championships
Youth Sports
Fantasy Sports
Championship Ring Gallery
Jostens Letter Jackets
Letters & Patches
Awards and Trophies
Activities & Interests
Boy Scouts of America
Distinguished Young Women
World Series of Poker
High School Senior Apparel
High School Senior Accessories
High School Caps & Gowns
Photography
JostensPIX Overview
Order Photos
Contact Jostens About Photography
Buy Your Yearbook Today
Pro Championship Experience
Jostens Renaissance
Renaissance Overview
Research & Success Stories
Get Started
Awards & Recognition
School Branding
School Branding Products
Respect. Recognize. Reward.
How to Write a Graduation Speech
Celebrate high school memories. inspire your grad community..
It's an incredible honor to be chosen to speak to your classmates at your graduation ceremony. Still, we know writing a graduation speech can be nerve-wracking. That's why we've put together a step-by-step guide to help you create a speech that will not only touch, entertain and inspire your entire graduation community but also celebrate high school memories and traditions.
STEP 1: Choose your theme
Whether you decide to relive high school memories, offer advice to your classmates, reflect on the future, or give thanks to those who have helped you, it can be tough to decide on the right theme for your speech. That's why we've reviewed hundreds of the best student speeches to help you get started.
You can stick to one theme or combine several. You can also add quotations from famous people and writers to support your message. Whichever option you choose when you are writing a graduation speech, be sure to coordinate with your fellow presenters to guarantee that each of you is offering a unique perspective.
Here are some of the most powerful themes from successful graduation speeches:
Paths through life
Overcoming obstacles
Classmates as individuals
Friends and friendship
Looking back to the early years
Memories of high school
Making a Difference
Congratulations
Step 2: Edit
After you have written a draft, ask a teacher, friend or family member to give you feedback about what to keep and what to cut. Remember to be sensitive that there are many different paths after graduation. Some graduates may attend college. Others may not. Also be aware of how different cultures and heritages within your student body view graduation.
This step is also your chance to take out any inappropriate content, including:
Insults to individuals or groups
Racial or ethnic jokes
Sexual innuendos
False information
Anything that you are worried about including. If it makes you hesitate, delete it.
Step 3: Choose Your Visuals
Visuals can provide excellent support to your speech and help create even more of an emotional connection. If you use images to support your message remember to:
Finish Writing First.
And then look for images to support your message. Never write your speech around an image just because you really like it and want to use it.
Add Photos.
Include as many of your classmates as possible, not just you and your close friends. Never use images that are embarrassing to audience members.
Create A Slideshow.
Will you operate the slideshow from the podium or will someone else? If you are working with another person, practice several times together.
Step 4: Rehearse
Rehearse frequently and out loud so that you internalize your message. Understand why you are speaking the words you have chosen and repeat them in rehearsal until you feel the essence of your message in your gut.
If you go blank during your speech, don't panic. Instead, focus your eyes on one person in the audience, which will make it look as though you are being forceful and dramatic. Pause for about four seconds before focusing on someone else. Repeat until you have collected your thoughts.
Your Graduation Destination
Jostens is the place for all things graduation. Looking for cool ways to rep your class? There's a guide for that. What about ways to make your graduation speech sing? We have that, too. Click below for more ways you can celebrate this time with pride.
Find My School/Group
Try using fewer words. Use "Jefferson" instead of "Jefferson High School" or "Thomas" instead of "St. Thomas."
If you're still not able to find your school/group, please contact Customer Service.
For international schools, please select your country here .
Previous Affiliations

Greetings Island ideas
How To Write A Graduation Speech: 12 Practical Tips
Around 2 million bachelor's degrees are given out every year, but only a handful of students are chosen to give a graduation speech. It's a wonderful honor that allows you to make a lasting impression before your classmates start the next chapter of their lives. Everyone will be there to hear you speak, including friends, family, and faculty.
It's a lot of responsibility, so it's only natural that you might be feeling a bit nervous and unsure of where to begin. But fear not! There's a lot you can do to be ready.
Read on for 12 tips to write, prepare and deliver a memorable graduation speech.
Tip #1: read inspirational quotes.
Reading inspirational quotes is a great way to start brainstorming graduation speech ideas. The best quotes can pack a whole speech into only a sentence or two.
Here are a few examples to get the fire of inspiration started:
"The two most important days in your life are the day you are born and the day you find out why." – Mark Twain
"Life is like riding a bicycle. To keep your balance you must keep moving." – Albert Einstein
"If you are free, you need to free somebody else. If you have some power, then your job is to empower somebody else." – Toni Morrison
"Youth is happy because it has the ability to see beauty. Anyone who keeps the ability to see beauty never grows old." – Franz Kafka
If there are a couple of quotes that truly mean a lot to you, then it's okay to use them in your speech, but in the long run you should rely mostly on your own words and feelings.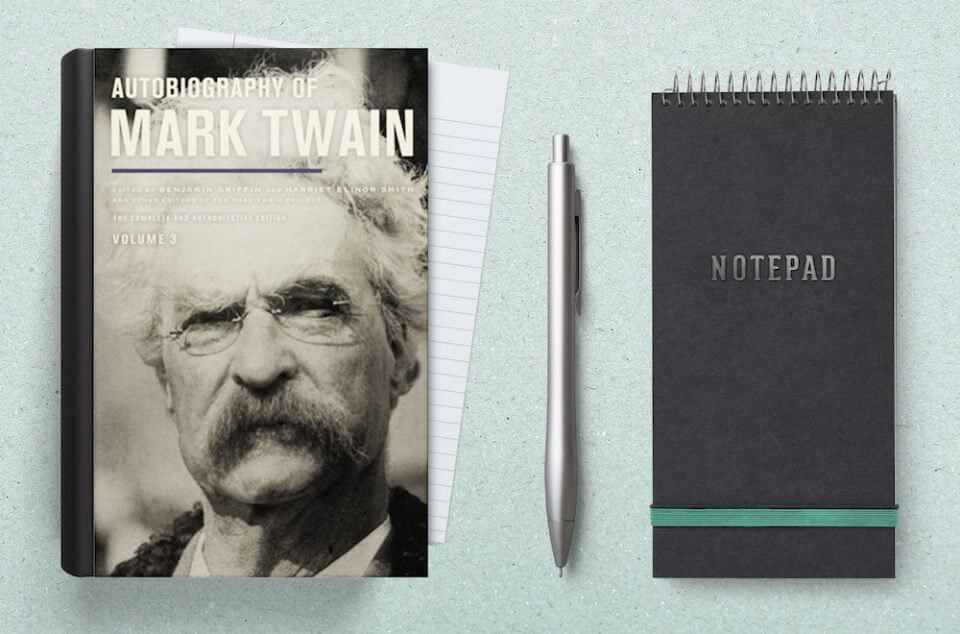 Tip #2: Listen to and Watch Famous Speeches
There is a lot you can learn from listening to and watching famous speeches .
When listening to just the audio of a speech, you can focus on how the speaker uses dramatic pauses and passionate tones to keep their audience's ears perked up. You'll also notice that the speaker pronounces words slowly enough so that everything is clear, rather than mumbled.
As you watch a speech, pay attention to how a speaker moves their hands for emphasis instead of gripping the podium for dear life. Facial expressions are also important. A speaker shouldn't look bored or sleepy, so try smiling and raising your eyebrows from time to time.
Lucky for you, there are plenty of amazing speeches out there to learn from. For example, Martin Luther King Jr.'s "I have a dream" speech about equal rights is one of the most famous speeches of all time. Watch it and find out why.
You can also watch actual graduation speech examples that went viral on the internet because of their truthful messages and sincere delivery.
Tip #3: Reflect on the Past
An important element of a graduation speech is the past, whether distant or recent. Which experiences did you learn from? What has shaped you as a person up until now? Reflect on them.
You can focus on an important moment from your childhood if necessary, but be sure to include notable stories or lessons you learned during your time in school.
This is also a great opportunity to talk about people who inspired and helped you along the way. For example, who was your best teacher and why? What did they teach you?
Almost anyone can give sage advice, but without your personal stories to springboard from, your advice will go into one ear and out the other.
Think of some examples and explore them through writing. Not everything will go into the final version of your speech, but for the time being you should simply search for those stories that reveal shareable pearls of wisdom.
Tip #4: Think About the Future
An equally important aspect of any graduation speech is the future, including its promises and potential pitfalls. Now that you and your classmates are graduating, the future is in the forefront of everyone's mind.
Think about what exactly you want to do with your life, how you're going to do it, and why. Of course, you don't want to focus on your future exclusively. Make sure you zoom out and talk about broad ideas and insights that can be applied to your class or generation.
For example, what common problems, personal or global, will the future hold? What can one do about it? This is a good chance to talk about working together as a community, country, or as one race.
Whether you're explaining the struggle of depression or the crisis of climate change, it's crucial to end on a hopeful note. With your speech, you can help guide people forward into the next step of their lives and beyond.
Tip #5: Decide on a Theme or Message
By now, you've probably written hundreds of different academic papers. No matter what their topic, though, they all had one thing in common: a thesis. Like any other paper you've written for school, your speech should have something similar to a thesis as well.
In other words, your speech will need a theme or message that can keep your audience's attention focused. The more you ramble, the less likely they'll pay attention or remember what you say afterward.
A speech can have more than one message, but it's best to keep it to less than four main messages.
One example is actress Natalie Portman's graduation speech which focused on fighting against self-doubt and pursuing your passions.
Here are some other ideas for graduation speech themes:
The benefits of failure
The importance of imagination
Embracing the unknown
Finding your passion
Facing your fears
Keeping in touch with your inner child
Tip #6: Start with a Hook, End with a Quote
You only have one chance to grab your audience's attention, and that's at the very beginning of your speech. Once you lose them, chances are you won't get their attention back, so it's crucial to begin your speech with a hook.
A quote, whether it's from a book, movie, or elsewhere, is a common way of capturing people's attention at the beginning of a speech, but there are other ways to hook them too.
Another way is to tell a brief but interesting story that reflects the themes of your speech. Opening with a question or related statistic that you plan on illuminating for the next quarter of an hour or so is yet another way to keep people focused and interested.
Everyone loves a good joke, which is why preparing one is a great way to not only open up your speech, but break the ice too.
While you should start with a hook, you should end with a quote. It can be a quote from someone else, or better yet, it can be a quote from you. Think of a way to summarize your message into a pithy, final statement. If your audience walks away with only the one quote in their heads, they will still receive a valuable insight or piece of advice.
Tip #7: Write Multiple Drafts
The first draft is usually the most daunting because you're starting with a blank page, but afterward you have something to work with, so it should be less stressful. As you write the first draft, don't second guess yourself. Rather, let the ideas and words flow as freely as possible.
Once you have your first draft, step away from it for a day or so, then come back to it with a fresh pair of eyes. If you're like most people, you read in your head, but when editing, it's a good habit to read sentences out loud to make sure they flow well and sound natural.
While you edit, reword cliché phrases, such as "since the beginning of time" or "the calm before the storm."
Beware of waffling too. What's waffling? It's when you use too many words or sentences to talk about something when it could be phrased more simply and concisely.
As you go through each draft, you'll want to keep an eye out for any typos. Once you feel really confident in the draft of your speech, send it to a few trusted friends who can provide you with constructive criticism.
Tip #8: Send Out Graduation Announcements Ahead of Time
You'll want as many friends and family members there for your big day as possible, so you should send out graduation announcements fairly early. It's typical to give a notice of at least two weeks, if not more.
Be sure to include the date, location, and time of the event. But why stop there? Most online cards are customizable, so feel free to include a professional picture that shows your confidence and sense of accomplishment.
Encourage your friends and family to make their excitement viral by adding a graduation hashtag to your announcement.
If you plan on having a graduation party , which you most definitely should, make sure you send the invitations out in a timely manner too.
For those who are not invited to the ceremony, you can send graduation announcements after the event when you get a chance. Usually within a month is acceptable.
Tip #9: Practice in Front of a Mirror and with a Few Loved Ones
Practicing in front of a mirror allows you to be aware of your facial expressions and body movements. As you speak, emphasize with your voice, face, and arms where it feels necessary and natural.
Having a few loved ones around to practice your speech with has multiple benefits. For one, you can get feedback from them on both your performance and the speech itself. A miniature audience also gives you the chance to get comfortable with making friendly eye contact as you speak. However, it should be relatively brief eye contact, so don't focus on just one person during your actual speech.
Time yourself as you speak to determine how long it takes to give the whole speech. On average, a graduation speech is about 10-20 minutes long. It should be as concise as possible without sacrificing the content or quality. The right length is something of a balancing act, but with enough practice reading your speech, you'll develop a feel for what parts may drag on and what parts may need to be expanded.
An additional bonus that comes from repeated practicing is that you'll be able to memorize more of your speech. After all, it's better to face the audience as much as possible rather than look down at your notes.
Tip #10: Dress to Feel Confident and Comfortable
It might seem like confidence and comfort are mutually exclusive, but there are certain items you can wear to both look and feel great.
You'll be doing a lot of standing and walking, so when it comes to women's clothing, limit heels to 2 inches or wear some fashionable flats. Long skirts are ideal because they don't restrict your movement and you won't have to worry about any wardrobe malfunctions. Avoid thin straps or strapless tops by wearing a conservative yet elegant blouse.
Once you have an outfit picked out, test it by wearing it for a day to see how it feels.
For men's clothing, you can wear dress shoes with gel inserts. There are lots of dress pants with flexible material. It feels like you're wearing comfy pajamas when in fact you look ready to trade some stocks. There are also button-ups with stretchy material too. It's best to try these items on in the store to make sure they fit perfectly.
Another option is to choose clothes made from a breathable material, such as cotton.
A neck tie is often notorious for being uncomfortable, but it looks quite snazzy. As a compromise, don't put the tie on too tightly. If your shirt fits well, the tie should too. On the other hand, clip-on ties are not only comfortable, but also convenient. As long as the clip-on is of high quality, it should look genuine.
If you have an outfit that looks great but doesn't quite fit right, consider getting it tailored to perfection by a local seamstress.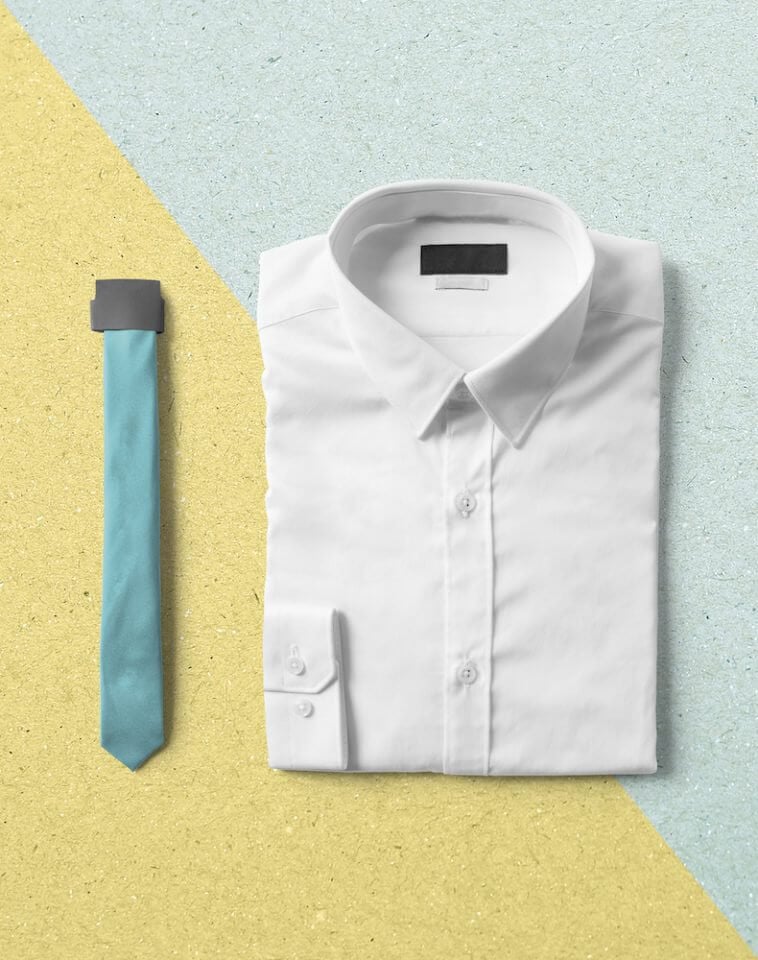 Tip #11: Keep Your Nerves in Check
Say "eleven benevolent elephants" five times fast. Chances are it didn't come out exactly as you intended.
You're not a machine, you're human. You might make a mistake or two during your speech, such as mixing up words or mispronouncing them altogether. That's totally okay! Don't dwell on it, just shake it off and start over from where the slip-up occurred.
Take advantage of psychology and feel more confident by striking a power pose beforehand. Go into a bathroom or another private area and stand with your feet wide apart as you lift your arms outward and upward for about a minute.
You should also remember that feeling nervous is perfectly natural. Worrying about being nervous can make you even more nervous. Accept that you'll feel some degree of anxiety and take a few deep breaths to reduce it as much as possible. Remember that pauses feel a lot longer in your mind, so most people won't notice you taking a moment to catch your breath during your speech.
Tip #12: Be Yourself
Even though researching speeches comes with a lot of benefits, you should remember that everyone is an individual with their own habits and style. It's normal to feel pressured when you have to prepare such an important speech. When you look for inspiration, you may be tempted to try and mimic these idols.
While it's important to learn from such great speakers, you should only take from them the skills that work for you and adapt them to your own habits and style.
You weren't chosen to give a graduation speech because you're Abraham Lincoln or Malala Yousafzai. You were chosen for the simple reason that you're you. If you're known for being funny, then go ahead and tell a couple of jokes. If you're the sentimental type, feel free to let loose a few tears.
You're much more likely to give a memorable speech if you stay true to yourself and your beliefs.
Are You Ready to Send Out Your Graduation Announcements?
Now that you know how to go about giving a memorable graduation speech, you should be ready to send out your announcements and invitations.
For the price of nothing, Greetings Island has an amazing variety of artistic announcements and invitations to let everyone know about your upcoming big day. They are easily customizable so you include all your information in an awesome presentation that fits your tastes. The perfect design is a mere click away!
After the festivities, you can also send lovely graduation thank you cards to show your gratitude to your friends and family.
Once you've customized your announcements, you can easily print them at home or at a professional print shop. Keeping things virtual? We have additional options, such as sending them through email with RSVP services or downloading them as high-res images that you can share on social media networks.
Related Posts
17 Enthralling First Anniversary Ideas Guaranteed to Amaze Your Partner
How To Write Graduation Announcements: 30 Wording Ideas
15 Valentine's Day Party Ideas for Kids That Will Spread the Love
How to Write a Graduation Speech to Make Everyone Listen
Challenging as it sounds, creating a fancy graduation speech is a pretty time-consuming and rigorous process. When you set out to develop a one-of-a-kind speech to remember, be sure to tackle this work of art with exceptional dedication and enthusiasm. What is a graduation speech, then? In plain terms, a graduation speech is a speech delivered to graduating students and is intended to inspire them as well as encourage their future endeavors.
Normally, the one giving a speech is a famous alumnus of the school, eager to share their knowledge and wisdom with the young and ambitious audience. Therefore, in order to write a great graduation speech, you need to be consistent, open and sincere. These are the vital features of earning the attention and admiration on the part of the listeners.
So, How to Write a Speech for Graduation Ceremony?
Not so long ago, you pledged to write a cool commencement address. And now you confront Google, asking it "How to write a great graduation speech?" Or this one: "How to write a commencement speech for high school graduation?"
To be fully equipped to write an impactful graduation speech, you have to be familiar with some time-proven cornerstones that will aid you in developing your commencement address. So, here we are.
Graduation Speech Writing Tips
Having a strong grasp of your target audience is one of the crucial aspects of how to write a good graduation speech. Try to relate to your audience and connect with it, imagine being in their shoes!
As any psychology resource would suggest, most people are into listening to stories. Give your audience a good portion of a blithe, yet meaningful, account of an iconic figure's path to success, as this can add to the intensity of your speech. Always thirsty to hear another success story, the audience will definitely love your creative input.
Lengthy speeches tend to bore the audience, as they feature rather superfluous content. For instance, if you ever googled something like "How to write a graduation speech for high school," you must have noticed that none of the online resources you find recommend including some specific profession-oriented tips in your speech. Instead, you are advised to make your writing as brief as possible, as the teen-spirited audience likes it short and fast. Same with other types of commencement speeches – much like self-driven teens, other people are also likely to perceive information far easier and faster if it's short and succinct.
Give way to your emotions
Making your speech emotional will help it become more compelling and seem more natural. Don't be scared to experiment with your writing, using idiosyncratic language like "my cuties," "I'm a lucky dude," "helluva," etc.
Graduation Speech Writing Steps
First of all, you should begin your speech with a salutation, such as "Dear students" or "Dear graduates."
Try to set the tone of voice of your speech. Think about what mood should prevail there and what general message it will deliver.
Now, you can move on to choosing the theme of your speech. Sticking to one common theme will help you unify your ideas so that your speech sounds coherent and comprehensive. This also prevents you from including unnecessary information and facts in your writing.
Plan your speech. There's a military saying about making plans: "If you fail to plan, you plan to fail." Thinking through the structure of your speech helps to organize it as well as make it orderly. Even if you think you know for sure how to write a graduation speech for elementary school (well, it's nine-year-olds, so this must be so easy!) do take some time to plan your address. Self-confidence is okay, but not when it comes to speaking in front of hundreds of fidgety kids and their stuck-up parents.
Graduation Speech Example Analysis
Here you can find an analysis of a graduation speech. The analysis provides an evaluation of the speech, including comments on its content and structure. Check out the picture below.
Click the images to see their full size.
In a Nutshell
Now that this guide has brought you closer to the art of writing a graduation speech, creating one will take you half as much time than it would without these crucial tips and suggestions. Each task, be it computer coding or writing a graduation speech, requires only two basic things: willingness and commitment. Once you have no problems with those, then developing an outstanding commencement address will be a sheer pleasure for you.
Medical Student Graduation Speech
Princeton Graduation Speech
Never Giving up on a Dream
Retirement Farewell Speech Example
Farewell Speech Example
Business Owner Farewell Speech Sample
Receiving a Twenty Year Service Award
Semi-formal
Tribute Presentation Sample
Greenpeace Organization
Treatments of Autism Spectrum Disorder
Marketing Manager Speech Sample
Demographic Policy and Abortion in China
Causes of Teenage Drug Addiction
Positive Effects of Classical Music
Developing of Professional Skills of the Employees
College Psychologist Speech
How to Plan an International Trip
Demonstrating a Marketing Plan for New Product Line
Destructive Effects of GMO on Children
Child Adoption Speech
Become a Volunteer
Why Videos Go Viral
Party Planning for Children's Birthday Parties
Modern Relationship Problems Presentation Sample
The Advantages of Jogging
Let's Become Vegetarians
Killing Routines
Fiction review
Non-fiction review, creative review, business letters, academic letters, personal letters, essay writing, business writing, creative writing, research papers, writing tips, give your grades a boost.
Original papers by high quality experts
Free preview and unlimited revisions
Flexible prices
Search Search Please fill out this field.
Manage Your Subscription
Give a Gift Subscription
Sweepstakes
6 Secrets to Writing a Memorable Graduation Speech, Even If You've Never Done It Before
If you're facing writer's block, get inspired by these essential graduation speech ideas..
Nora Horvath is an editor and writer with nearly a decade of experience covering lifestyle. Highlights: * Editorial intern at Prevention * Assistant editor at Real Simple * Associate features editor at Food Network Magazine and The Pioneer Woman Magazine * Senior editor at Weber Shandwick
Maggie Seaver is the digital health and wellness editor at Real Simple, with seven years of experience writing lifestyle and wellness content. She spends her days writing and editing stories about sleep, mental health, fitness, preventive health, nutrition, personal development, relationships, healthy habits, and beyond. She loves demystifying complicated health topics, debunking wellness fads, and sharing practical, science-backed solutions for healthy living.
It's not easy to give advice to your peers, and it's even harder to do it in front of a room full of their friends and relatives at college graduation (or high school, middle school, or elementary school, for that matter). Whether you were chosen to speak at the commencement podium because of your top-of-class grades or were elected class speaker because of your charisma, there are probably countless memories, tidbits of wisdom, and funny one-liners you want to include. And after what seems like 100 other speakers, you want to grab people's attention—not put them to sleep.
Since you're also graduating, you don't need to use this time to answer all of life's existential questions, although you might feel like trying. After all, you're still figuring it out yourself. Instead, talk about what you know, reflect on the big memories you share with your fellow classmates, and use our tips below to write the most memorable speech of the day.
Gather Inspiration
Before you start writing, find inspiration from some of the most memorable high school and college graduation speeches in history. NPR put together a database of over 350 speeches , categorized by message, school, and speaker's name, so it's the perfect resource for graduation speech ideas about where to start. (If you're looking for something unconventional, try watching David McCullough Jr.'s speech from Wellesley High School in 2012.) And don't forget about celebrities you love: read through the most encouraging quotes from famous graduation speeches to spark inspiration for your own address.
Give It Structure
All engaging stories have a beginning, middle, and end—think of your graduation speech the same way. Be thoughtful about how you open your speech to grab people's attention, how you plan to keep their attention throughout, and finally, how you'll tie it all together with a neat, closing message. Giving a speech structure won't make it boring or formulaic—it'll make it easier for your audience to follow (and for you to deliver it).
Stick With a Theme
If you're trying to string together a bunch of quotes that have nothing to do with one another, you're going to confuse your audience more than inspire them. Find one core message or a theme that really resonates, and build the rest of your graduation speech around it.
Keep It Short
There's nothing worse then sitting in a hot auditorium or tent outside while listening to someone ramble on endlessly. At most, people will remember one funny joke, a great anecdote, or the general message, so cut out extra fluff and only include the parts you think are the most important.
Practice Out Loud (and Often)
As Richard T. Jones showed us in his infamous speech at University of Maryland University College in 2011, improvisation is not the way to go when you're supposed to be giving people advice on one of the most important days of their lives. Make sure you actually write a speech—and practice it out loud—so you don't end up repeating the same idea over and over again.
Infuse Your Personality
In 2016, Harvard University graduate Donovan Livingston did his commencement speech in spoken-word poetry , an interest of his. Though his message touched on common grad themes—the power of education in the world, following your passions with your degree, and reaching for the stars—his delivery also changed the way people heard these ideas. Not all speeches need to be straight-forward and full of classic Robert Frost quotes. If you highlight your strengths and talk about things that make you excited—in other words, if you be yourself—people will listen.
By clicking "Accept All Cookies", you agree to the storing of cookies on your device to enhance site navigation, analyze site usage, and assist in our marketing efforts.
How to Write a Graduation Speech (Graduation Speech Examples)
Have you been asked to deliver a commencement speech? Or have you worked your butt off to become valedictorian or salutatorian, and now you have to deliver a graduation speech? In this post, we will cover one of the more challenging types of presentation creation: How to Write a Graduation Speech . (By the way, I have also included a few popular graduation speech examples as a guide for you.)
This post is a continuation of our How to Create a Presentation series. We are going to break this post down into three parts, though. We will show you how to create a commencement speech in this post. Next week, I'll show you how to write a valedictorian speech and how to deliver a salutatorian speech. Each of these graduation speeches has a slightly different purpose, but all of them need to be inspirational and funny.
How to Write a Commencement Speech
The commencement speech is often the keynote speech of the graduation ceremony. This presentation should be uplifting and entertaining, but this graduation speech should also teach a life lesson to the graduating students. If you do a search on YouTube of the best graduation speeches, many of these speakers will be famous comedians. When a comedian delivers a commencement speech, and the speech is posted on YouTube, it will always get a ton of views. The humor alone will make people want to watch the video. Three of the most popular of these speeches are by Conan O'Brien, Will Ferrell, and Ellen DeGeneres. The interesting thing about the speeches from these famous comedians is that, yes, they are funny, but the inspiration comes from what they learned from their failures.
"There is no such thing as failure. Failure is just life life trying to push you in another direction." Oprah Winfrey, Harvard University Commencement Speech
Conan's commencement speech to Dartmouth occurred a short time after he was fired from NBC. The first 10 minutes is basically just a monologue like he would deliver on his TV show. However, the final 15 minutes is an inspirational tale of how he turned things around after the biggest failure of his life. When Ellen spoke at Tulane, she talked about how she recovered after her popular sit-com was canceled. The trend in great commencement speeches is that the speakers want to prepare the graduates for setbacks. Whatever goals that they have will likely change.
A Good Structure When You Write a Commencement Address
Thank the crowd.
Start with Something Funny
Be Inspirational
The inspirational part of your commencement speech will come from the theme of the graduation speech . (For Sample Graduation Speech Themes , see the section below.) The easiest way to develop a theme is to look for an inspirational famous quote about success. You can do this by just going to Google and type in "success quotes". Once you come up with a great quote, you can either paraphrase the quote and make it your own or quote the original speaker.
Tell Stories from Your Own Experience Related to Your Quote (Theme).
This the most important part of how to write a graduation speech. The stories and examples are what the audience will remember. These stories add emotion and inspiration to your graduation speech. They also help you build rapport with the audience. Finally, these stories make your delivery much easier. You don't have to memorize a lot of material. Instead, just play the video in your head of what happened and describe the incident to the graduates.
For a great example of this, watch the YouTube video on Stanford University's channel where Steve Jobs gives the commencement speech. I love this speech, because Jobs skips the introduction and the funny stuff and starts his speech with the following. "I'm going to tell you three stories." It's simple, and the crowd loves him.
End with an Inspirational Call to Action.
So as you go on to the next stage in your life and you experience failure… because you will experience failure, use that as a stepping stone to your next success. Persevere. Don't rest on that success. Use it as a stepping stone to your next success. Persevere, and you will experience a series of successes and failures that will allow you to accomplish something great!"
Use this outline to create a simple 20 to 30 minute speech. (The shorter the better… No one gets a diploma until you finish.)
Sample Graduation Speech Themes
If you are having trouble coming up with a theme for your graduation speech, here are a few Sample Commencement Speech Themes. As you read through them, think about which them or quote has been most applicable in your career? Once you choose a graduation speech them, use the outline above to create your speech.
Hard Work Leads to Success
"I find that the harder I work, the more luck I seem to have." — Coleman Cox
"It is better to fail in originality than to succeed in imitation." — Herman Melville
"Success usually comes to those who are too busy to be looking for it." — Henry David Thoreau
Don't Settle for Average. Strive for Greatness.
"Don't be afraid to give up the good to go for the great." –John D. Rockefeller
Don't Wait for the Perfect Opportunity. Look for a Way to Create Your Own Opportunity.
"Opportunities don't happen. You create them." — Chris Grosser/blockquote> The Road Ahead is Hard, But It Leads to Success. "Successful people do what unsuccessful people are not willing to do. Don't wish it were easier; wish you were better." — Jim Rohn
"The successful warrior is the average man, with laser-like focus." — Bruce Lee
Learn from Every Mistake to Move Toward Success.
"Success seems to be connected with action. Successful people keep moving. They make mistakes, but they don't quit." — Conrad Hilton
When Your Why is Big Enough, Your How Will Appear.
"If you really want to do something, you'll find a way. If you don't, you'll find an excuse." — Jim Rohn
Happiness is the Key to Success.
"Success is not the key to happiness. Happiness is the key to success. If you love what you are doing, you will be successful." — Albert Schweitzer
Use the Speech Creator as a Guide to How to Create a Graduation Speech
Once you have chosen a them, and you have a few stories to inspire your audience, use our Online Speech Writer to help you organize your thoughts. (It's free.)
by Doug Staneart | Free Public Speaking Tips , Podcasts
EXPLORE Random Article
Premium wikiHow Guides
Quizzes New
Train Your Brain New
Improve Your English New
Support wikiHow
H&M Coupons
Hotwire Promo Codes
StubHub Discount Codes
Ashley Furniture Coupons
Blue Nile Promo Codes
NordVPN Coupons
Samsung Promo Codes
Chewy Promo Codes
Ulta Coupons
Vistaprint Promo Codes
Shutterfly Promo Codes
DoorDash Promo Codes
Office Depot Coupons
adidas Promo Codes
Home Depot Coupons
DSW Coupons
Bed Bath and Beyond Coupons
Lowe's Coupons
Surfshark Coupons
Nordstrom Coupons
Walmart Promo Codes
Dick's Sporting Goods Coupons
Fanatics Coupons
Edible Arrangements Coupons
eBay Coupons
How to Write a Graduation Speech
Last Updated: July 24, 2021 References
This article was co-authored by Patrick Muñoz . Patrick is an internationally recognized Voice & Speech Coach, focusing on public speaking, vocal power, accent and dialects, accent reduction, voiceover, acting and speech therapy. He has worked with clients such as Penelope Cruz, Eva Longoria, and Roselyn Sanchez. He was voted LA's Favorite Voice and Dialect Coach by BACKSTAGE, is the voice and speech coach for Disney and Turner Classic Movies, and is a member of Voice and Speech Trainers Association. There are 11 references cited in this article, which can be found at the bottom of the page. This article has been viewed 40,588 times.
If you are giving a graduation speech you should take your time to write a speech with your specific audience in mind that conveys a message you care about and that shows your personality! Making a worthwhile speech takes time researching, writing, editing and rehearsing, but if you put in the right effort your work will pay off and make your graduation all the more memorable. Above all, care about what you say. For example, David Foster Wallace deeply believed that school should not teach you what to think. He thought that school should teach you the freedom to decide how to think, and he gave an inspirational speech to Kenyon College in 2007 that is still being written about and talk about today. [1] X Research source
Considering the Practical Things
It is often important that you thank certain individuals in your speech. This may mean the dean and special faculty, for example, so ask about how to address these individuals, including how to say their names.
For example, David Foster Wallace's speech he chose to talk about not getting involved in the rat race but deciding to ignore the pressure of the world that tells you you must make lots of money and buy lots of things. Even though this speech is for the students, anyone can relate to the rat race and high expectations from the world to succeed to make lots of money just to spend it all.
Write down a list of the different groups of students you might want to consider: honors students, athletes, students who know what they are doing after graduation, students who do not know what they are doing, etc. Make sure in your speech that you aren't assuming that all the students in attendance are attending college, if that is note the case.
You don't have to make your speech generic or overly general because you are writing for to a wide audience. Pick a universal theme, and you can consider adding parts to your speech that will speak to the different groups, if you like. If your theme is broad enough, like overcoming adversity through perseverance, you don't need to worry about making it appeal to different audiences. Everyone can relate to overcoming hard times.
Make sure that your vocabulary is varied and diverse. Try not to alienate anyone in your audience. For example, if you use the word ¨benevolent" to describe your teacher, as in ¨Mr. Garcia was such a benevolent teacher¨, you can follow it up with a description that will show the meaning of the word, ¨he was always so good to us, he let us play card games in his classroom at lunch¨. [2] X Research source
If your speech is for a smaller audience or for a less formal affair, you may want to ask about how long the past graduation speeches have gone. Perhaps the speech should be shorter, around five minutes or less.
Remember, too, that your speech may feel a lot longer or shorter than it actually is. If you want communicate effectively, try slowing down your speech. This might mean you will have less time to say what you want to say.
Some schools may ask you to send your graduation speech to someone who will read it first to make sure it is well developed and/or appropriate for the graduation ceremony. Additionally, you may have to practice your speech with one of the staff before the ceremony.
For example, perhaps they dedicated a lot of time and effort as a class when they decorated a float that won a prize in a parade. You could consider incorporating that piece of information into your speech, like ¨It took me a lot of persistence and grit to get through that final term paper. However, it wasn't nearly as much work, or as much fun, as decorating that float with this class the night before the parade.¨
Do not feel compelled to replicate that speech. You can, however, use that information to help you decide what you should write about based on your own life, values and experiences.
Start working at least two to three weeks before you have to give your speech.
Rehearse your speech in the place where you plan on giving it, if possible. Being familiar with the surroundings should dampen any unease or nerves.
Deciding What to Talk About
Once you have ideas from talking to your friends or family or thinking about what you want to say start writing down experiences that match those ideas.
For example, if you were driving toward the theme that David Foster Wallace used of learning how to think instead of what to think. You might have brainstorm about a time that you decided to learn how to knit to make all of your friends and family gifts for Christmas instead of buying them gifts. Talk about how much your grandmother loved the scarf you made her and how that ended up bonding you two together. When you think back to why you care so much about making gifts instead of buying them you realize that you want to question the pressure that is put on you to spend a lot of money to buy everyone Christmas presents. That is your theme.
For example, you may want to talk about how giving your time to volunteer work will end up making you a happier and healthier person.
Write out your most important life experiences and lessons learned, and decide what a main take away from those stories/lessons could be. For example, after working at the soup kitchen every weekend during my senior year, I learned life lessons from people I never expected to learn from. Homeless people who I saw freely give others some of their prized possessions ended up teaching me how to give freely.
Some examples of common themes in graduation speeches are: believing in/liking yourself, taking risks/putting yourself out there, failing is necessary for success, giving back helps you as an individual, being persistent pays off, being okay with not being perfect, overcoming adversity, good friendships save, and there are different paths to take through life/there is no one right answer. [7] X Research source
Giving thanks and congratulations is another style of graduation speech you can choose to write. In these graduation speeches individuals talk about all that they have come through as a class to get to graduation. They also might take more time to talk about and thank the individuals who helped them along the way.
These speeches tend to be less focused on giving advice and the individual giving the speech and more focused on the group as a whole. Listed here is a wikiHow article on writing a graduation thank you speech. [8] X Research source
See if you can pick out a few main themes in the graduation speech, usually it will not be very difficult to find because it will be repeated several times. Writing those down will help you see how they craft their speech around those ideas.
For example, you could take note that David Foster Wallace uses a simple metaphor to get across his main idea. He uses the metaphor of a fish being aware that he is in water as compared to a person who realizes that he is in a society that influences us to think and act. This metaphor shows us how important it is to be aware of the obvious realities of being in society that others might miss. It also how shows us how isolating it can be to be aware.
Likewise, think about using a similar convention, for example, a short joke or a metaphor that illustrates your main point.
In the first speech structure, you highlight a few, typically one to four, main take-aways, or themes. You show address those ideas through personal anecdotes or nonfiction stories to impart some wisdom to the graduating class. The people who choose this structure generally feel that they have simple, yet important wisdom that might help the graduates succeed in life. For example, Steve Jobs used this structure and told just three stories about his life. The first story he told was about how he "connected the dots" in his life. [10] X Research source
In the second structure, make a list of five to ten tips that you have acquired that you give as advice to the graduating class. If you had trouble honing in on one to three themes or take-aways, this might be a good option for you. You can highlight important things that are both big and small in this kind of speech. For example, an admiral gave a speech about the ten essential life tips he learned from the Navy that including tips to both make your bed, and never, ever give up. [11] X Research source
In the third, you tell a condensed version of your life story. Go for this option if you feel like you have a very powerful personal story that illustrates some important ideas about how to be successful or how to overcome adversity. You don't have to start with the beginning of your life, instead talk about the important things that have made you who you are. For example, music producer Jimmy Iovine used this structure and started his speech by talking about a rebuke John Landau gave him. Jon said, ¨this is not about you¨, and that advise gave Jimmy the courage to keep working when his ego was fed up. [12] X Research source
In the last speech structure, you develop one main idea as an argument and use observations from life, your personal history, etc., to support this main idea. This option is good if you are really passionate about conveying one central idea to your audience that you are entirely convinced needs to be heard by everyone. This is perhaps the most difficult speech to write because it is much like writing an argument; your ideas need to be logical and well organized. For example, David Foster Wallace follows this structure. He makes a claim that the real value of education isn't learning what to think but gaining the freedom to choose how to think. He stays with this theme and develops his ideas like an argument. [13] X Research source
You can use humor to convey your personality. For example, Sumner Redstone, giving a speech to DeVry University, starts his speech with some self-deprecating humor that points out that people won't enjoy sitting through his speech. Redstone says that he is glad to go first in the program, and he quotes Mark Twain who recommends swallowing a frog at the start of the day to get the worst thing out of the way. Here Redstone makes himself the toad to make his audience laugh.
Being passionate about what you are talking about will show in your delivery, as long as you practice. Speeches involve much more than the words you say, and oftentimes much more can be said through the emotions you convey when you deliver your speech. Think about all of the ways you can put emotion into a simple phrase like ¨I would die for you." A lot of meaning balances on the way you say those words.
Practice putting emotion into your speech to give it meaning. Rehearse what you will say in front of a mirror several times to see how you look, and don't be afraid to use gestures.
Because everyone has gone through a lot to get to this point, you may want to take a minute to genuinely congratulate them on their accomplishments.
You should avoid these cliches because they have been overused, and the people in your audience will most likely not be inspired by these topics. [15] X Research source
Do not confuse universal themes for cliches. Some of the best, most powerful speeches have very simple messages. For example, giving back helps you grow as an individual. Even though this theme that has been explored before and will be explored again, the theme still rings true and bears repeating.
Going Through the Steps in the Speech Making Process
After your speech you want people to be able to easily remember what you talked about so they can discuss what you said.
Send the same person your revisions each time you make a major edit.
Make sure to practice your pacing, and slow down if you have a tendency to read quickly through your speech. Use a timer when you practice giving your speech in front a mirror or your family/friends.
Practice enough times so that you have the things you want to say internalized. This means that when you go into autopilot mode in front of an audience you will be more likely to remember because of your muscle memory. [20] X Research source
If you get stuck, look at someone you trust in the audience and breath deeply for a couple of seconds to calm yourself down while you try to collect your thoughts.
Expert Q&A
Practice out loud until you have internalized the essential parts of your speech. ⧼thumbs_response⧽ Helpful 2 Not Helpful 0
Remember to write a speech that will speak to everyone in your audience. ⧼thumbs_response⧽ Helpful 2 Not Helpful 0
Find someone who knows about writing or speech making to help you edit your speech. ⧼thumbs_response⧽ Helpful 2 Not Helpful 0
You Might Also Like
↑ http://www.huffingtonpost.com/william-mcguinness/david-foster-wallaces-bri_b_3239411.html
↑ http://blog.oup.com/2015/05/how-to-write-graduation-speech/
↑ http://www.graduationwisdom.com/speeches/how-to-write-a-graduation-speech.htm
↑ Patrick Muñoz. Voice & Speech Coach. Expert Interview. 12 November 2019.
↑ http://writingcenter.unc.edu/handouts/brainstorming/
↑ https://www.wikihow.com/Write-a-Graduation-Thank-You-Speech
↑ http://www.graduationwisdom.com/speeches/0014-jobs.htm
↑ http://www.graduationwisdom.com/speeches/0149-Admiral-McRaven-Best-Commencement-Speeches-2014.htm
↑ http://www.graduationwisdom.com/speeches/0140-Jimmy-Iovine-Commencement-Speech-at-University-of-Southern-California-2013.htm
↑ http://www.graduationwisdom.com/speeches/0015-wallace.htm
↑ http://www.jostens.com/grad/grad_cp_hs_grad_guide_graduation_speech.html
About this article
To write a graduation speech, choose a structure that will help to communicate your message. For example, you could highlight a few main themes through personal anecdotes or nonfiction stories. Alternatively, you could make a list of 5 to 10 tips that you want to advise the graduating class about. If you have an interesting or powerful personal story, you can use it to illustrate important ideas, such as overcoming adversity or becoming successful. To learn how to show your personality in your speech, keep reading! Did this summary help you? Yes No
Reader Success Stories
Apr 11, 2021
Did this article help you?
Apr 24, 2017
About wikiHow
Terms of Use
Privacy Policy
Do Not Sell or Share My Info
Not Selling Info
EXPLORE Coupons Tech Help Pro Random Article About Us Quizzes Contribute Train Your Brain Game Improve Your English Popular Categories Arts and Entertainment Artwork Books Movies Computers and Electronics Computers Phone Skills Technology Hacks Health Men's Health Mental Health Women's Health Relationships Dating Love Relationship Issues Hobbies and Crafts Crafts Drawing Games Education & Communication Communication Skills Personal Development Studying Personal Care and Style Fashion Hair Care Personal Hygiene Youth Personal Care School Stuff Dating All Categories Arts and Entertainment Finance and Business Home and Garden Relationship Quizzes Cars & Other Vehicles Food and Entertaining Personal Care and Style Sports and Fitness Computers and Electronics Health Pets and Animals Travel Education & Communication Hobbies and Crafts Philosophy and Religion Work World Family Life Holidays and Traditions Relationships Youth
HELP US Support wikiHow Community Dashboard Write an Article Request a New Article More Ideas...
EDIT Edit this Article
PRO Courses New Guides Tech Help Pro New Expert Videos About wikiHow Pro Coupons Quizzes Upgrade Sign In
Premium wikiHow Guides
Browse Articles
Quizzes New
Train Your Brain New
Improve Your English New
Support wikiHow
About wikiHow
Easy Ways to Help
Approve Questions
Fix Spelling
More Things to Try...
H&M Coupons
Hotwire Promo Codes
StubHub Discount Codes
Ashley Furniture Coupons
Blue Nile Promo Codes
NordVPN Coupons
Samsung Promo Codes
Chewy Promo Codes
Ulta Coupons
Vistaprint Promo Codes
Shutterfly Promo Codes
DoorDash Promo Codes
Office Depot Coupons
adidas Promo Codes
Home Depot Coupons
DSW Coupons
Bed Bath and Beyond Coupons
Lowe's Coupons
Surfshark Coupons
Nordstrom Coupons
Walmart Promo Codes
Dick's Sporting Goods Coupons
Fanatics Coupons
Edible Arrangements Coupons
eBay Coupons
Log in / Sign up
Education and Communications
College University and Postgraduate
How to Deliver a Graduation Speech
Last Updated: August 4, 2022 References Approved
This article was co-authored by Patrick Muñoz . Patrick is an internationally recognized Voice & Speech Coach, focusing on public speaking, vocal power, accent and dialects, accent reduction, voiceover, acting and speech therapy. He has worked with clients such as Penelope Cruz, Eva Longoria, and Roselyn Sanchez. He was voted LA's Favorite Voice and Dialect Coach by BACKSTAGE, is the voice and speech coach for Disney and Turner Classic Movies, and is a member of Voice and Speech Trainers Association. There are 9 references cited in this article, which can be found at the bottom of the page. wikiHow marks an article as reader-approved once it receives enough positive feedback. This article received 13 testimonials and 100% of readers who voted found it helpful, earning it our reader-approved status. This article has been viewed 997,937 times.
If you've earned the prestigious honor of delivering the class graduation speech, that means you'll be the voice of your graduating class. It's a huge responsibility, but also a great fortune. To deliver a graduation speech, work on writing something both memorable and meaningful, practice beforehand, memorize the bulk of your speech but give yourself clear notes, use engaging body language, and speak at a slow yet natural pace. The truth is that when you've written an awesome graduation speech, delivering it in front of your peers, parents, and teachers is an experience that you'll never forget -- and hopefully, neither will they.
Sample Speeches
Writing Your Graduation Speech
How have I changed since I started this level of school? How might other classmates have changed since they started?
What is the most important lesson I can take away from my time in school?
What are some success stories that happened during your time in school?
What are some of the challenges we face in the next leg of our journey, and how are we better prepared to overcome those challenges now that we're here?
Adversity . Adversity is the challenges that you as a group overcame in order to get where you are now. Maybe one of your classmates got diagnosed with cancer, and taught the rest of the class how to fight, not just a disease like cancer, but any obstacles that come your way. This is adversity.
Maturity . An especially good theme for high school students, maturity is about becoming an adult and taking responsibility. Perhaps you can talk about how young and green most Freshman were when you started, and how Seniors now have grown into shining examples of people who are adults, not because they need to be, but because they want to be.
Life lessons . School is a microcosm for life. That's a fancy way of saying that school helps teach people about life in general. School teaches you that hard work pays off, that there's more to learning than memorizing equations, that what you do outside the classroom is just as important as what you do inside, and that the friends you make are the glue that keeps you together.
Consider using the burger method . The top bun is your introduction; the patty is your ideas in paragraph form; and the bottom bun is your conclusion. Use a lot of ketchup, mayonnaise, and other condiments: They are your jokes, but remember that too much mayonnaise can ruin an otherwise good burger. [7] X Research source
"I remember when we all filed into this room four years ago. We looked young, like we had just walked out of bed. And while all of us now look older, I see that most of us still look as sleepy as we did on that fateful day."
" I don't want to alarm you, but the class of 20— has a serious problem. It's not a financial problem. It's not an intellectual problem. It's an attitude problem. The class of 20— has a problem being awesome."
Make it interesting by saying something unexpected. If you're talking about facing adversity, everyone expects you to talk about tests, dating/relationships, and time management. Why not talk about something unexpected? Talk about how grades aren't always a sign that you have learned, maybe, or about how hard it is to let teachers let their guard down. Surprise your audience in novel ways.
Make sure your theme is never far away. Ask yourself: How does this paragraph relate back to my theme? If it doesn't relate, ask yourself why it's there.
"In conclusion, high school has taught us that the grades that we earn aren't as important as the education that we receive. We earn a grade for taking a History test. We get an education for understanding why slavery is immoral. We earn a grade for taking a math test. We get an education for understanding that mathematical models can help us fly. We earn a grade for writing an English essay. We get an education for understanding that words are poems and poems are beautiful."
"When I think of our class, I don't think of any one person, I think of a community of workers, a family. A community has a certain responsibility, and as of yet, we have never forgotten that responsibility. As we walk off into the wider world today, let us not forget the responsibility that we carry both as members of this community, and as citizens of the world.
Delivering Your Graduation Speech
Listen to a speech by Martin Luther King, Jr., one of the most effective public speakers ever, and pay attention to how slowly he speaks. [12] X Research source Slow speeches sound really good because they let the audience process what is being said.
Practice delivering your speech into a voice recorder and listen to the recording. You'll see that even when you think you're speaking slowly, it comes out a lot quicker than you imagine. There's always an opportunity to slow down.
Scan the audience every once in a while. If you're reading your speech, you'll obviously spend a lot of time looking at your paper. When you finish a sentence, however, look up from the dais and scan the people in the audience. This will help you catch your breath.
Don't be afraid of focusing on one person for a short while. It's not uncommon for a speaker to lock eyes with a person in the audience for two, three, or four seconds. (Four seconds is a really long time when you're alone on a podium!) Don't do it all the time, but try to do it every once in a while.
If you're getting nervous, try out the old public speaking trick of imagining someone in the audience being naked. Don't fixate on it, but imagine it. It will help rake away some of the butterflies and allow you to concentrate on delivering a more confident speech.
It will get you in the habit of what works in the speech and what doesn't. There's still time to change that joke that no one understands, or focus more on that part that your friends really like.
It will help you memorize the speech, making you less nervous and giving you better presence.
Expert Q&A Did you know you can get expert answers for this article? Unlock expert answers by supporting wikiHow
Support wikiHow by unlocking this expert answer.
Always give credit to your teachers. ⧼thumbs_response⧽ Helpful 1 Not Helpful 0
Talk natural, it may seem like you half to be all formal but chances are your speech will be more meaningful if it seems like it's coming from you. ⧼thumbs_response⧽ Helpful 0 Not Helpful 0
Do not plagiarize a speech from the Internet. You will get in trouble and be punished. ⧼thumbs_response⧽ Helpful 23 Not Helpful 3
You Might Also Like
↑ Patrick Muñoz. Voice & Speech Coach. Expert Interview. 12 November 2019.
↑ https://blog.connectionsacademy.com/write-great-graduation-speech/
↑ https://www.npr.org/sections/ed/2014/05/19/311861694/what-we-learned-from-the-best-commencement-speeches-ever
↑ https://tacomacc.libguides.com/c.php?g=373176&p=2523552
↑ https://www.ypo.org/2015/04/7-memorable-ways-to-open-a-speech-or-presentation/
↑ http://www.myspeechclass.com/conclude.html
↑ https://www.quantifiedcommunications.com/blog/martin-luther-king-i-have-a-dream
↑ https://speakandconquer.com/how-to-give-a-speech-without-crying/
Make a Farewell Speech
About This Article
To deliver a graduation speech, start by coming up with a theme for your speech, like growing up or overcoming adversity. Then, begin your speech with a catchy introduction that will grab your audience's attention, like an interesting story or a joke about your school. Next, for the middle of your speech, try to tie things back to your theme and surprise your audience to keep them interested. Finally, for the end of your speech, come back to the theme of your speech and tell your audience what they can learn from it. To learn how to deliver your speech once you're up on stage, scroll down! Did this summary help you? Yes No
Reader Success Stories
May 19, 2017
Did this article help you?
May 3, 2017
Aug 28, 2016
Mark Sagayno
Mar 28, 2016
Emmanuel Duwah
May 28, 2017
Featured Articles
Trending Articles
Watch Articles
Terms of Use
Privacy Policy
Do Not Sell or Share My Info
Not Selling Info
wikiHow Tech Help Pro:
Develop the tech skills you need for work and life

Want to create or adapt books like this? Learn more about how Pressbooks supports open publishing practices.
31 Graduation Speeches: Speeches You Give in Pointy Hats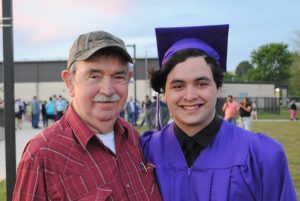 Graduation is a big day for graduates, their families, and teachers. If you are called to give a graduation speech, you want to make it special.  I want to share with you what makes a good graduation speech and give you tips on how to write one that will make an impact.
As we begin, you need to wrap your mind around two main things:
Most people do not remember the graduation speeches they hear, but they do remember the feeling they got in the moment–inspired, bored, challenged.
The more you tap into shared memories, the more meaningful the speech will be for those listening.
There are two main types of graduation speakers, the student speaker, and the headline speaker. At one college at our university, there is a speech contest to be the graduation speaker and at another college, it is someone who has been nominated by a faculty member. How you get there varies from place to place At the local high school, the valedictorian is often the speaker. I recently went to high school graduation and they had seven valedictorians so they had seven speakers–yes, it was as long as you can imagine.
When thinking about giving a graduation speech, you have to ask, "What does the audience need from me?" They need you to reflect on the past, celebrate the present, and focus on the future. This chapter will walk you through the essentials of giving a graduation speech and then give you several example speeches as samples of key elements.
Gather the Details
How long will you speak?
Who will be in attendance?
Who will introduce you?
Are you the only speaker?
Will there be a microphone?
Can you use speech notes?
Brainstorm with Friends
This is the fun part. Sit down with friends and make a list of all the things that come to mind about the college experience. When brainstorming, write down everything you think of and don't try to judge whether it should be included, just go with it.  There is an entire chapter on how to brainstorm here. 
Food, dining halls, local restaurants
Hangouts on campus
Social events
Notable classes
Significant memories
Current events
Shared college experiences (on our campus it might be buying scantrons, hearing the bells of Old Main, and using Blackboard.
Organizational Format
Most all student graduation speeches include the past, present, and future format.
Present: Opening statement and the thank you.
Past: The shared memory.
Future: The challenge and a closing statement.
Manuscript Format
Most student graduation speeches are in manuscript format. That helps you from getting overwhelmed at the moment and that also gives the school a chance to censor– I mean to approve of–your content. There is an entire chapter on writing a manuscript that you can refer to here. 
Pick a Theme
Many graduation speeches use a theme. Here are some of the most common graduation themes.
It can be helpful to pick a theme and connect a metaphor to your theme. There is an entire chapter on how to do that here. 
"There is no such thing as failure. Failure is just life trying to push you in another direction." Oprah Winfrey, Harvard University Commencement Speech
Start Your Speech with an Introduction
Most introductions acknowledge the occasion, offer thanks, and lead into the main idea. Shutterfly suggests these as openings.
"Thank you [person who introduced you]. And thank you to the students, teachers, parents, and staff who made these four years everything that they were."
"It's my honor today to deliver the commencement address for this incredible student body."
"It is my pleasure to welcome students, families, and faculty to graduation day at [school's name]. Every one of you has made an impact on the graduates who sit here today."
"I stand here before you, looking back on four years of legacy we've all made together."
Use the Principles of Good Ceremonial Speaking
I have written a chapter on each component of ceremonial speaking and you can reference those you need:
Tell a story
Use identification, narration, and magnification
Use colorful language
Use metaphor, simile,  and theme
Put your speech in manuscript format
Look for Stories that Celebrate Common Experiences
Notice how Jaclyn Marston reflects on specific classes and memories. (Watch starting at .54 seconds).
Watch how Lin Manuel Miranda references the familiar and the obscure in his address to the University of Pennsylvania (start watching at 1:12).
Use a Theme
Notice how she uses the theme–"What do you want to be" when you grow up and alters it to  "What do you want to do?" She opens with this and wraps back around to this same idea at the end.
Be Vulnerable
Notice how this speaker admits his shortcomings. We feel like he is honest and vulnerable so we hang on his everyword.
Headline Speaker Sample Speeches
Headline speakers are usually someone famous or notable. Speeches by those individuals almost always include stories and challenges. I have included several here. Pick two of them to analyze.
Today I want to tell you three stories from my life. That's it. No big deal. Just three stories. Steve Jobs
These highlights of Lou Holtz's graduation speech is full of great challenges and life lessons.
Tim Minchin
"One: Be micro-ambitious. Put your head down and work with pride on whatever is in front of you. You never know where you might end up.
Two: Don't seek happiness. Keep busy and aim to make someone else happy and you might find you get some as a side effect.
Three:  Understanding that you can't truly take credit for your successes nor truly blame others for their failures will humble you and make you more compassionate.
Four: Exercise. Take care of your body: you're going to need it.
Five: Be hard on your opinions. Be intellectually rigorous. Identify your biases, your prejudices, your privileges.
Six: Even if you're not a teacher, be a teacher. Share your ideas. Don't take for granted your education.
Seven: Define yourself by what you love. Be demonstrative and generous in your praise of those you admire. Send thank you cards and give standing ovations. Be pro stuff not just anti stuff.
Eight: Respect people with less power than you.
Nine: Finally, don't rush. You don't need to know what you're going to do with the rest of your life."
As you can see, graduation speeches can be serious or lighthearted; they can be personal, motivational, and informative. The key thing is that the speech should be authentic. It should be as unique as the speaker.
Key Takeaways
Remember This!
Graduation speeches should reflect on the past, celebrate the present, and inspire towards the future.
Consider the needs of the audience and find commonalities.
Tell a story.
Use a manuscript.
Bonus Features
Jaclyn Marson describes the process of how she wrote her Graduation Speech.
Dunham, A. (2019). Valedictorian comes out as autistic during speech. [Video] YouTube.  https://youtu.be/GtPGrLoU5Uk Standard YouTube License
Holtz, L. (2017). Lou Holtz's inspirational speech. Commencement speech.[Video] YouTube.   https://www.youtube.com/watch?v=M3LOo_Ccyws Standard YouTube License
Jobs, S. (2008). Steve Jobs' 2005 Stanford Commencement Address. [Video] YouTube.   https://www.youtube.com/watch?v=UF8uR6Z6KLc Standard YouTube License.
Jostens, (n.d.).  Celebrate high school memories. Inspire your grad community. https://www.jostens.com/resources/students-and-parents/graduation-guides/how-to-write-a-grad-speech
Marson, J. (2020). How to write an amazing graduation speech–Jaclyn Marson podcast Ep 1. [Video] YouTube.  https://www.youtube.com/watch?v=t5CUSzp9SrM Standard YouTube License.
Marston, J. (2016). Beautiful and moving graduation speech 2016. [Video] YouTube.   https://www.youtube.com/watch?v=_F3K3Z_5CEE Standard YouTube License.
Minchin, T. (2013). 9 life lessons-Time Minchin UWA Address. [Video] YouTube.   https://www.youtube.com/watch?v=yoEezZD71sc Standard YouTube License.
Rosen, L. (2019). Leah Rosen: "The power of this place," Duke University 2019 commencement student speaker. https://www.youtube.com/watch?v=p4N Standard YouTube License.
Shutterfly. (n.d) How to start a graduation speech. https://www.shutterfly.com/ideas/graduation-speech/
Stewart, M.  (2020). Student speaker. Commencement 2020. University of Utah. [Video] YouTube.   h ttps://www.youtube.com/watch?v=AZFJnZvuQIo Standard YouTube License.
University of Pennsylvania. (2016). Penn's 2016 commencement ceremony- Commencement speaker Lin-Manuel Miranda. [Video] YouTube.  https://www.youtube.com/watch?v=ewHcsFlolz4&t=0s Standard YouTube License.
Media Attributions
Graduation Photo © Lynn Meade is licensed under a CC BY (Attribution) license
Advanced Public Speaking by Lynn Meade is licensed under a Creative Commons Attribution 4.0 International License , except where otherwise noted.
Share This Book