Try the new Google Books
Advanced Book Search
Barnes&Noble.com
Books-A-Million
Find in a library
All sellers »
Get Textbooks on Google Play
Rent and save from the world's largest eBookstore. Read, highlight, and take notes, across web, tablet, and phone.
Go to Google Play Now »
What people are saying - Write a review
About the author (2020).
Lucy Calkins is the Founding Director of the Teachers College Reading and Writing Project at Columbia University. For more than thirty years, she has led the Project in its dual functions as a think tank, developing state-of-the-art teaching methods, and a provider of professional development, supporting hundreds of thousands of teachers, principals, superintendents, and policy-makers across the country and around the world. Lucy is the author or coauthor - and series editor - of the reading, writing, and phonics Units of Study series, which are integral to classroom life in tens of thousands of schools around the world. In addition, she has authored scores of professional books and articles. Lucy is also the Robinson Professor of Children's Literature at Teachers College, Columbia University, where she co-directs the Literacy Specialist Program. Her latest professional books include Teaching Writing and Leading Well. Visit UnitsofStudy.com Order Resources by Lucy Calkins
Bibliographic information
Education & Teaching
Schools & Teaching
Buy new: $6.89
Sorry, there was a problem.
Other sellers on amazon.
Download the free Kindle app and start reading Kindle books instantly on your smartphone, tablet, or computer - no Kindle device required . Learn more
Read instantly on your browser with Kindle for Web .
Using your mobile phone camera - scan the code below and download the Kindle app.
Follow the Authors
Writing for Readers: Teaching Skills and Strategies Paperback – January 1, 2003
Paperback $6.89 53 Used from $1.20 19 New from $5.46
Enhance your purchase
Print length 117 pages
Language English
Publisher Heinemann
Publication date January 1, 2003
ISBN-10 0325005303
ISBN-13 978-0325005300
See all details
Special offers and product promotions
Popular titles by this author.
Customer reviews
Customer Reviews, including Product Star Ratings help customers to learn more about the product and decide whether it is the right product for them.
To calculate the overall star rating and percentage breakdown by star, we don't use a simple average. Instead, our system considers things like how recent a review is and if the reviewer bought the item on Amazon. It also analyzed reviews to verify trustworthiness.
Top reviews Most recent Top reviews
Top reviews from the United States
There was a problem filtering reviews right now. please try again later..
Amazon Newsletter
About Amazon
Accessibility
Sustainability
Press Center
Investor Relations
Amazon Devices
Amazon Science
Sell products on Amazon
Sell apps on Amazon
Supply to Amazon
Protect & Build Your Brand
Become an Affiliate
Become a Delivery Driver
Start a package delivery business
Advertise Your Products
Self-Publish with Us
Host an Amazon Hub
› See More Ways to Make Money
Amazon Rewards Visa Signature Cards
Amazon Store Card
Amazon Secured Card
Amazon Business Card
Shop with Points
Credit Card Marketplace
Reload Your Balance
Amazon Currency Converter
Amazon and COVID-19
Your Account
Your Orders
Shipping Rates & Policies
Amazon Prime
Returns & Replacements
Manage Your Content and Devices
Your Recalls and Product Safety Alerts
Amazon Assistant
Conditions of Use
Privacy Notice
Your Ads Privacy Choices

Introduction
Workshop Framework
About the Authors
Research and Results
Visit the TCRWP Website
Success Stories and Testimonials
K-2 Phonics
K-2 Reading
3-5 Reading
K-5 Writing
3-5 Writing
K-2 New Units
K-5 Reading
Middle School Writing
Middle School Reading
*NEW* Writing Graphic Novels
Jump Rope Readers
Up the Ladder
Classroom Libraries
Digital Components
Previous Edition VTR
Summer School
Professional Books
- Comprehensive Overview
- Samplers and Sample Sessions
- Getting Started
- Standards Alignment
- Research and Results
- ELL Support
Shop Online at Heinemann.com
Professional Development
My Online UoS Resources

Units, Tools, and Methods for Teaching Reading and Writing
A workshop curriculum - grades k-8, by lucy calkins and colleagues from tcrwp.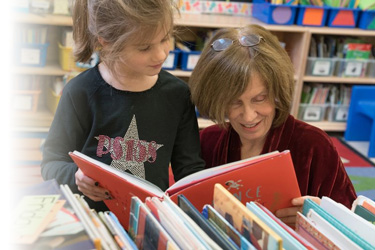 Dear Teachers, I couldn't be more delighted to be sharing this work with you. It is the understatement of a lifetime to say that Units of Study grow out of years of work in thousands of classrooms. This series also grows out of the greatest minds and most beautiful teaching that I've seen anywhere. To write the Units of Study, my colleagues at the Teachers College Reading and Writing Project and I have done what teachers throughout the world do all the time. We've taken all that we know—the processes, sequences, continua, books, levels, lessons, methods, principles, strategies…the works—and we've made a path for children, a path that draws all we know into a cohesive, organic progression. Our hope is that this path brings children along to the place where they can write clearly and skillfully and read flexibly and joyfully—and can live together as caring, thoughtful readers and writers. Lucy Calkins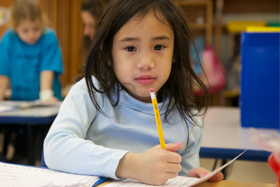 More From Forbes
Problems with lucy calkins' curriculum go beyond reading—to writing.
Share to Facebook
Share to Twitter
Share to Linkedin
Calkins' influential curriculum underestimates how difficult writing is for many students.
Recent controversy about literacy guru Lucy Calkins has centered on her approach to reading instruction. But she came to prominence as an expert on writing, and her influence there has been even greater—and at least as harmful.
Roughly 40 years ago, an idealistic young teacher and aspiring writer joined a two-year research project on the development of writing in young children at a rural New Hampshire school. It wasn't the kind of scientific experiment that involves a hypothesis tested against a "control group." Researchers would just closely observe 16 children in classrooms—and in the case of the young teacher, Lucy Calkins, the observation centered on one third-grader named Susie.
But Calkins did more than observe. She herself had recently studied with a writer named Donald Murray, who introduced her to concepts like drafting and revision and helped her find her writerly voice—the kinds of things college and graduate students do in creative writing workshops . Calkins' not-so-hidden agenda was to bring that approach to young children and show them that their own lives and ideas were worth writing about.
Calkins described this study in her book Lessons from a Child , published in 1983. Dismayed to see that teachers assigned writing topics and then "merely corrected and graded the papers," Calkins coaxed them to let kids choose their own topics, write with minimal adult guidance, and give each other feedback on drafts of their essays during "workshop" time.
That approach was partly born of necessity: like most teachers, those at this school hadn't been trained to teach writing. Calkins noted with approval that one of Susie's teachers became more of a "listener" than an instructor in writing. Another confessed that she was "not an expert on writing," telling the children, "Each one of you has to be a writing teacher." In Calkins' view, that approach, with kids producing multiple drafts of essays on visiting grandparents or going fishing, was working beautifully. Teachers weren't so sure. "All that work," one would groan, looking at a finished product, "for this."
Best Travel Insurance Companies
Best covid-19 travel insurance plans.
Calkins' research eventually led to a K-8 curriculum called the Units of Study in Reading and Writing , now estimated to be among the most popular literacy programs in the country. The reading units incorporate ideas that have long been central to the "whole word" and then "balanced literacy" movements , but Calkins' approach to writing is mostly her own contribution—at least, as applied to children.
Calkins' perceptions about writing have been spot-on in some respects. She initially understood that children couldn't write well about topics they knew little about, one reason she wanted them to write about their own experience. She also saw that writing needed to be seen as a process rather than a series of discrete assignments.
But her approach has rested on two flawed assumptions. The first is that writing skills can and should be taught separately from subjects like history or science—an assumption Calkins and many others have also made about supposed reading comprehension skills like "finding the main idea." Originally, she seems to have believed that if children honed their writing skills on personal narrative, they could transfer those techniques to the more challenging kinds of writing expected at higher grade levels.
The Common Core standards in literacy, released in 2010, pushed back against that idea, requiring more "informational" and "persuasive" writing at the elementary level. In response, Calkins expanded her approach to include those genres. And unlike some other "Common Core" writing programs, which expect students to write about topics they know little about, some of Calkins' informational and persuasive units have kids dig into a specific topic for four to six weeks.
But even then, her focus is on writing skills rather than the content itself, and the assumption is that teachers could choose to substitute a different topic. A second-grade unit on science writing uses the topic of force and motion, but teachers are advised that if that "isn't a good fit for you, you can transfer this teaching to another area of science."
As a result, lesson titles and "teaching points" are content-neutral—for example, "Writers of History Pay Attention to Geography," in a fifth-grade unit . But the topic used is Westward Expansion, and the teacher "script" illustrating the point centers on the Erie Canal. Teachers who choose another topic would need to know enough about it to come up with their own insights about the influence of geography. And young students are then expected to write essays applying these generic insights to other topics of their own choosing.
When I interviewed Calkins for a book several years ago, she told me that children should acquire substantive knowledge in their social studies and science classes, but that's not her focus. "When I'm teaching people to write," she said, "I'm teaching them a method—I'm teaching them how to do something."
That approach might work for personal essays, but it can run into trouble in units where the goal is to get kids to write "like a scientist" or "like a historian." Scientists and historians can write the way they do only because they know a lot about their topics.
Once students have a certain threshold of information about a topic, writing can be a powerful way to build and deepen their knowledge. But why teach a separate writing curriculum with its own history and science topics? If students are learning about, say, the Civil War in social studies—assuming their school even allots time for social studies—why shouldn't they use writing to build their knowledge about the Civil War, rather than learning to "write like a historian" about a different set of events during English language arts class?
Alternatively, schools could adopt a literacy curriculum that incorporates topics in history and science, an approach that has been shown to boost reading comprehension. But students benefit most if they're reading and writing about the same topics, and Calkins' reading and writing units aren't coordinated in that way.
The second and even more fundamental flawed assumption underlying Calkins' curriculum is that the "workshop" approach, developed for experienced adult writers, will also work for children as young as five. Like many others, Calkins seriously underestimates how difficult the process of learning to write is for most students.
She's a firm believer in having children write with little planning—"flash-drafting," she calls it—and produce prodigious amounts of prose. "Nothing is more consistently helpful for young writers than encouraging more writing," her Units of Study for kindergarteners advises . "That is why coaching your little ones to write more and more and more is crucial." The assumption that children need to write at length from the beginning has now become part of education orthodoxy, enshrined even in the Common Core writing standards.
But writing requires juggling so many different factors—forming letters, choosing and spelling words, organizing thoughts—that it can be overwhelming. Children may become paralyzed, not knowing how to begin. Or they may pour out pages of barely legible and largely incoherent prose. One second-grade teacher showed me a sample of that kind of writing, saying he knew he was supposed to "respond" to it but couldn't understand what the student was trying to say.
Calkins' curriculum expects kids to write essays and even "books" before they've learned to construct sentences, and they're left to figure out the intricacies of writing largely on their own. They might, for example, be directed to write key phrases on sticky notes and sort them into categories before writing about Westward Expansion, but if they run into trouble, teachers are advised to remind them that "the settlers encountered problems as well" and "had to problem solve."
Learning how to categorize and order ideas is hugely difficult—and despite Calkins' assertions to the contrary, even highly experienced writers often rely on detailed outlines (at least, I do). Something as basic as the concept of a sentence is so complex that many children, and even some adults, won't grasp it unless they get repeated practice in distinguishing complete sentences from fragments, under the guidance of a teacher.
Writing instruction has enormous potential to build knowledge and literacy, but to unlock its power, two basic principles need to be observed—both of which Calkins overlooks. First, writing activities should be embedded in the content of the core curriculum so that they build the knowledge we want students to acquire. Second, teachers need to modulate the heavy cognitive burden imposed by writing through explicit instruction and supervised practice, beginning at the sentence level if that is what students need. (I'm the co-author of a book setting out such a method, The Writing Revolution , but I have no financial interest in the book or the organization of the same name.)
Calkins' journey as a writing guru clearly started from a place of empathy and respect for children. But she's essentially asking teachers to throw kids into the deep end of the pool, tell them they're "swimmers," and let them sink. If kindergarteners balk at plunging right into drafting "informational" how-to books, and gentle coaxing doesn't work, Calkins advises teachers to tap on a child's page, "a gesture that says 'Get writing'" or conveys "a firm 'Now.'" If teachers tell Calkins their students' writing doesn't look like the examples in her books, she blames their low expectations, as I heard her do during a training session. "So often," she writes, "when we are in classrooms where the teacher says that the kids are finding a certain kind of writing 'really hard,' we'll ask, 'I wonder where they picked that feeling up?'"
But writing is really hard. It's not underestimating students' abilities to say they need a slower pace and more explicit instruction. Rather, for many students, providing them with those things is the key to unlocking their true potential.
Editorial Standards
Reprints & Permissions
Give this article Give this article Give this article
Advertisement
Supported by
In the Fight Over How to Teach Reading, This Guru Makes a Major Retreat
Lucy Calkins, a leading literacy expert, has rewritten her curriculum to include a fuller embrace of phonics and the science of reading. Critics may not be appeased.
Send any friend a story
As a subscriber, you have 10 gift articles to give each month. Anyone can read what you share.
By Dana Goldstein
For decades, Lucy Calkins has determined how millions of children learn to read. An education professor, she has been a pre-eminent leader of "balanced literacy," a loosely defined teaching philosophy.
In a classic Calkins classroom, teachers read aloud from children's literature; students then chose "just right" books, which fit their interests and ability. The focus was more on stories — theme, character, plot — less on sounding out words.
Her curriculum, "Units of Study," is built on a vision of children as natural readers, and it has been wildly popular and profitable. She estimates that a quarter of the country's 67,000 elementary schools use it. At Columbia University's Teachers College, she and her team have trained hundreds of thousands of educators.
But in recent years, parents and educators who champion the "science of reading" have fiercely criticized Professor Calkins and other supporters of balanced literacy. They cite a half-century of research that shows phonics — sound it out exercises that are purposefully sequenced — is the most effective way to teach reading, along with books that build vocabulary and depth.
With brain science steadily adding to that evidence, there is a sense — at least for many in the education establishment — that the debate over early reading instruction may be ebbing. Phonics is ascendant.
More than a dozen states have passed laws pushing phonics, and Denver and Oakland, Calif., have moved to drop Professor Calkins's program. In one of her largest markets, New York City, a dyslexic mayor and his schools chancellor are urging principals to select other curriculums.
So after decades of resistance, Professor Calkins has made a major retreat. A rewrite of her reading curriculum, from kindergarten to second grade, includes, for the first time, daily structured phonics lessons to be used with the whole class. There are special books and assessments to track students' progress with decoding letters.
And it swaps light reading assignments for more rigorous texts: arctic exploration, female deep sea divers in South Korea, the architecture and culture of Islam.
The curriculum, which goes on sale this summer, also includes a 20-page guide for teachers summarizing 50 years of cognitive research on reading.
"All of us are imperfect," she said in an interview at her office, perched above Columbia's campus. "The last two or three years, what I've learned from the science of reading work has been transformational."
It may not inspire political campaign ads the way critical race theory does, but the debate over how to teach children to read — perhaps the foundational skill of all schooling — has been just as consuming for some parents, educators and policymakers. Through decades, classroom practice has lurched back and forth, with phonics going in and out of style.
Margaret Goldberg, a Bay Area literacy coach and leader in the science of reading movement, said Professor Calkins's changes cannot repair the harm done to generations of students. Even before the pandemic widened educational inequality, only one-third of American fourth and eighth graders were reading on grade level. Black, Hispanic and low-income children have struggled most.
More on U.S. Schools and Education
Critiquing Chatbots: Move over, coding. Some schools are asking their students to think critically about rapid advances in artificial intelligence  and consider their impact.
A.P. Course Dispute: After heavy criticism  from Gov. Ron DeSantis of Florida and other conservatives, the College Board stripped down  much of its new Advanced Placement course in African American Studies.
Heavy Losses: A new global analysis suggests that   children experienced learning deficits during the Covid-19 pandemic  that amounted to about one-third of a school year's worth of knowledge and skills.
Transgender Youth: Educators are facing new tensions over whether they should tell parents when students change their name, pronouns or gender expression at school .
"So many teachers like me have believed that a professor at Teachers College, an Ivy League institution, should be up-to-date on the reading research," she said. "The fact that she was disconnected from that research is evidence of the problem."
How Professor Calkins ended up influencing tens of millions of children is, in one sense, the story of education in America. Unlike many developed countries, the United States lacks a national curriculum or teacher-training standards. Local policies change constantly, as governors, school boards, mayors and superintendents flow in and out of jobs.
Amid this churn, a single charismatic thinker, backed by universities and publishing houses, can wield massive power over how and what children learn.
Myth of the Natural Reader
Some children seem to turn magically into readers, without deliberate phonics coaching. That has helped fuel a mistaken belief that reading is as natural as speaking. In fact, functional magnetic resonance imaging of the brain demonstrates that humans process written language letter by letter, sound by sound. Far from being automatic, reading requires a rewiring of the brain, which is primed by evolution to recognize faces, not words.
But that finding — by cognitive psychologists and neuroscientists — is often disconnected from the work of training teachers and producing classroom materials.
Indeed, Professor Calkins, 70, is far more typical in the world of curriculum development: She is a teacher, a writer and a theorist.
After several years teaching in her 20s, she entered academia in the late-1970s, part of a circle of thinkers developing the process-oriented approach to teaching writing. Intended for adults, it emphasizes keeping a journal to find one's voice, receiving feedback from peers and revising drafts.
Professor Calkins became a revolutionary leader in education by bringing these practices to young children at a time when penmanship, spelling and sentence structure were often a bigger focus. At Teachers College, she began training educators in New York City schools, prompting them to give children "writers' notebooks" to chronicle their lives. For many students, her method was empowering, although critics have said it was too loose for those without strong grammatical skills.
Still, Professor Calkins and her team were widely lauded for offering teachers respect and support. At workshops on Columbia's idyllic campus, educators were encouraged to see themselves and their students as intellectuals. Eventually, a vibrant online community developed.
Professor Calkins expanded into reading instruction, using similar principles. A goal was to help children to build a joyful identity as a reader. Even then, she said she never doubted the importance of phonics. In sample classroom schedules, she told schools to set aside time for it.
But her influential 2001 book, "The Art of Teaching Reading," warned about what she saw as the risks of too much sounding-it-out. She praised one teacher for avoiding "an intricate series of activities with phonics," and argued that a simple way to build "lifelong readers" was to allow children to spend time with books they chose, regardless of content or difficulty.
For children stuck on a difficult word, Professor Calkins said little about sounding-out and recommended a word-guessing method, sometimes called three-cueing. This practice is one of the most controversial legacies of balanced literacy. It directs children's attention away from the only reliable source of information for reading a word: letters.
Three-cueing is embedded in schools. Online, novice teachers can view thousands of how-to guides. In a 2020 video, a teacher tells children to use a picture to guess the word "car," even though simple phonics make it decodable.
Professor Calkins said word-guessing would not be included in her revised curriculum. But in some ways, she is offering a hybrid of her old and new methods. In a sample of the new materials that she provided to The Times, teachers are told that students should first decode words using "slider power" — running their fingers under letters and sounding them out — but then check for mistakes using "picture power."
Mark Seidenberg, a cognitive neuroscientist at the University of Wisconsin, Madison, said that while he found some of the revisions "encouraging," he was concerned that "objectionable" concepts remain.
There is little controlled research of her methods, and two recent studies come to conflicting conclusions: One , funded by Teachers College and Professor Calkins's publisher but conducted independently, found students in her network outperform others on reading tests. Another saw no statistically significant improvements.
Some parents say no revision from Professor Calkins could earn their trust.
Diane Dragan, a mother of three dyslexic children, aged 9 to 14, has spent years pushing the Lindbergh school district in St. Louis to drop the Units of Study. She said she paid $4,500 a month for intensive tutoring, to help her children catch up on foundational skills overlooked by the curriculum.
When children don't learn to read, she said, "They doubt their ability to do anything in life."
When Professor Calkins was asked what changed her mind about the science of reading, she cited, without defensiveness, several experts who have criticized her work: Professor Seidenberg, author of the influential book "Language at the Speed of Sight," and Emily Hanford , a journalist who has investigated the shortcomings of reading instruction.
She said studying learning disabilities like dyslexia also led her to accept that all children would benefit from more structured phonics.
"Dyslexia is a spectrum," she said.
Margaret Goldberg, the literacy coach, said Professor Calkins should offer a fuller statement of regret — and send a correction to schools using her old materials.
Professor Calkins does not believe she has anything to apologize for. She pointed out that some partner schools, like P.S. 249, a high-poverty, high-performing school in Brooklyn, have embraced a separate phonics supplement she published in 2018.
And, she asked, shouldn't the phonics-first camp apologize? "Are people asking whether they're going to apologize for overlooking writing?" she said.
Teachers College said in a statement that among its faculty, there was no disconnect across subjects like cognitive research, curriculum development and teacher preparation. Elementary educators and literacy specialists are required to take courses, it said, that "engage with science of reading concepts such as sequenced, research-based instruction in phonics and language patterns, phonetic reading and linguistic structures."
The Finances
Professor Calkins has described the organization she founded in 1981, the Teachers College Reading and Writing Project, as a "not-for-profit think tank." But the project is also a business, encompassing domestic and international companies. It provides training to some 700 schools across the United States and in countries like Japan, Jordan, Spain, Singapore and Brazil.
According to a 2016 contract between New York City and Teachers College, schools paid up to $2,650 for a seven-hour visit from a consultant with Professor Calkins's group and were encouraged to purchase 20 visits a year.
In reality, Professor Calkins said, most schools paid less. In total, the district paid $31 million between 2016 and 2022 for services from the Teachers College Reading and Writing Project.
The project has about 165 partner schools across the city, which may now be under pressure to reconsider the program.
"Lucy Calkins's work, if you will, has not been as impactful as we had expected," the schools chancellor, David C. Banks, said in March .
Teachers College would not detail its revenue from Professor Calkins's activities but said her contribution to its bottom line was "modest." A review of school contracts across the country showed that much of Professor Calkins's work outside New York City was funneled through her businesses. That structure, she said, allowed her to pay competitive salaries to her 75-person staff. She and her co-authors also earn royalties for her books, published by Heinemann, a division of Houghton Mifflin Harcourt.
Heinemann declined to share sales figures for the Units of Study. But schools that purchased the old curriculum within the last three years can fully deduct that cost from the list price of the revised units, which would mean they would spend $186 per classroom.
That deal, Professor Calkins said, will allow schools to afford her more science-based approach. Her organization will also push the new methods at training sessions, which are a significant expenditure for schools. Purchasing student books that accompany the curriculum costs hundreds to thousands of dollars more.
"Certainly, I am not about the money of this," Professor Calkins said. "We're trying to get the word out as best we possibly can."
Classroom practice is notoriously slow to evolve, even with revised curriculum. And some of Professor Calkins's methods are sure to remain divisive. She still believes in peer collaboration during phonics lessons, and in silent reading for kindergartners who are primarily looking at pictures. Critics see those activities as a waste of precious classroom minutes.
But because Professor Calkins has been so trusted by educators, her shift on the science of reading could drive real change, despite what some see as a long delay.
The question for Professor Calkins and schools nationwide is whether her new curriculum will show better results for students. Research points to a broad set of skills necessary to become a literate person — including phonics, vocabulary and knowledge of current events, history, art, sports and nature.
The stakes are high, said Tracy White Weeden, president of the Neuhaus Education Center, a nonprofit that trains educators in reading strategies.
"We have schools," she said, "that have not benefited from understanding how to do the most important thing we do — ensure students leave literate."
Kirsten Noyes contributed research.
Academia.edu no longer supports Internet Explorer.
To browse Academia.edu and the wider internet faster and more securely, please take a few seconds to upgrade your browser .
Enter the email address you signed up with and we'll email you a reset link.
The Art of Teaching Writing By Lucy Calkins A Discussion Guide for Principals
Related Papers
Kimberly Lenters
Language and Literacy
Literacy for Life
Monique Cherry-McDaniel
Heather Hebard
Amanda Konkle
Massachusetts Reading Association Primer
Jacy Ippolito
Annual Yearbook of the Association of Literacy Educators and Researchers
Michael Manderino
Keri Franklin
This study analyzes the effects of the Literacy Academy, a statewide professional development program facilitated by the Missouri Writing Projects Network (MWPN). This professional development model is based on the principles of the National Writing Project and developed by teacher-consultants at the Gateway Writing Project. The Missouri Department of Elementary and Secondary Education supported this statewide writing initiative, which was designed for "priority" schools (those that had not met adequate yearly progress as defined by the No Child Left Behind Act). Implementation began with a one-year (2007–2008) professional development partnership between the Missouri Department of Elementary and Secondary Education (DESE) and the Missouri Writing Projects Network. This first year of statewide Literacy Academies involved twenty-three program teachers in nine sites across Missouri. In summer 2007, MWPN presented a five-day intensive professional development series focused on the teaching of writing; three to six additional follow-up days were then provided during the 2007–2008 school year. At the end of their first year of the study, participating teachers were invited to attend Year 2 of the Literacy Academy, combining online and face-to-face meetings during the 2008–2009 school year. In Year 2 of the program (2008–2009), fifteen program teachers participated the professional development and research study. To determine the effectiveness of the Literacy Academy program, a quasi-experimental design was used to compare data from teachers who participated in the MWPN professional development with data from comparable teachers of the same grades who did not participate in
ramlan Zeyn
Loading Preview
Sorry, preview is currently unavailable. You can download the paper by clicking the button above.
RELATED PAPERS
Leyton Schnellert
Margaret Vaughn
Patricia Jacobs
Kathleen McDonnold
Mindy Larson
Susan Lytle
Teaching Writing the Journal of Writing Teacher Education
Roya Scales
Kelli Bippert
Chriz Lennin Mutuc
Kelly Severson-Kunz
RELATED TOPICS
We're Hiring!
Help Center
Find new research papers in:
Health Sciences
Earth Sciences
Cognitive Science
Mathematics
Computer Science
Academia ©2023
The Art of Teaching Writing
Lucy calkins.
540 pages, Hardcover
First published November 21, 1985
About the author
Ratings & Reviews
What do you think? Rate this book Write a Review
Friends & Following
Community reviews.
Join the discussion
Can't find what you're looking for.
Download a Sample Chapter from Teaching Writing
Fill out the form to download Chapter 10: "Writing across the Curriculum." In this chapter, Lucy Calkins discusses the following:
The importance of transferring writing skills across the curriculum
Ways to transfer writing skills across the curriculum
Ways to bring the power of writing-to-think across the curriculum
Shop Our Books
Curricular Resources
Free Teaching Resources
Heinemann Blog & Podcasts
PD Services
Irene Fountas
Gay Su Pinnell
– Explore Fountas & Pinnell Literacy
Lucy Calkins
– Explore Units of Study
Jennifer Serravallo
– Explore Jennifer Serravallo's Resources
Marilyn Burns
Lynne Zolli
– Explore Do The Math
– Explore Listening to Learn
Susan O'Connell
– Explore Math in Practice
– Explore Math by the Book
Stephanie Harvey
Anne Goudvis
– Explore The Comprehension Toolkit
Cornelius Minor
Sara K. Ahmed
Kylene Beers
Robert Probst
Browse All Authors
Fountas & Pinnell Literacy™
– Results, Efficacy and Case Studies
– Research
Units of Study
– Data Reports
– Case Studies
Create Account Log In
Find My Sales Rep
Teaching Writing (Print eBook Bundle)
By Lucy Calkins , Teachers College Reading and Writing Project, Columbia University
In  Teaching Writing , Lucy Calkins shares the depth and breadth of her knowledge, from the initial research that launched some of the biggest ideas still foundational to the teaching of writing today, to her newest insights gleaned from decades of work and study in thousands of classrooms across the globe.
.internal').css('display','block');$('#content_sectionFullDesc > .slider').find('span.rspv-up-arrow').toggleClass('rspv-down-arrow');" href="#fulldesc" >Read Full Description below »
Print + eBook
Web/School Price: $43.00
Share This Resource
"Writing allows each of us to live with that special wide-awakeness that comes from knowing that our lives and our ideas are worth writing about."
—Lucy Calkins
Teaching Writing is Lucy Calkins at her best—a distillation of the work that's placed Lucy and her colleagues at the forefront of the teaching of writing for over thirty years. This book promises to inspire teachers to teach with renewed passion and power and to invigorate the entire school day.  This is a book for readers who want an introduction to the writing workshop, and for those who've lived and breathed this work for decades. Although Lucy addresses the familiar topics—the writing process, conferring, kinds of writing, and writing assessment— she helps us see those topics with new eyes. She clears away the debris to show us the teeny details, and she shows us the majesty and meaning, too, in these simple yet powerful teaching acts. Download a sample chapter for more information.
(click any section below to continue reading)
Related Products
Units of Study in Opinion/Argument, Information, and Narrative Writing Built on best practices and a proven framework developed over decades of work, the writing units support explicit instruction, provide rich opportunities for practice, and help teachers use learning progressions to set students on trajectories of growth.
Units of Study in Opinion, Information, and Narrative Writing, Grades K–5
Units of Study in Argument, Information, and Narrative Writing, Grades 6–8
Chapter 1: Writing Workshop: The Backstory
The Invention of Writing Process Instruction: My Early Story
From Research to Practice: How the TCRWP Has Brought Writing Workshop to the Nation
Chapter 2: What Writers Need: Essentials of Writing Workshop
Writers need time to write.
Writers need clear instruction, shared writing wisdom.
Writers need the opportunity to learn from other writers and their texts.
Writers need a coherent, cumulative curriculum in writing, one that builds in depth and complexity across kinds of writing and across grades.
Writers need responsive feedback—from you, their teacher, and from partners who support their next steps.
Writers need opportunities to experience the writing process.
Writers need the opportunity to write for real audiences.
Writers need opportunities to use writing as a tool for learning.
Chapter 3: The Writing Process
How does the writing process differ for more and less experienced writers?
Chapter 4: The Big Picture of Writing Workshop
Build the Culture of Your Classroom
Establishing Predictable Structures that Allow for Listening
A Curriculum Calendar of Units of Study
The Predictable Structure of a Writing Workshop
Chapter 5: Narrative Writing
Rehearsal and Drafting of Narrative Writing
Reading-Writing Connections and Revision of Narrative Writing
Chapter 6: Information Writing
What  is  information writing?
Drafting and Revising Information Writing
Chapter 7: Opinion/Argument Writing
Understanding the Difference between Opinion Writing and Argument Writing
Rehearsal and Drafting of Opinion/Argument Writing
Revision of Opinion/Argument Writing
Chapter 8: Conferring with Writers
The Architecture of a Conference
Draw on Many Sources of Knowledge When You Confer
Chapter 9: Small-Group Work in the Writing Workshop
Studying an Example of a Small Group
The Architecture of a Small Group
The Mechanics of Small-Group Work
A Final Word about Small Groups: They Are Not Miniature Minilessons
Chapter 10: Writing across the Curriculum
The Importance of Transferring Writing Skills across the Curriculum
Ways to Transfer Writing Skills across the Curriculum
Ways to Bring the Power of Writing-to-Think across the Curriculum
Chapter 11: Assessing Writing
Learn to see more in student writing.
What do you do with the information your assessments produce?
What are the characteristics of a strong writing assessment system?
Using Assessment for Report Cards and Grading
Chapter 12: Bringing the Writing Workshop to Your School
More resources from Lucy Calkins
Customers who liked this also liked
Daily Deals
Brand Outlet
Help & Contact
Watchlist Expand Watch List Loading... Sign in to see your user information
Recently Viewed
Bids/Offers
Purchase History
Saved Searches
Saved Sellers
Collection beta
The eBay vault
Notification
Expand Cart Loading... Something went wrong. View cart for details.
Back to home page
Share | Add to Watchlist
People who viewed this item also viewed
Teaching writing - paperback by calkins, lucy - very good, teaching writing, teaching writing | lucy calkins, picture information, picture 1 of 2, shop with confidence, seller information.
worldofbooksinc ( 179453 )
98.5% Positive feedback
Save Seller
Contact seller
Visit store
See other items
Teaching Writing, Calkins, Lucy
Be the first to write a review .
Item Information
Add to cart
Add to Watchlist
Oops! Looks like we're having trouble connecting to our server.
Refresh your browser window to try again.
An error occurred, please try again.
Bottom panel for Description
Item specifics, about this product, product information, product identifiers, product key features, additional product features, item description from the seller, shipping and handling, sales tax for an item #354620715450, return policy, payment details, detailed seller ratings, average for the last 12 months, popular categories from this store.
Collectibles
Books & Magazines
Entertainment Memorabilia
Computers/Tablets & Networking
Movies & TV
Video Games & Consoles
Everything Else
Seller feedback (207,752)
No ratings or reviews yet
More to explore :
Teaching Textbooks ,
Education & Teaching Textbooks ,
Teaching Paperback Textbooks ,
Teaching Textbook Textbooks ,
Teaching Textbooks in English ,
Algebra 2 Teaching Textbooks ,
Writing Antiquarian & Collectible Books ,
Nonfiction Books Fiction & Writing ,
1950-1999 Publication Year Teaching Textbooks ,
Sing Spell Read Write Textbooks
Uh-oh, it looks like your Internet Explorer is out of date. For a better shopping experience, please upgrade now.
Javascript is not enabled in your browser. Enabling JavaScript in your browser will allow you to experience all the features of our site. Learn how to enable JavaScript on your browser
Teaching Writing available in Paperback
Teaching Writing
Ship This Item — Qualifies for Free Shipping
Temporarily Out of Stock Online
Please check back later for updated availability.
Want it Today? Check Store Availability
-Lucy Calkins
Teaching Writing is Lucy Calkins at her best-a distillation of the work that's placed Lucy and her colleagues at the forefront of the teaching of writing for over thirty years. This book promises to inspire teachers to teach with renewed passion and power and to invigorate the entire school day. This is a book for readers who want an introduction to the writing workshop, and for those who've lived and breathed this work for decades. Although Lucy addresses the familiar topics-the writing process, conferring, kinds of writing, and writing assessment- she helps us see those topics with new eyes. She clears away the debris to show us the teeny details, and she shows us the majesty and meaning, too, in these simple yet powerful teaching acts. Download a sample chapter for more information.
Related collections and offers
Product details, about the author, table of contents.
Acknowledgments vii
Chapter 1 Writing Workshop: The Backstory 1
Chapter 2 What Writers Need: Essentials of Writing Workshop 9
Chapter 3 The Writing Process 27
Chapter 4 The Big Picture of a Writing Workshop 55
Chapter 5 Narrative Writing 81
Chapter 6 Information Writing 95
Chapter 7 Opinion/Argument Writing 107
Chapter 8 Conferring with Writers 123
Chapter 9 Small-Group Work in the Writing Workshop 141
Chapter 10 Writing across the Curriculum 159
Chapter 11 Assessing Writing 173
Chapter 12 Bringing the Writing Workshop to Your School 193
Works Cited 201
Customer Reviews
Related searches, explore more items.
Lucy Calkins Revisits and Revises Her Reading Curriculum
The world is full of important challenges today—challenges to the environment, the economy, to health, and to our ability to live peacefully alongside each other. Surely, the challenges in education are as serious and as urgent as any other. All of us need to work together to give children the education they deserve.
It can be tempting to cast blame rather than to focus on the real work that needs to be done to advance children's learning. The message that has been pushed out by some phonics advocates, and that has trickled down to parents and even some educators, is an oversimplified one: If only teachers would teach phonics exclusively, then presto, all the reading problems in the world would vanish.
This argument is much too narrowly focused, ignoring other critical elements to building skilled readers. It demeans teachers, the vast majority of whom have never doubted that phonics is important to reading but also know that there is a big space between figuring out a word and becoming a powerful, joyful reader.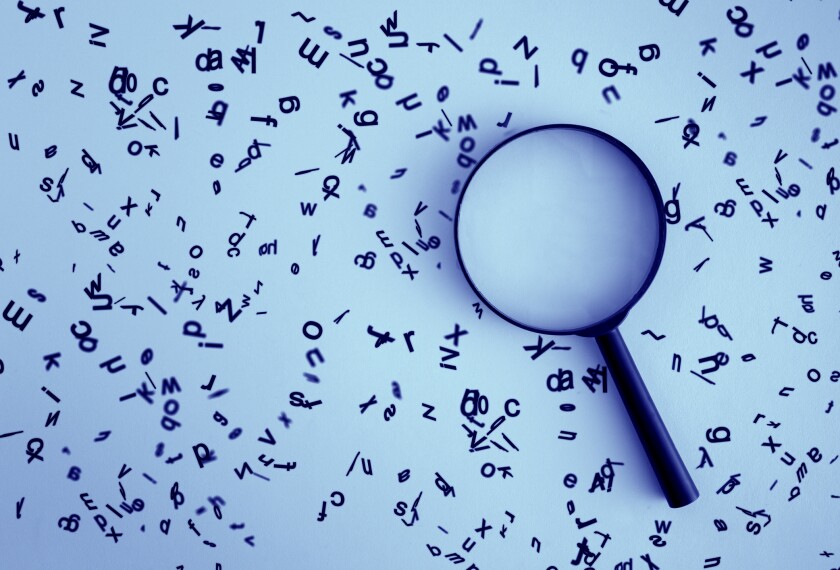 The important truth is that teaching children to be great readers and writers is not simple, nor is developing an informed curriculum for doing so. Studies show that the most effective way to help kids become accomplished readers is to lean on all the research that can inform instruction: the research behind fluency and motivation, comprehension instruction, knowledge development, language development, and yes, the research that supports systematic phonics.
The organization I lead, the Teachers College Reading and Writing Project at Columbia University, works closely with teachers to develop, pilot, and learn from ways of accelerating students' progress as readers and writers. Because we are always working in classrooms, we never take our eyes from the challenge of supporting the full range and diversity of needs of all the unique individual learners within those classrooms.
We are in constant dialogue with other researchers who wrestle with this challenge and we also learn from researchers who do controlled studies in lab settings working with individual children and those who use brain scans. Over the past five years, for example, my colleagues and I translated research supporting educational psychologist Linnea Ehri's theory of orthographic mapping into methods of teaching that rally emerging readers to use "slider power" to decode words from left to right.
In that time, we have embraced the value of providing children with texts aligned to phonics scope and sequence activities and have produced beautiful decodable books that are empowering kids everywhere to decode with zeal and agency.
In the past three years, we also drew from the full range of scientific research on reading instruction to create a new edition of Units of Study in K-2 Reading curriculum program. The first edition of the K-2 Units of Study in Reading was released in 2014. Curriculum is typically updated every five to 10 years to incorporate the latest research and learnings, and we were excited to embrace all that we'd learned in the last 8 years and use it to make Units of Study even better.
The new Units of Study in K-2 Reading help children build knowledge as they read across text sets on a topic; they help children work with webs of related vocabulary words; they help youngsters be more strategic and active meaning makers; they honor metacognition and support the executive function skills. Moreover, the new Units of Study go much further in helping teachers respond to the fact that children learn differently and deserve personalized responsive teaching.
The new edition of Units of Study in K-2 Reading didn't begin with an empty slate. Instead, it is a revision of a curriculum that has already demonstrated widespread success. A study by the prestigious American Institutes for Research showed that when schools adopted the original edition of our curriculum (in combination with Units of Study in Writing and Phonics) they outperformed similar schools that did not adopt the curriculum in statistically significant ways.
The simple truth is that when it comes to developing a curriculum that will help children become great readers and writers, there is no panacea.
Then, too, the success of Units of Study is evidenced in the many schools that rely on them and are regularly recognized as Blue Ribbon recipients, rank among the best schools in each state, or are designated as schools that "beat the odds." To date, there is no evidence that a curriculum that gives sole attention to phonics and focuses especially on kids sounding out words—as important as that work is—will, on its own, prepare kids for mastery of rigorous state standards.
The simple truth is that when it comes to developing a curriculum that will help children become great readers and writers, there is no panacea. Instead, what's necessary is nothing less than people, working together across years in a system of continual improvement.
It takes cognitive researchers and brain scientists, poring over brain scans to see what does and does not open neural pathways in the brain. It takes the world's best teachers, translating studies into practical methods that can be used in the hubbub of real classrooms and always being ready to adapt curriculum so that it responds to individual children's unique needs.
It takes children's authors writing stories and texts that awaken the hearts and minds of children, stirring curiosity and care. It takes families, who help children come to school, ready to participate in caring communities of learners. It takes communities willing to tackle poverty and inequity, providing additional supports for children who need them so that all children have opportunities to use reading and writing as ways to learn about and influence the world.
The work of developing a nation of readers has never been more urgently needed. We owe it to teachers—and children—not to get distracted, to recognize what's true and what's not true, and to take time to focus on what's most important. Let's get to it.
A version of this article appeared in the November 23, 2022 edition of Education Week as Lucy Calkins Revisits and Revises Her Reading Curriculum
Sign Up for EdWeek Update
Edweek top school jobs.
Sign Up & Sign In
Arts & Music
English Language Arts
World Language
Social Studies - History
Holidays / Seasonal
Independent Work Packet
Easel by TPT
Google Apps
Interactive resources you can assign in your digital classroom from TPT.
Easel Activities
Easel Assessments
Unlock access to 4 million resources — at no cost to you — with a school-funded subscription..
Lucy Calkins Grade 2 Narrative Writing
All Formats
Resource types, all resource types, results for lucy calkins grade 2 narrative writing.
Price (Ascending)
Most Recent
Lucy Calkins Grade 5 Writing Narrative Craft Unit
Lucy Writing Notebook: Grade Five, Unit Three: From Essay & Narrative to Memoir
2nd Grade Daily Lesson Plans - Lucy Calkins Writing Workshop Unit of Study 2
Also included in:  2nd Grade Lesson Plan BUNDLE Aligned to Lucy Calkins Writing Workshop (4 Units)
Second Grade Personal Narrative Writing Exemplar (Lucy Calkins Inspired)
Grades K-2 Narrative Writing Exemplars (Lucy Calkins Inspired)
Lucy Calkins Lesson Plans -Grade 2 Writing: Improving Narrative Writing (Unit 1)
Also included in:  Lucy Calkins Lesson Plans - Grade 2 Writing: BUNDLE: 4 Units!
Lucy Calkins PowerPoint Unit 1: Narrative Writing- Grade 2
Also included in:  PowerPoint Lessons Unit 1 and Unit 2 Writing Bundle! - Grade 2
Lucy Calkins Units of Study: Writing Grade Grade 3; Unit 2 Information
2nd Grade Daily Lesson Plans - Lucy Calkins Reading Workshop Unit of Study 2
Also included in:  2nd Grade Lesson Plan BUNDLE Aligned to Lucy Calkins Reading Workshop (4 Units)
TC Narrative Writing Unit Lesson Plans Grade 2
Launching Lucy Calkins Writer's Workshop- First Grade
Also included in:  Launching Lucy Calkins Writer's Workshop and Folder Resources-First Grade
Lucy Calkins Units of Study: Writing Grade 2; Unit 3 Opinion; Writing About Read
Lucy Calkins Units of Study: Writing Grade 5; Unit 2 Information
Launching Lucy Calkins Writer's Workshop and Folder Resources-First Grade
TC Crafting True Stories Narrative Writing Lesson Plans Grade 3 Unit 1
Lucy Calkins Units of Study: Writing Grade 4; Unit 2 Boxes and Bullets
Launching Lucy Calkins Writer's Workshop- Second Grade
Also included in:  Launching Lucy Calkins Writer's Workshop and Folder Resources-Second Grade
Narrative Writing Lesson Plans Grade 2 Bend 1
Launching Lucy Calkins Writer's Workshop and Folder Resources-Second Grade
Narrative Writing Lesson Plans Grade 2 Bend 2
Lucy Calkins Writing Grade 2 Unit 1 (Narrative) Lesson Plans
Grade 2 Writing Posters BUNDLE
Personal Narrative Writing Posters - Grade 2
Fictional Narrative Story Writing Unit: 4 Weeks (Grade 6 CCSS)
Also included in:  Writing Units (Grade 6) to Cover ALL Common Core Writing Standards
TPT empowers educators to teach at their best.
We're Hiring
Help & FAQ
Terms of Service
Trademark & Copyright
Privacy Policy
Student Privacy Policy
Keep in Touch!
Are you getting the free resources, updates, and special offers we send out every week in our teacher newsletter?
Daily Deals
Brand Outlet
Help & Contact

Watch List Expand watch list Loading... Sign in to see your user information
Recently Viewed
Bids/Offers
Purchase History
Saved Searches
Saved Sellers
Collect & Spend Learn more
Notification
Expand Basket Loading... Something went wrong. View basket for details.
Back to home page
Share | Add to Watch list
People who viewed this item also viewed
The art of teaching writing - 0435088092, paperback, lucy calkins, the art of teaching writing, calkins, lucy, the art of teaching writing hardcover lucy mccormick, calkins, lu, picture information, picture 1 of 1, shop with confidence, seller information.
better_world_books_uk ( 396106 )
99.2% positive Feedback
Save seller
Contact seller
The Art of Teaching Writing Paperback Lucy Calkins
Be the first to write a review .
Item information
Add to basket
Watch this item
Oops! Looks like we're having trouble connecting to our server.
Refresh your browser window to try again.
An error occurred, please try again.
Bottom panel for Description
Item specifics, about this product, product information, product identifiers, product key features, additional product features, item description from the seller, business seller information.
Returns policy
Sales tax for an item #304822611277, payment details, detailed seller ratings, average for the last 12 months, popular categories from this shop, seller feedback (459,084).
No ratings or reviews yet
More to explore:
Paperback Writing & Usage Guides ,
Non-Fiction Teaching Paperback Fiction & Books ,
English Language Teaching Paperback Language Course ,
Lucy Cousins Non-Fiction Paperback Fiction & Books ,
Non-Fiction Paperback Fiction & Writing Books ,
Learning to Teach in the Primary School Politics & Society Non-Fiction Education Paperback Fiction & Books ,
The Arts Paperback Antiquarian & Collectable Books ,
English Language Teaching Language Course ,
Teaching Adult Learning & University Books ,
English Teaching Language Study Books

>> Return to Heinemann.com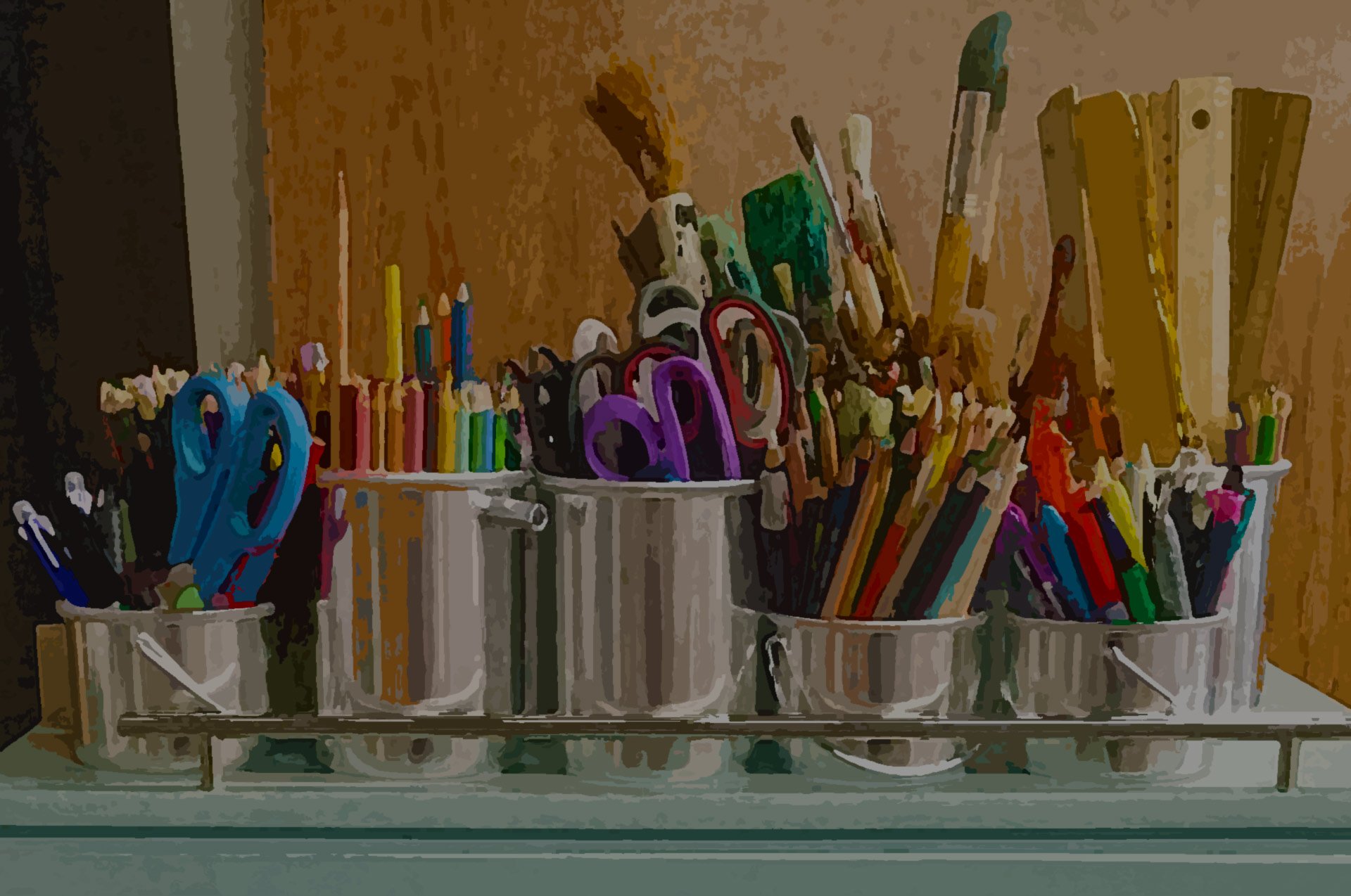 Dedicated to Teachers
Units of Study
Lucy Calkins
Teachers College
Teachers College Reading and Writing Project
Writing Units
Writing Workshop
Teaching Writing
Middle School
Education Policy
Language Arts
View All Topics
Lucy Calkins Discusses the Backstory of Writing Workshop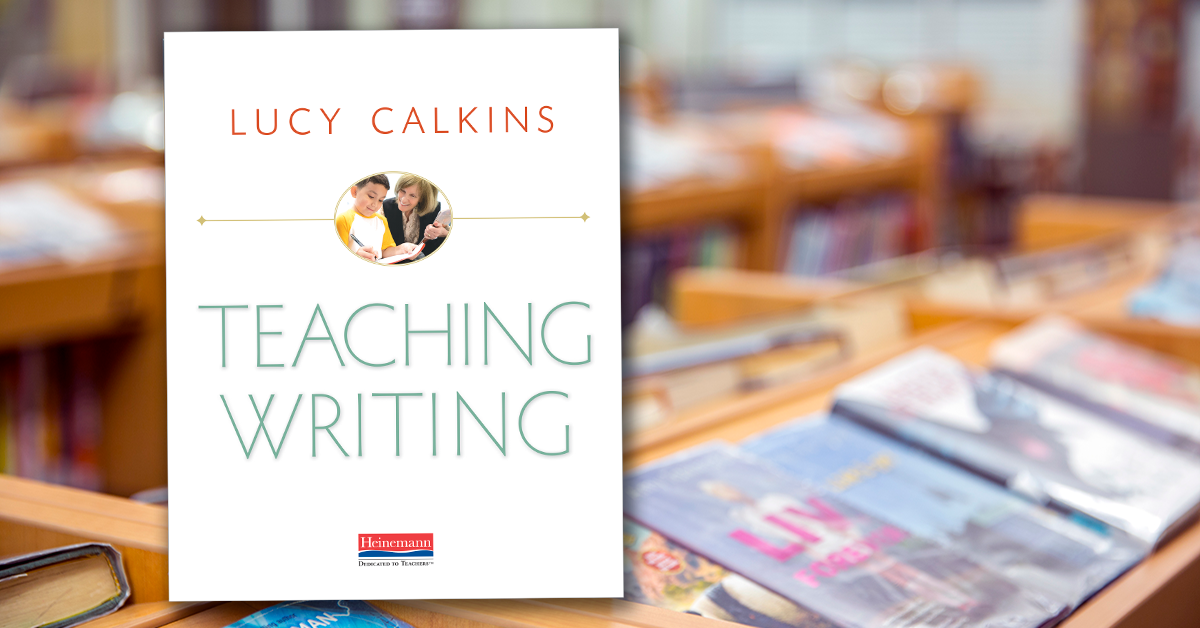 Ch. 1: Writing Workshop: T he Backstory
by Lucy Calkins
This will be a brief book on the teaching of writing, one that I hope you can read on the fly, in today's grab-and-go world. But I can't help you teach writing well without building a relationship with you. In the end, teaching writing is deeply personal. Helping someone write well and helping someone teach writing well both require a relationship of trust.
I want to introduce myself by letting you know that I've been at this work for a long time, since the field's beginnings, really. It happened serendipitously, as life often does.
The Invention of Writing Process Instruction: My Early Story
As a youngster, I longed to find a way to make a difference in the world. That led me to tutor kids in a settlement house near the Bethlehem Steel plant on the shores of Lake Erie, working under the leadership of my church's youth pastor, a man named Donald Graves, a man who went on to become a great leader in the field of teaching writing.
So I grew up to be a teacher, and I taught and learned in some amazing schools, including the British primary schools—a highly renowned system at the time. I couldn't keep all I was learning to myself, so I began writing articles for educational journals. Writing led me to read A Writer Teaches Writing by another Don—Don Murray (who won the Pulitzer Prize for his work at the Boston Herald). I was enthralled by his book about the writing process. I used that book not only to improve my own writing, but also to transform my own elementary school classroom into a very early iteration of a writing workshop. The work my students did in that early form of writing workshop further fueled my own writing. Soon, I was published enough that when I attended conferences people would read my name tag and be startled that I was only in my twenties; they told me they had seen my name on so many articles about teaching writing that they had imagined "Lucy Calkins" would be an elderly Southern woman. (Why "Southern," no one explained!)
After several years, I finally gathered my courage and wrote to Don Murray himself to tell him how his ideas had inspired my teaching. Then the great miracle of my life happened: Don Murray took me under his wing and began coaching me in writing.
Meanwhile, by some strange twist of fate, Don Graves, my former pastor, became a professor of education at the University of New Hampshire—the very same university where Don Murray, my writing mentor, now worked as a professor and as a researcher of the writing process.
The two Dons were now colleagues. Murray's work was generating a great deal of excitement and it would lead to a large-scale, national reform of college writing and composition courses. Graves's work was also generating interest, and he was awarded the National Institute of Education's first major grant to study writing development in children. I was at the intersection of these two great men at this critical time in their work. I moved to New Hampshire, became a researcher with Don Graves on the NIE study, and formalized my apprenticeship with Murray.
The above has been adapted from Chapter 1 of Teaching Writing by Lucy Calkins. To read the rest of Chapter 1, download the sample chapter.
Topics: Units of Study , Lucy Calkins , TCRWP , Teachers College , Teachers College Reading and Writing Project , Writing Units , Writing Workshop , Teaching Writing
Recent Posts
Popular posts, related posts, top 3 don'ts: teaching kids to write graphic novels, the cognitive benefits of writing graphic novels, why teach kids to write graphic novels, lucy calkins on the important truth about how to teach reading.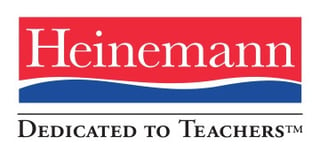 © 2023 Heinemann, a division of Houghton Mifflin Harcourt