The No More Marking Blog
Dec 10, 2018
Year 5 Assessing Primary Writing examples
Sign up for our webinar on Wednesday 12th December at 4pm to hear Daisy talk about these results.
Earlier this week we released the results of our year 5 judging window. As well as getting information about how their school has performed, subscribers also get access to a set of anchor scripts (these will be available in subscribers' accounts shortly). These are scripts that are selected from across the national range and exemplify the different standards. Schools can use these scripts in their own internal judging to help standardise their results, and they can also print them off and use them for CPD or in lessons.
For this window, pupils wrote a magazine article in response to a text prompt that we provided. This was different from last year, when schools set the task themselves. The text prompt was a 400 word article about pets, with short sections describing the different requirements for having a cat, dog or giant African land snail as a pet. We will make the text available for download shortly. Teachers could read the text out loud to their pupils, and the question was as follows.
We have explained the reason for the change to a task prompt in a previous blog : put simply, our schools wanted us to set a specific task as it is harder to judge when everyone is doing something different!
Our aim in devising this task was to come up with something that had a 'low floor and a high ceiling'. We wanted every pupil to be able to write something, without placing any constraints or limitations on pupils' responses.
In the previous year 3 window, we used an image prompt, so this year 5 task was our first text prompt. We were concerned that the quite lengthy text prompt might make it difficult for some pupils to access the task, but this proved unfounded. Over 20,000 pupils were able to write something in response to this prompt. The subject matter, pets, clearly helped here. The enthusiasm and knowledge children have for pets is really quite something! The text prompt was designed to make sure that even if pupils didn't know much about pets, they could use some of the information in the prompt in their own response. However, in practice, plenty of pupils were able to include lots of their own information about pets. Many of them included some of the common stereotypes about cats and dogs — that cats are independent whereas dogs need more work; that puppies are very energetic and playful; that cats like to eat fish so you shouldn't keep pet fish near them! Some of the responses felt like a bit of a brain dump — 'and another thing about cats is…'.
But others managed to take the knowledge and structure it a bit more coherently.
As ever, control of sentence structure made a big difference. Sentences like this one, for example, provided detail and nuance.
Control of the overall structure was important too. One thing people often ask about comparative judgement is if pieces with strong beginnings but weaker endings are favoured because people don't read to the end. I don't think that is the case: going through the results, there are plenty of pieces with strong endings that fade away — and they don't do as well as the more consistent pieces. Take a look at the start and end of this piece: it starts very powerfully.
But by the end it has become quite bitty and repetitive.
Overall, it scores highly — but not as highly as this piece which is shorter but more consistent and tightly structured.
We will repeat the reminder from our last window: because the conditions have changed from last year to this, it does mean that we cannot directly compare last year's results to this year's. Further, because the work has been completed in independent conditions, it is not directly comparable with work completed in more structured conditions. You may find that scripts that don't 'look' as high-quality as you are used to are getting high scores but please remember that pupils have responded in independent conditions to the stimulus so some errors are to be expected! To reassure people on this point, in a previous blog we shared some work from national projects we have run in year 7 and year 10. The work from these projects was also completed in independent conditions.
If you read those pieces, you will see that there are also errors in the work completed in these year groups — whenever children, and indeed adults, write in independent conditions some errors are to be expected!
With that in mind, here are three more extracts from scripts from this year 5 window from different parts of the range.
More to follow
We have a webinar on Wednesday 12th December at 4pm where we will discuss the results in this blog in more detail. If you have questions about anything here, we really recommend signing up for that webinar, or watching it afterwards.
This blog has presented some of the year 5 Assessing Primary Writing writing, and the year 3 Assessing Primary Writing window was completed last month, but we have more windows coming up next term. The year 1 and year 4 windows take place just after Christmas, and year 2 & year 6 in February. If you'd like to sign up for them, you can do so here .
More from The No More Marking Blog
No More Marking simplifies assessment for schools through its Comparative Judgement Engine. The blog presents findings from our projects and our more general research.
About Help Terms Privacy
Get the Medium app
Daisy Christodoulou
Text to speech
Y5 Writing Target Sheet with Assessment Guidance
This resource has two elements in which Y5 has been separated from the Y5/Y6 Programme of Study to provide an understanding of the requirements at Y5.
1. A Target Sheet designed to be pasted into children's books which lists the objectives from the Year 5 Writing Curriculum with descriptors for WTS/EXS/and GDS against each objective.It is designed to be used by the teacher when making judgements against each objective.
2. Part 2 of the resource provides comprehensive assessment guidance against each objective to assist teachers in making these judgements.
The system works with many of the tracking systems currently being used in schools - as it is based on the national curriculum programme of study requirements for each year group and is directly linked to the end of Key Stage 2 requirements.
The material is Copyright to JL Educational Consultancy and should be only be used by a single teacher for their class or group. School Packages are also available - See Support - Packages and CPD.
Working with schools to improve teaching, learning and assessment.
Reading Rockets
Research, Guides and Resources
Our PBS Shows
Writing Assessment
An introduction to 6 + 1 Trait® Writing, customized rubrics, student self-assessment, and peer editing.
There are several ways to assess writing. The most common method is to use some sort of rubric. Items on the rubric range from state-mandated writing standards to individual items specific to an assignment. Other forms of writing assessment use checklists or rating scales.
A teacher isn't the only one who can assess a writing sample. Students can assess their own writing by working in pairs or small groups. Small groups of students can meet and conference about one piece or each student can bring a piece to exchange and have reviewed.
As with any good assessment, the purpose should drive the procedure.
6 + 1 Trait® Writing
Developed by Education Northwest, the 6 + 1 Trait® Writing Model of Instruction and Assessment is based on common characteristics of good writing. The model uses common language and scoring guides to identify what "good" writing looks like. The 6+1 traits within the model are: ideas, organization, voice, word choice, sentence fluency, conventions, and presentation. For each trait, there's a scale with descriptors for scoring. Much more information about 6+1 Trait® Writing can be found within Education Northwest's site, including information about the Beginning Writer's continuum (BWC) which can be used with K-2 students. 6+1 Trait® Writing >
Create your own rubric
There are several sites that enable you to create your own rubric for assessing writing samples. Project Based Learning has a 'Create a Printable Checklist' feature that is easy to use. Within a particular category (example: Conventions) one can choose items within conventions to include on the rubric (example: I leave white spaces between my words. My sentences begin in different ways.) Create a printable checklist >
Student self-assessment of writing
Many teachers ask students to read over what they've written before it's considered finished. It's often helpful to provide students with a basic checklist to use as they review their work. This student checklist is based on the 6-Trait writing. The items are written using kid-friendly terms. Download student checklist (PDF) > Download student checklist "Post-It" template (PDF) >
Peer editing
Students can work together in pairs or small groups during the editing and revising stages of the writing process. This peer editing can help students learn about parts of their writing that was unclear, discover which parts an audience found exciting, and get some suggestions for other things to add. ReadWriteThink offers a series of lessons that teach students how to peer edit using three steps: compliments, suggestions, and corrections. Peer editing lesson plan >
Related Topics
Add comment.
More information about text formats
No HTML tags allowed.
Web page addresses and e-mail addresses turn into links automatically.
Lines and paragraphs break automatically.
New and Popular
Our Literacy Blogs
Reading SOS
Tips from experts on how to help your children with reading and writing at home.
Target the Problem
Pinpoint the problem a struggling reader is having and discover ways to help.
FAQs About Reading
Real questions from parents and educators, answered by experts.
Literacy Apps
Find the best apps for building literacy skills.
Book Finder
Create your own lists of fiction and nonfiction children's books. We have more than 5,000 books in our library!
AP Literacy
Literacy resources for teachers.
AP's Writing Assessment Grids
Writing assessment grids developed by AP Literacy, for use with Nursery, Reception, and Years 1-6.
Pre-Key Stage 1 Writing Assessment Grid
Pre-Key Stage 2 Writing Assessment Grid
Nursery Writing Assessment Grid
Reception Writing Assessment Grid
Y1 Writing Assessment Grid (updated 13/02/23)
Y2 Writing Assessment Grid
Y3 Writing Assessment Grid
Y4 Writing Assessment Grid
Y5 Writing Assessment Grid
Y6 Writing Assessment Grid
WordPress.org
Documentation
View AMP version
International
Schools directory
Resources Jobs Schools directory News Search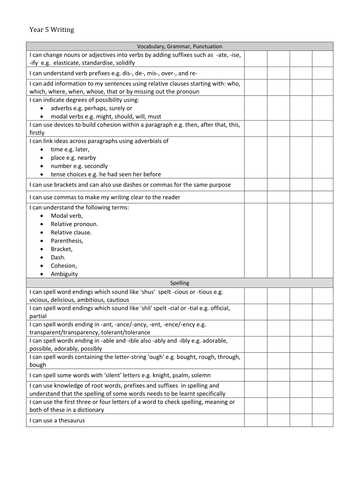 Year 5 Writing Assessment Grid (New Curriculum)
Subject: English
Age range: 7-11
Resource type: Assessment and revision
Last updated
23 May 2021
Share through email
Share through twitter
Share through linkedin
Share through facebook
Share through pinterest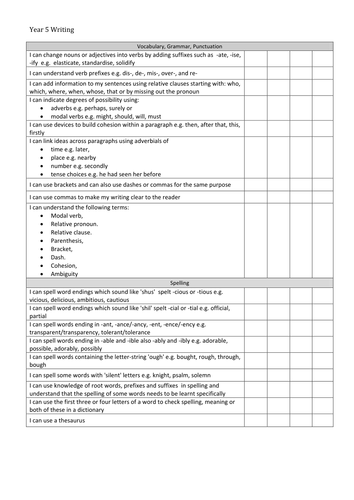 Tes paid licence How can I reuse this?
Get this resource as part of a bundle and save up to 17%
A bundle is a package of resources grouped together to teach a particular topic, or a series of lessons, in one place.
Year 5 Reading, Writing, Maths Assessment Sheets (new curriculum)
The new curriculum broken down into specific objectives and set our on either group, class or individual sheets. Words docs so can be adapted to suit.
Whole School Writing Assessment Grids
New curriculum broken down into objectives per year group. Recommended that LKS2 and UKS2 use the grids for both year groups as there is much overlap and revisiting. These grids also marry up with Target Tracker software.
KS2 Writing Assessment Grids (New Curriculum
Breaks down the combined coated for Y3/4 and Y5/6 into separate year groups. Recommend use of both grids as curriculum is designed to overlap and revisit in Y3/4 or Y5/6
Your rating is required to reflect your happiness.
It's good to leave some feedback.
Something went wrong, please try again later.
This resource hasn't been reviewed yet
To ensure quality for our reviews, only customers who have purchased this resource can review it
Report this resource to let us know if it violates our terms and conditions. Our customer service team will review your report and will be in touch.
Not quite what you were looking for? Search by keyword to find the right resource:
Hi! Sign in or Register
Help & Contact
Year 5 Writing Assessment Checklist (editable)
Choose category:.
Downloads are for members of Grammarsaurus only.
Grammarsaurus Gold Subscription - £44.95/year INC VAT
Description
This writing assessment checklist has been designed by experienced writing moderators to align to the National Curriculum.  Editable versions included.
'Working towards' and 'greater depth' checklists are only available for Year 2 and 6 because the STA only provides detail for what this looks like in these end-of-key-stage assessments.
In Y1, 3, 4 and 5, it is our recommendation that a pupil would be 'working towards' if they did not meet all of the criteria for 'expected'.
A 'greater depth' pupil would meet all the criteria at a consistently high level across a range of pieces....
Hello, Downloads are for members of Grammarsaurus  only.
Please sign up below or login if you are already a member.
Javascript is disabled in your browser. You will not be able to complete your purchase until you either enable JavaScript in your browser, or switch to a browser that supports it.
Linked resources:
Year 1 Writing Assessment Checklist (editable)
Year 2 Writing Assessment Checklist (editable)
Year 3 Writing Assessment Checklist (editable)
Year 4 writing assessment checklist (editable), year 6 writing assessment checklist (editable).
Y1 Explanation
Y1 Information report
Y1 Instructions
Y1 Narrative – Stories
Y1 Narrative – Character description
Y1 Narrative – Object description
Y1 Narrative – Setting description
Y1 Non-chronological report
Y1 Persuasive – Advert/leaflet
Y1 Recount – Letter/Postcard
Y1 Recount – Diary
Y1 Recount – Biography
Y1 Recount – Science Experiment
Y2 Explanation
Y2 Instructions
Y2 Information report
Y2 Narrative – Character description
Y2 Narrative – Object description
Y2 Narrative – Setting description
Y2 Narrative – Stories
Y2 Narrative – Playscript
Y2 Non-chronological report
Y2 Persuasive – Advert/leaflet
Y2 Persuasive – Letter
Y2 Recount – Biography
Y2 Recount – Diary
Y2 Recount – Letter/postcard
Y2 Recount – Newspaper
Y2 Recount – Science Experiment
Y3 Discussion
Y3 Explanation
Y3 Instructions
Y3 Narrative – Character description
Y3 Narrative – Characterising speech
Y3 Narrative – Setting description
Y3 Narrative – Stories
Y3 Non-chronological report
Y3 Persuasive – Advert/leaflet/letter
Y3 Play scripts
Y3 Recount – Biography
Y3 Recount – Diary
Y3 Recount – Letter/postcard
Y3 Recount – Newspaper
Y3 Recount – Science Experiment
Y4 Recount – Biography
Y4 Recount – Diary
Y4 Recount – Letter/postcard
Y4 Recount – Newspaper/Magazine article
Y4 Recount – Science Experiment
Y4 Discussion
Y4 Instructions
Y4 Explanation
Y4 Narrative – Character description
Y4 Narrative – Characterising speech
Y4 Narrative – Setting description
Y4 Narrative – Stories
Y4 Non-chronological report
Y4 Persuasive – Advert/leaflet/letter
Y4 Play scripts
Y5 Discussion
Y5 Explanation
Y5 Information report
Y5 Instructions
Y5 Narrative – Character description
Y5 Narrative – Characterising speech
Y5 Narrative – Setting description
Y5 Narrative – Stories
Y5 Non-chronological report
Y5 Persuasive – Advert/leaflet/letter
Y5 Play scripts
Y5 Recount – Biography
Y5 Recount – Diary
Y5 Recount – Letter/postcard
Y5 Recount – Newspaper/Magazine
Y6 Discussion
Y6 Explanation
Y6 Instructions
Y6 Narrative – Character description
Y6 Narrative – Characterising speech
Y6 Narrative – Setting description
Y6 Narrative – Stories
Y6 Non-chronological report
Y6 Persuasive – Advert/leaflet/letter
Y6 Play scripts
Y6 Recount – Biography
Y6 Recount – Diary
Y6 Recount – Letter/postcard
Y6 Recount – Newspaper/Magazine
Y6 Recount – Science Experiment
Fluency and Reasoning
Weekly SPaG Checks
SPaG Practice Tests
Punctuation
SPaG Display Resources
Assessments
Text-type breakdowns
Unit Guides
Descriptologues
Model Text Feature Spotters
Year 2 Packs
Year 3 Packs
Year 4 Packs
Year 5 Packs
Year 6 Packs
Practice tests
Shakespeare
Reading Display Resources
Y1 Starters/Morning Maths
Within 10 (A&S)
Within 20 (A&S)
Multiplication and Division
Length and Height
Weight and Volume
Position and Direction
Display resources
Y2 Starters/Morning Maths
Y2 Quick 10
Number and Place Value
Addition and Subtraction
Length and Height Y2
Mass, Capacity and Temperature
Properties of Shape
Position and Direction Y2
Y3 Starters/Morning Maths
Y3 Quick 10
Multiplication and Division Part 1 Y3
Multiplication and Division Part 2 Y3
Length and Perimeter Y3
Mass and Capacity Y3
Y4 Starters/Morning Maths
Y4 Quick 10
Multiplication and Division Part 1 Y4
Multiplication and Division Part 2 Y4
Fractions Y4
Decimals Part 1 Y4
Decimals Part 2 Y4
Length and Perimeter Y4
Properties of shape Y4
Position and direction Y4
Y5 Starters/Morning Maths
Y5 Quick 10
Multiplication and Division Part 1 Y5
Multiplication and Division Part 2 Y5
Division Y5
Long Division Y5/6
Fractions Y5
Decimals Part 1 Y5
Decimals Part 2 Y5
Perimeter and Area Y5
Converting units Y5
Properties of shape Y5
Position and direction Y5
Y6 Starters/Morning Maths
Y6 Quick 10
Addition, Subtraction, Multiplication and Division
Fractions Y6
Decimals Y6
Percentages Y6
Ratio and proportion
Converting Units Y6
Area Perimeter and Volume Y6
Position and Direction Y6
Properties of Shape Y6
Maths Assessments
Science Subject Leader Area
Animals including humans
Seasonal Changes
Living Things and their Habitats
Forces and Magnets
Changing states
Electricity
Earth and Space
Science Display Resources
History Subject Leader Area
Ancient Egypt
Anglo-Saxons and Vikings
Changing Power of Monarchy
Changes in Toys
Changes in Technology
Famous Explorers
Hospitals and Healthcare
Kings, Queens and Castles
Harriet Tubman
Amelia Earhart
Katherine Johnson
William Shakespeare
Florence Nightingale
Mary Seacole
Nelson Mandela
Captain Tom Moore
Walt Disney
Tutankhamun
Mary Anning
Martin Luther King
Malorie Blackman
John Wesley
Lilian Bader
Sir Robert Peel
Maya Civilisation
Stone Age to Iron Age
Black History
Ancient Greece
The Great Fire of London
World War One
World War Two
Crime and Punishment
Shang Dynasty
History Display Resources
Geography Display Resources
Geography Subject Leader Area
Year 3 – The United Kingdom
Year 4 – My region and Campania, Italy
Year 5 – My region and the Western United States
Year 6 – The Economic Activity of the UK
KS1 Christianity
Famous Artists
KS2 Projects
Write with Grammarsaurus
Sing with Grammarsaurus
Science with Grammarsaurus
East of England
East Midlands
Greater London
West Midlands
Yorkshire & The Humber
Continuous Provision
Free resources
Career Page